A dozen Whiting School of Engineering students enrolled in the Engineering Design Outreach Intersession course last month, working with teams of students in a 6th grade science class at the Barclay Elementary/Middle School in Baltimore's Charles Village neighborhood.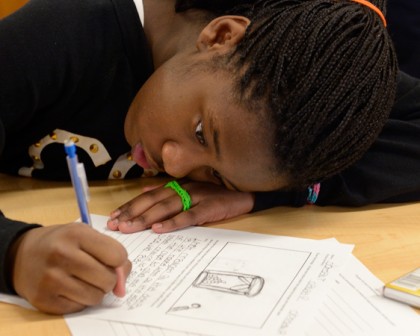 The course was led by Margaret Hart from the School of Engineering's Center for Educational Outreach. The assignment: Design, document, and build a prototype for a new game that must include a mechanical arm built by the students out of cardboard, brass fasteners, and fishing wire.
The course ended with a competition before a panel of JHU student judges. "We provided the Barclay teachers with a complete unit on the engineering design process that they can continue using," Hart says. "And our students got to share their love of the discipline with the kids and, hopefully, inspire a new generation of engineers."