The challenge: Use two mousetraps, six rubber bands, and $15 worth of materials to build a device that can safely transport a delicate, uncooked egg from an elevated platform to a target on the floor, six feet below.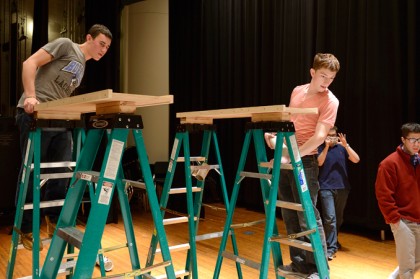 The competitors: 20 teams made up of 59 students in the Freshmen Experiences in Mechanical Engineering course at Johns Hopkins.
The Whiting School of Engineering's annual Mousetraps and Rubber Bands competition is the final project in the freshman course; this year's unusual and difficult assignment was dubbed "Shell Shocked." It wasn't a Ravens game, but you'd never know that from the raucous cheers, fist pumps, and excitement emanating from the crowd gathered Wednesday afternoon in the Shriver Hall auditorium.
"I am very impressed with what the students came up with this year," said Steven Marra, a senior lecturer who teaches the course, as he perused the crowd of students, excitedly chattering and making last-minute adjustments to their contraptions. "The students are excited about the project and want to get right in the lab and start building, but this assignment teaches them that they have to plan before they begin constructing."
There were a few rules—nine pages of them, actually. Chief among them was that only the mousetraps, rubber bands, and gravity could provide energy for each device. Also, at least half of the egg needed to be exposed and visible at all times. Breaking the egg would cost a team 50 points. Oh, and good craftsmanship and ornamentation were encouraged.
The competition began with four head-to-head matchups, with the winners of each advancing to a round of 16 teams, then quarterfinals, semifinals, and a final showdown. Two-by-two, representatives of teams with names such as Crack is Whack, Humpty Dumpty's Redemption, and Eggk-47 mounted one of the two six-foot aluminum ladders arranged adjacently on the Shriver stage, then let their devices loose along a short wooden track. The student creations ranged from dune buggy-like jalopies made of foam board and plywood to a gadget resembling a hamster-wheel with the uncooked egg suspended by rubber bands in a cup in its center.
"It took us a while to come up with this design," said Danielle Matusiak, 19, of Manhasset, N.Y, a member of the Eggsalent Salmonella team whose hamster-wheel design made it to the quarterfinals. "First, we sketched it out on paper and built a prototype out of foam core, and then we made some adjustments. It works!"
Fellow team member Clara Aranguren, 18, of Madrid, revealed their secret weapon: half of a Stay Puft marshmallow used as adhesive to hold the egg steady as it catapulted off the six-foot-high platform onto the floor.
If very few of the vehicles performed without a hitch, well, that was to be expected, said Evan Langdale, a TA for the class.
"In real life, things don't always work exactly as you planned them to in the lab, and the students have to learn that," he said.
In the end, the competition came down to Perpetual Motion, a small pink car designed by Stefan Arnold, 18, of Germany; Arturo Brito, 18, of Miami; and Kevin LeBlanc, 18, of Reading, Mass.; and Eggk-47, a 15-pound cannon designed by Erez Krimsky, 19, of Sharon, Mass.; Walter Saine, 19, of Lausanne, Switzerland; and Brendan Shannon, 19, of Branchburg, N.J.
The crowd roared as both teams' contraptions traveled along the wooden tracks and plunked onto the targets below. Each landed very close to the 100-point bull's-eye mark. But Perpetual Motion landed closer, earning its designers not only glory and momentary fame, but also $25 Barnes & Noble gift cards.
"We're pretty happy," said Arnold, flanked by his two fellow designers, as a cameraman from a local television station shot some footage. "The funny thing is, we were still messing around with it yesterday and last night. But it worked!"