"This is a book about freedom and how far people will go to achieve it," former journalist and Pulitzer Prize winner Isabel Wilkerson told the audience in Mudd Hall Auditorium last week as she held up a battered and much-annotated copy of her award-winning book, The Warmth of Other Suns: The Epic Story of America's Great Migration. Wilkerson, the inaugural speaker in the new President's Reading Series and a former Chicago bureau chief of The New York Times, drew a large audience from both the Johns Hopkins and the Greater Baltimore communities. The Warmth of Other Suns won the National Book Critics Circle Award for nonfiction in 2011.
Funded by university President Ronald J. Daniels and administered by the Writing Seminars, the series is designed to bring distinguished writers from various genres to Johns Hopkins to read their work. The theme of this year's series, chosen by Writing Seminars co-chair Jean McGarry, is international writers working in English whose literary endeavors embrace a concern for social justice. Other speakers in this year's series include National Book Award winner Colum McCann, a native of Ireland (Nov. 20); Ishmael Beah, a native of Sierra Leone (March 3); and Colm Tóibín, novelist, playwright, critic, journalist, and winner of the 2011 Irish Pen award (April 3).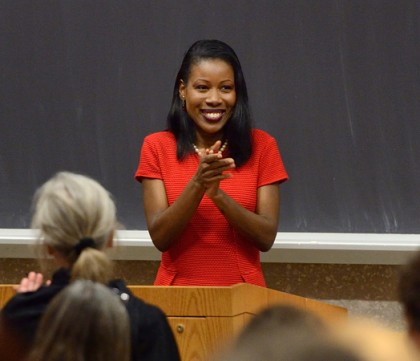 Wilkerson's book is an account of the migration of American blacks from the South for points west and north in the wake of Reconstruction, a movement that continued well into the 1970s.
"It's not always a fruitful strategy for literary writers to take on political agendas," noted McGarry in the evening's opening remarks, and yet writers like Wilkerson persevere, in her case illuminating great social injustice through the small details in stories of ordinary individuals.
Wilkerson was introduced by Katherine Newman, dean of the Krieger School of Arts and Sciences, who said she read Wilkerson's book over the summer in conjunction with her own research on migration within South Africa.
During her visit, Wilkerson—the first black woman to win a Pulitzer in journalism and the first African-American to win for individual reporting—reflected on her process of writing the book and her experiences speaking about it to various communities nationwide. The book took 15 years to write, she said, and she used information gleaned from more than 1,200 interviews. One of her aims in writing and speaking about the book is to make people, especially younger audiences, aware of the realities of living in the Jim Crow South, the enormous consequences of individuals pulling up roots to move north, and the greater (though still limited) opportunities the move created for the children of migrants. She told the stories of a number of famous African-Americans, including Jesse Owens, Diana Ross, James Baldwin, and Thelonius Monk, who would not have had the opportunities to pursue their talents if their forebears had not moved to Northern cities.
Everyone has a migration or immigration story in their family, WIlkerson said. What makes the Great Migration unique, she explained, is that "no other group of Americans had to act like immigrants to be recognized as citizens."