Arturo Márquez' "Danzón #1" is a gorgeously lilting stroll for small orchestra, roughly six minutes of sprightly woodwinds, brass, and strings that dance along to a jaunty, bolero-like rhythmic hustle. The short work is a lovely example of the jubilant music made by this contemporary Mexican composer who is rarely, if ever, performed by major orchestras—which makes this Saturday's Occasional Symphony Cinco de Mayo concert of Márquez chamber music at the Mari Luna Bistro in Baltimore such a rare, welcome treat.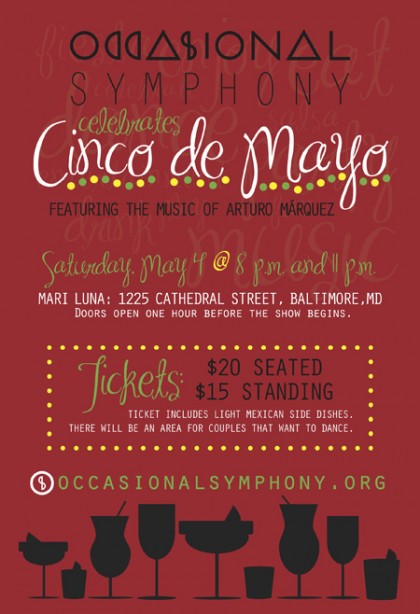 Mexican music, Mexican food, an American celebration of Mexican heritage—hitting that thematic trifecta is what makes Occasional Symphony events so refreshing. Stephen Mulligan and Norman Hyunh, graduate students in Peabody Institute's conducting program, and five fellow musicians formed the Occasional Symphony last year as a different way to present classical music, and it is made up largely of Peabody students and young alumni. Its programming would be pragmatically organized through a convergence of place, date, and sound, which grew out of an impromptu concert Hyunh and Mulligan put together their first year at Peabody to commemorate the 10th anniversary of September 11.
"It occurred to us that something that we could do as young musicians was to put on orchestra concerts in a more flexible way than major, established orchestras," Mulligan says. "Rather than plan our season five years in advance and always play in the same concert hall, we would basically be a nimble orchestra and play on days when people were already looking to get together and in places where people would be looking to get together."
The Occasional Symphony debuted with a Halloween concert last year, playing a piece by fellow Peabody graduate students Scott Lee and James Young that accompanied Robert Wiene's 1920 silent film classic The Cabinet of Dr. Caligari. A children's concert at Port Discovery on Dr. Suess' birthday followed in March.
Mulligan admits that the date, place, and music constraints make for difficult program development, but the payoff is worth it. "It's a good way to make sure we're going to get a crowd because most concerts, it's like, what's the reason?" Mulligan says. "Just because you were able or happen to get these people to play this music on this given day? We decided to take the opposite approach. Let's make sure it's relevant."
For the Cince de Mayo concert, Occasional Symphony will play two sets of four Márquez works. The intimate restaurant setting limited the ensemble size, but it provided the group with the opportunity to spotlight a lesser-known, living composer. "Because of the constraints of the venue, we couldn't go with a huge orchestra," Mulligan says. "It's a 20-piece orchestra, which is very cool because it's halfway between an orchestra and a band. All the players function as soloists. And it's contemporary Mexican music, stuff that I don't think people really know is out there."
This fall Occasional Symphony is planning another Halloween concert, and they're tinkering with finding new places to tackle with their thematic constraints. "Another approach that we've tried recently is thinking about the venue first, for example the [National] Aquarium," Mulligan says. "We have all this wonderful music about the sea by Benjamin Britten and contemporary composers and Debussy, and we want to play at the aquarium, and the challenge is to find a day where that would make sense. We're not going to invent a National Ocean Day."
Occasional Symphony performs works of Arturo Márqez May 4 at Mari Luna Bistro. Concerts start at 8 p.m. and 11 p.m. Tickets available online.