Now in it's second year, the Jazz at the Johns Hopkins Club series kicks off its spring 2013 season Saturday night with saxophonist Marcus Strickland, whose 2011 double CD of almost all original material showcased a composer and player capable of demonstrating how much jazz contributes to the contemporary music conversation rhythmically and melodically. Strickland comes to the Homewood campus with the same group from that album: his brother E.J. Strickland on drums, pianist David Bryant, and bassist Ben Williams.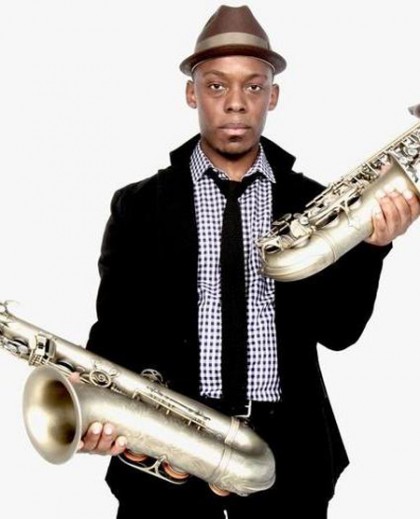 Strickland is the type of high-caliber performer the series has attracted dating to the inaugural 2012 season, which included guitarist John Scofield, saxophonists Russell Kirk and Jim Snidero, and drummer/living legend Roy Haynes to Homewood with their bands. This past fall, the second season continued that streak with drummer Terri Lyne Carrington, vibraphonist Joe Locke, and saxophonist and bassist (and Peabody alumnus and Preparatory faculty member) Blake Meister.
Still to come this spring: Jason Moran (March 30), the director and chair of Peabody's Jazz Studies program Gary Thomas in a duo with Jack DeJohnette (April 20), and a Chick Corea solo piano evening (May 21).
The series doesn't just bring great music to campus, though. Often, the performers conduct master classes with students in Peabody's jazz program. "Some of these performers might not be coming through Baltimore otherwise," says Ian Sims, the chief administrative officer for the series, academic coordinator for the Jazz Studies, and Preparatory faculty member. He's also a product of Peabody's jazz program who understands how important master classes with working musicians are for students.
"It's an opportunity we probably wouldn't have had [without the series]," Sims says. "A lot of artists will talk about their technique and that sort of thing, but they also offer a lot of insight into what it's like being out there performing, which is good for students because sometimes they lose sight of what things are really like. Hearing it directly from somebody definitely puts things in perspective."
Such conversations reinforce how students experience the program, which provides musical education and technical expertise and the demanding rigor associated with a conservatory, but also an understanding of what it takes to make being a jazz artist a career.
"I feel like the way [Thomas] structured the program, it's not so much that [the faculty] is telling you what to do, [they're] teaching you the skills so you can figure out how to keep doing it after you're out of school," Sims says. "All the faculty are very receptive to working with students, which is great. I don't know how other programs are with that but here, that's just common. They see a student doing something and they think they're really putting in the effort and it looks like a good endeavor, they'll jump on with it and help out.
"I think it teaches the students a certain amount of humility too," Sims continues. "Because it's like, These guys are at a much, much higher level and they're willing to play with us. It keeps you humble."
The Marcus Strickland Quartet plays two sets Feb. 16, at 8:30 p.m. and 10 p.m. Visit the Jazz at the Hopkins Club site to purchase tickets online.