Johns Hopkins University President Emeritus Steven Muller, who led the university from 1972 to 1990 and also served for about a decade as president of The Johns Hopkins Hospital, died Saturday with his wife, Jill McGovern, at his side. He was 85.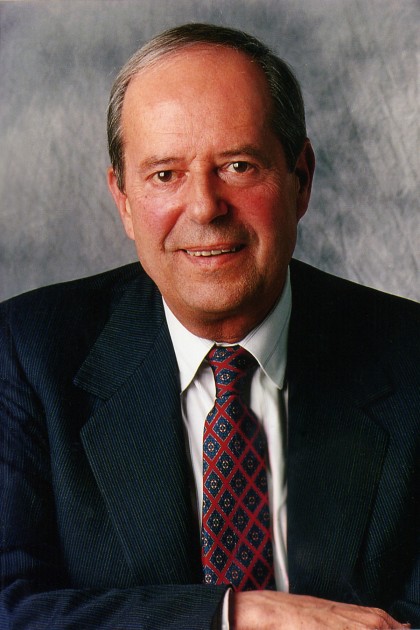 Muller joined Johns Hopkins as provost in 1971. He served in that position for just 10 months, however, before the Board of Trustees selected him in 1972 to lead the university. That same year, he was tapped to head the hospital, making him the first since Daniel Coit Gilman, the university's first president, to hold both presidencies. Muller relinquished the hospital post in 1983.
Current President Ronald J. Daniels praised Muller as "a remarkable leader whose vision and determination enhanced dramatically the institution's national and global prominence."
Daniels has requested the university observe a period of reflection on Tuesday at 11 a.m. in Muller's honor. In a message to the Johns Hopkins community on Monday he said, "I ask you to observe a moment of silence, wherever you are, at 11 a.m. on Tuesday, January 22. We are a community separated by oceans, with campuses as far away as Italy and China, but for this 2-minute period of reflection in his honor, it is my hope that you will join together as we pay tribute to a man of vision and determination who was in many ways responsible for the Johns Hopkins we know today."
In his email, Daniels also invited well-wishers to leave personal memories and messages of sympathy for Muller's family on a tribute web page.
Muller created the affiliation with the Peabody Institute, and his commitment to the arts and culture also resulted in the restoration and reopening of what are now Homewood Museum and Evergreen Museum & Library.
Muller was instrumental in bringing the Space Telescope Science Institute to Baltimore and the Homewood campus, ensuring that science operations for the Hubble Space Telescope would be controlled here and creating enormous collaborative opportunities for the university's own physics and astronomy faculty, which now includes two Nobel Prize winners. The institute's building, which bears Muller's name, stands across the street from the university's Bloomberg Center for Physics and Astronomy, also built during Muller's presidency.
With prescient insight into China's future as a global power, Muller ensured that Johns Hopkins would be an instrumental part of the conversation between that nation and our own, establishing the Johns Hopkins-Nanjing University Center for Chinese and American Studies.
On Muller's watch, the university also established the Krieger Mind Brain Institute and academic centers for part-time students in Baltimore, in Montgomery County, Md., and at the Applied Physics Laboratory.
Under Muller's leadership, the School of Nursing became a stand-alone division of the university for the first time. A scant few decades later, it is known as the nation's best. Muller also oversaw the establishment of the School of Engineering, which was broken out from the School of Arts and Sciences.
He also was a leader in the expansion and modernization of what is now the Johns Hopkins Bayview Medical Center campus following Johns Hopkins' acquisition of the old City Hospitals from Baltimore City.
A skilled fundraiser, the former president financed much of the university's growth with dollars raised in two highly successful campaigns: the Hopkins Hundreds Campaign, which raised more than $109 million for the university and hospital between 1973 and 1976; and the Campaign for Johns Hopkins later in his tenure, which brought in more than $600 million, well exceeding its $450 million goal.
A gifted writer and speaker and passionate advocate of the humanities, Muller was a specialist in comparative government and international relations. His many writings include a textbook on these subjects and numerous professional articles. He will be remembered for musing that "nobody ever died of English" while arguing very seriously for the need to support the humanities as vigorously as medicine and the life sciences.
Muller came to Johns Hopkins from Cornell University, where he was vice president for public affairs and before that director of the Cornell University Center for International Studies. He also held a tenured appointment as associate professor of government there.
He was born in Hamburg, Germany, and spent his teenage years in Los Angeles, where he won several roles in major Hollywood motion pictures. But education overtook acting and he enrolled in the University of California, Los Angeles, graduating in 1948. In 1954, Muller earned a degree in politics from Oxford University, where he was a Rhodes Scholar. He earned his PhD at Cornell.
During his time at Johns Hopkins and into his retirement, Muller sat on numerous boards and was a member of many scholarly and professional organizations and associations. After leaving office, he maintained offices at Evergreen and at SAIS. He was awarded an honorary doctorate of humane letters from a grateful university in 2000.
Plans for a memorial service will be announced when they are available.