At a party in a Bronx apartment building in the early '70s, DJ Kool Herc invented the break beat, isolating and extending the drum break the crowd most wanted to hear. From that event 50 years ago, hip-hop and its constitutive elements of rapping, breakdancing, DJing, and graffiti-writing emerged as an experimental movement from Black and Latino youth.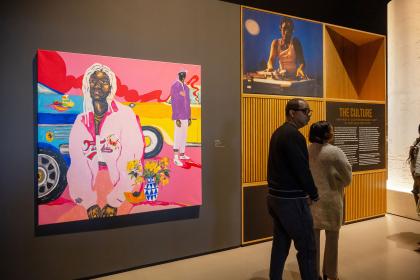 The Culture: Hip Hop and Contemporary Art in the 21st Century, on view at the Baltimore Museum of Art through July 16, acknowledges these origins and then cuts a left turn. This is not a historical retrospective but rather a series of stories portraying the multifaceted relationship between hip-hop and visual culture through nearly a hundred works of art, fashion, and ephemera.
Featuring mostly objects from 2000 to the present, The Culture emphasizes the impact of technology and social media on art and music, especially its role in boosting hip-hop's reach. Hip-hop innovated its way from the underground into the mainstream, translating life through rhymes and beats. Newer platforms like YouTube, SoundCloud, and Bandcamp have democratized the process of access and discovery. Such advances, says BMA Director Asma Naeem, A&S '91, have "allowed folks to find representation and visibility in an industry that was previously protected by gatekeepers."
In contemporary art and hip-hop's intricate web, culture is entangled with everything from avant-garde movements to cults of celebrity and capital. "You may think you can [understand contemporary art] without thinking about hip-hop. We're saying you can't," explains Naeem, who co-curated the show with BMA Chief Education Officer Gamynne Guillotte and co-organized it with curators from the Saint Louis Art Museum. "And you may think that you can also move through hip-hop and not pay attention to the contemporary art influences that hip-hop has created. But we're saying that the two are porous in ways that are unrecognizable."
"Hip-hop … is the most accurate arbiter of the zeitgeist, of the consciousness of the people and of the age. And insofar as this moment is defined by sex, shopping, terror, and virtual life and death, hip-hop remains our most prophetic cultural pulse taker, raker, and shaker."
Critic Greg Tate
Critic Greg Tate, who advised on The Culture before his death in 2021, wrote about these themes in an essay from his 2016 collection Flyboy 2, underscoring the show's thesis preternaturally well. "Hip-hop … is the most accurate arbiter of the zeitgeist, of the consciousness of the people and of the age," he wrote. "And insofar as this moment is defined by sex, shopping, terror, and virtual life and death, hip-hop remains our most prophetic cultural pulse taker, raker, and shaker."
Other members of the advisory panel enlisted by The Culture's curators included Peabody Conservatory Associate Professor Wendel Patrick and historian Timothy Anne Burnside, A&S '14. A dynamic catalog accompanies the exhibition with essays, ekphrastic works, criticism, and interviews with artists, designers, and academics conducted by several dozen contributors, including Naeem, Tate, and Lester Spence, a JHU professor of political science and Africana studies.
Considering hip-hop as a whole ethos, the stories told by The Culture transmit as vast, layered, and multisensory experiences. This is particularly true of two collaborative sound art pieces, Of the Culture 1 and 2, by multidisciplinary Baltimore musicians Patrick and Abdu Ali. The sounds follow you throughout the galleries, fading in and out of present awareness, like when a song from a car stereo grabs your ear as you walk down a busy road.
"It was important for me to reach back in time and find a lot of the original samples in songs that we're very familiar with," says the award-winning sound engineer Patrick about his work, which weaves original compositions through familiar classics. "You will hear things like [Public Enemy's] 'Rebel Without a Pause,' 'Paper Thin' by MC Lyte, 'Runnin'' by the Pharcyde. And when you listen to them, all of the songs themselves are actually put together using the original samples." That includes, he adds, "a version of 'Tha Crossroads' by Bone Thugs-n-Harmony that sounds like a jazz quartet."
Curatorial decisions like these break up static conceptions of what a museum feels and sounds like, a part of Naeem's mission even before her promotion to BMA director in January. "Museums, for far too long, have only wanted to create very strict definitions, according to white European tastes, about what art is. And what we're saying is that hip-hop has exploded those values," Naeem said at a preview of the show.
Also see
Spread around the show, different works wrestle with related themes—on perception, power, and respectability politics—creating their own interconnected nodes. For example, Tschabalala Self's painting Setta's Room 1996 references a canonically provocative poster of Lil' Kim in Self's sister's childhood bedroom "and the consternation that poster caused her mother," Guillotte quips. Elsewhere, a display showcases hair stylist Dionne Alexander's impeccable recreations of the iconic wigs she'd made for Lil' Kim. Nearby is Murjoni Merriweather's fiercely beautiful Z E L L A, a ceramic portrait bust enrobed by tight braids of synthetic hair and adorned with products from a beauty supply store.
The endurance of influential figures, styles, and sounds—and the way younger generations riff on them to create something new—forms a recurring theme of The Culture. "It is remarkable that hip-hop is a 50-year-old movement, starting in 1973," Naeem said after introducing a dozen or so Baltimore artists included in the show. "And here are artists who are in the bloom of their youth who have been influenced by hip-hop."