Meet Perveen Mistry. Or maybe you are already acquainted? After all, this oh-so-aptly named mystery series heroine made a splash in the whodunnit world when the debut novel she appears in, The Widows of Malabar Hill, became an international bestseller in 2018. It swooped up several of the genre's literary prizes, including Agatha, Macavity, and Mary Higgins Clark awards. Reviews were glowing, with The Wall Street Journal praising the "deft prose" and calling it a "splendid first installment in what promises to be a memorable series." Two more Mistry mysteries have followed, with a fourth, The Mistress of Bhatia House, arriving in July.
Mistry inhabits an exotic, slower-paced world whose traces are vanishing beneath the modernity of the megacity we now call Mumbai. It's Bombay circa the 1920s, and Mistry is the city's first woman lawyer. In this capacity, she solves crimes in a multicultural municipality where streets echo with many tongues: Hindustani, Marathi, Gujarati, and, of course, English. This is the colonial era, and the ruling Brits glide by the pedaled rickshaws in sleek automobiles and sip gin cocktails on the veranda of the opulent Taj Hotel.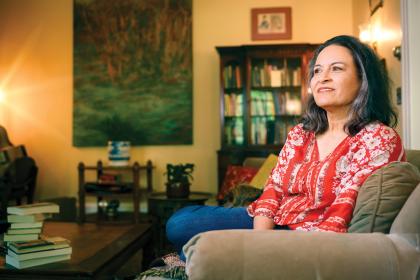 Like many great literary sleuths before her, Mistry pursues justice with intelligence and drive tempered by intuition and empathy. But unlike most other gumshoes, pro or amateur, she faces substantial headwinds, such as her era's baked-in sexism. Laws forbid women solicitors—even Oxford-educated ones like Mistry—from appearing in court, so she is relegated to contracts, wills, and other legalese paperwork. Hers is an age rife with classism, strict religious traditions, and enough rules of decorum for young women to make Edith Wharton blush. Speaking with strange men in the street and riding in a cab alone are behaviors errant enough to raise the eyebrows of her family and peers. And her love life? It's locked in limbo. Though separated from an unfaithful husband who beat her, divorce is not an option since the courts don't consider her experiences with abuse and adultery sufficient reasons to grant a woman a divorce. While the heart of an inchoate feminist beats within her, Mistry lives dutifully with her family.
Sherlock Holmes she isn't. But then, the Hopkins Writing Seminars alumna who created her is no Sir Arthur Conan Doyle, as she's among the contemporary mystery authors happily diversifying who can take up the magnifying glass in search of clues. Before Mistry began probing Bombay's mysteries, the same author birthed Rei Shimura, a biracial antiques dealer turned amateur sleuth who solves crimes in modern-day Japan. This first mystery series concluded in 2015 after a dozen popular novels.
So whodunnit?
Meet author Sujata Massey, A&S '86. She shares a rangy 1890s house in Baltimore's Tuxedo Park neighborhood with husband Tony Massey, A&S '85, Bus '96 (MS), '01 (MBA), and it's where I went to have her demystify her mystery writing career. Asian art abounds and before we chat, she led me on a quick tour. A lush painting in the living room depicts Udaipur, India's turreted City Palace. Some colorful plates that catch my eye are Japanese Imari porcelain, I'm told.
Massey's diverse, global perspective reflects her own heritage. She was born in Sussex, England, to an Indian father doing graduate work at Cambridge University and a German mother enrolled at a school for translators. The family moved to the U.S. when Massey was 5, ultimately settling in St. Paul, Minnesota. "We all had different accents," Massey recalls with a laugh, "My dad had an Indian accent, my mom had a German one, and I sounded British." It wasn't always easy for the young immigrant girl with a curious name who used a differently hued crayon than her Nordic-stock classmates when art time called for self-portraits. Young Massey often turned to the bookshelf for solace, absorbing works from all manner of authors, Doyle and Agatha Christie among them.
A family trip to India to visit Hindi relatives in Bengal and elsewhere when she was 10 was an eye-opening highlight of childhood—and not just for the sight of wild monkeys in the trees. "It was positive culture shock," Massey says. "Just meeting other Indian children and doing things with them. It was probably what awakened in me a love of travel. And it was warm! I'd been living in Minnesota for a few years by then."
Wanting to head east for college, she first landed at Goucher College studying English. By her second semester, Massey took advantage of an agreement allowing her to take the first of a handful of classes at Johns Hopkins. She even wrote for the Johns Hopkins News-Letter before formally transferring to the university in her junior year. She'd found a happy home in the Writing Seminars program. "It was super diverse and international," Massey says. "We were a joyous mix of people from South Africa, Italy, Mexico, Pakistan, India, Spain, and Brazil who got along easily."
Mysteries come with a built-in plot structure and yet remain eminently adaptable and flexible.
Two life-changing events happened at the time, though she didn't yet know it. Among her group of friends was a senior combining pre-health studies with the Writing Seminars: her future husband. And she also took a class from esteemed mystery writer Martha Grimes, the American scribe celebrated for her British-based series (now numbering 25 titles) featuring Inspector Richard Jury of Scotland Yard. Massey wrote her first mystery stories and took to the genre. Mysteries, she learned, come with a built-in plot structure and yet remain eminently adaptable and flexible. "She enjoyed her writing life," Massey recalls of Grimes. "She said she took trips to England every year to do research and wrote it off her taxes."
After graduation, Massey knew she wanted to be a novelist. But was she ready? "Anne Tyler was a perfect example of the kind of writer that I would want to be when I got into my 50s," she says, name-dropping Baltimore's matriarch novelist—and Massey's neighbor—who achieved literary success in middle age. "I didn't think anyone could come together mentally and skill-wise to write fiction until after quite a few years."
But if she wouldn't be writing books, she would still be writing. An internship at the (now defunct) Baltimore Evening Sun provided a foot in the door to journalism, leading to freelance work as a weekend cops reporter and ultimately as a features writer. While many of her former classmates were off working on MFA degrees, Massey was being schooled at work, adopting and honing skills she still leans on. "I learned a lot about gathering details as a reporter," she says.
After a few years on the Baltimore beat, she became reacquainted with Tony Massey, now doing rotations at Johns Hopkins Hospital. What was once plutonic became passionate, and they married. And along with a new last name came a new groundbreaking adventure.
Big in Japan
In exchange for assistance with his medical school tuition, Dr. Massey was obligated to spend the first years of his medical career in the U.S. Navy, serving the health needs of the fleet. This is how the young couple ended up moving from Baltimore to outside Tokyo. While Virginia Woolf famously stated that what a woman needs to become a writer is a "room of one's own," what Massey seemingly needed was, essentially, a foreign country of one's own. Japan—modern but traditional, baffling but fascinating—became her muse.
She'd been in the land of sleek skyscrapers and bullet trains only a few hours when she saw a "procession of men in loin cloths carrying a wooden shrine" as part of some ancient ritual. The paradox was intoxicating. Massey was a stranger in a strange land, and because of her husband's commitments at sea, often alone. But then never lonely. "I studied Japanese so I could try to connect with people, and I volunteered as an English teacher," Massey says. "I would travel around with friends I met or just do things on my own."
What Massey seemingly needed was, essentially, a foreign country of one's own. Japan—modern but traditional, baffling but fascinating— became her muse.
"I think we arrived in August, and by December I knew I wanted to try to write fiction," she adds. "I started looking at everything in my life differently."
A snowy visit to the Japanese Alps with her husband had her harking back to her lessons with Grimes. "I imagined what would happen if someone was killed there," she says. "Murder at an inn with a closed circle of people and snow around so footprints could mean something was the perfect setting for a cozy mystery."
She decided to write in first person, but not wanting a narrator with her "exact ethnic credentials," she made her 27-year-old sleuth, Rei Shimura, half-Japanese, half-American. A dog-eared work-in-progress manuscript came home with her after two years in Japan. Massey got a media relations job with the Johns Hopkins Office of News and Information and workshopped the budding novel in a writing class in the Hopkins Odyssey adult education program. Nearly five years after the snowy inspiration, it hit shelves in 1997 as The Salaryman's Wife and won the Agatha Award for Best First Novel from Malice Domestic, a nonprofit organization of traditional mystery fans.
Shimura was off and running. Continuing the series required regular research trips to Japan. Each book deals with a different aspect of Japanese culture, old and new, that Massey sought to explore: The Flower Master involves the murder of a teacher of ikebana, the ancient art of flower arranging, while The Floating Girl brings death and a disappearance to the youthful world of anime.
But by the 10th tome, Massey began to feel it was time to move on. "Rei and I were the same age when I started," Massey says with a chuckle. "But by the end, I was in my 40s, and only three years had passed in her life. I wanted to do something different. I wanted to test myself by writing something historical set in India."
Saying goodbye to Shimura was "bittersweet," she says. People still write asking if new books in the series are forthcoming.
A passage to India
Massey's first effort in her new direction was 2013's The Sleeping Dictionary, a historic suspense novel set in 1930s Bengal (not to be confused with the unrelated film of the same name). Though the book was well received, her publisher had the idea to combine a historical setting with her penchant for mystery.
Enter, Perveen Mistry. She first appeared in a short work published as a novella with other stories as India Gray in 2015. The character was inspired by Cornelia Sorabji (1866–1954), India's first woman lawyer and a noted social reformer. Though Sorabji was a practicing Christian, her father was born a Parsee, an ethnoreligious Indian minority descended from Persian (Iranian) worshipers of the prophet Zoroaster who began emigrating in the Middle Ages. To honor Sorabji's legacy, Massey made Mistry a Parsee, and the stories are set in Bombay, home to the sect's largest population.
While Massey says Shimura and Mistry are both "compassionate" and "watchful on issues of discrimination, especially toward women," their lifestyles could hardly be more dissimilar. Daring, modern-day Shimura is globetrotting and, to some extent, bed-hopping, while modest Mistry is a duty-bound homebody. It's tantamount to switching from writing Casino Royale to the Age of Innocence, though Massey asserts the abrupt gear change "wasn't that hard."
"The Perveen series is in third person, providing a bit of distancing that wasn't in the first series and that helped me with the transition," Massey says. The research is more intensive—yes, trips to India are required—and she also has her manuscripts reviewed by Parsees and other groups as appropriate. Real events also figure in the fictional series. The Bombay Prince, the second book in the series, sets the murder of a female college student amid the civic unrest that greeted a 1922 visit to Bombay by Edward VIII—the Prince of Wales and future colonial overlord—as the population began to chafe under the British yoke.
"The first series was a traditional mystery exploring Japanese culture and what it is to be bicultural, while the new books are much more of a feminist series," Massey says. "And there just aren't a lot of novels about colonial India from an Indian woman's perspective."
While the series is steeped in the politics of its era, Massey didn't initially envision her stories having much political resonance in 21st-century America. She says she started the series before the 2016 election that so divided the country. "Then a lot of people started to feel that their government didn't represent them and that it was doing things that went against the community at large," Massey says. "This seems representative of a colonial government."
In the newest book, Mistry investigates misdeeds and ultimately a murder related to the opening of Bombay's first women's hospital. The era's arcane laws around abortion and access to birth control also figure in the story. Though she started it before the U.S. Supreme Court overturned Roe v. Wade and some states began passing new laws (or dusting off old ones) to restrict women's reproductive rights, the century-spanning parallels are easy to see.
Also see
The fifth Mistry book is well underway, slated to be delivered to the publisher this fall. An Indian publisher also releases the series in India, though only in English for now, not the more widely spoken Hindi. While Massey is not sure how many Mistry books she'll ultimately write, a more exciting prospect to ponder is Mistry's future not on the page but on screen.
Massey has had numerous production companies express interest and acquire options on her works in the past. Nothing seemed to click. Protective of her creations, she's taking a more hands-on approach. "I'm working with a group in India now," she says. "We're assembling a team with a screenwriter and a director and then we're going to pitch to all the platforms."
Now, if you've spent much time with both of Massey's fictional ladies, you'll come to feel that Shimura would be a tad jealous that Mistry's life is the one that may get the Hollywood treatment. Or maybe make that Bollywood.