Classically trained tenor Brendan Dorr, Peab '03, is founder of the Baltimore Bartenders' Guild and co-owner of gin-focused cocktail bar Dutch Courage in the city's Old Goucher neighborhood. Here, he offers readers a custom JHU cocktail—and a mocktail—to sip while reading this themed issue. Or, mix up a batch for your next alumni get-together.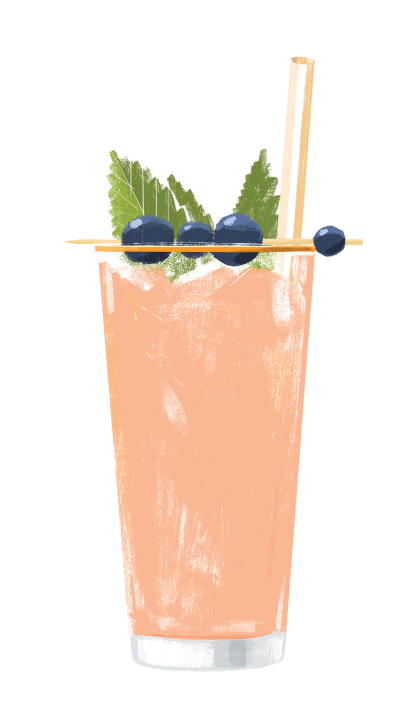 THE BLUE JAY
1.5 oz. gin (Recommended: Baltimore Spirit Company's Shot Tower Gin, made less than 2 miles from Homewood campus)
.5 oz. blueberry syrup*
.25 oz. Giffard Vanille de Madagascar
.75 oz. lime juice
Fever Tree ginger beer
Build all ingredients except the ginger beer in a cocktail shaker with ice. Shake for 5-10 seconds and strain into a highball glass over fresh ice. Top with ginger beer and lightly stir to mix. Garnish with a sprig of mint.
THE CAGE-FREE BLUE JAY (nonalcoholic)
2 oz. Seedlip Spice 94
.75 oz. blueberry syrup*
.75 oz lime juice
Fever Tree ginger beer
Build as above.
*Blueberry syrup: Commercial versions are available, or make your own: In a blender, combine 2 cups of simple syrup (1:1 ratio of hot water and sugar and stir until the sugar dissolves) and 1 cup of blueberries, fresh or thawed from frozen. Blend for one minute on a medium speed. Strain through fine double-mesh strainer. Store in a covered container in the refrigerator until ready for use. Good for one month.