I'm sure some people visit New York City's Grand Central Oyster Bar and never eat an oyster. They come to gawk, not slurp.
The cavernous eatery tucked below the iconic namesake train terminal is over a century old, cracking its first bivalve in Woodrow Wilson's inaugural year. This gastronomic catacomb, just out of earshot of the "all aboard" announcements ringing overhead, features serpentine vaulted ceilings of interlocking terra cotta tiles, a celebrated work of architect Rafael Guastavino.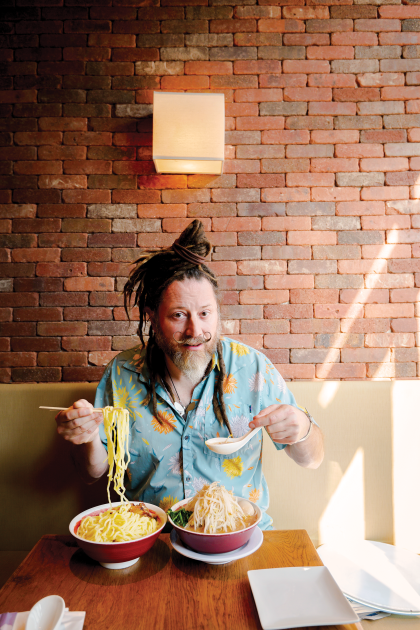 Why am I here? I'm on a mission and slurping is on the agenda. I'm meeting a guy who's eaten 32 dozen oysters in eight minutes. (That's four oysters every five seconds.) He's sucked up 459 oysters on the Late Show With David Letterman.
I pass through a nondescript door beneath a sign reading Saloon and enter a more intimate space, one whose wood-paneled walls probably wear a patina of vintage nicotine. The clubby, retro barroom calls to mind Mad Men, as I'm sure it's witnessed many Don Draper types in two-button suits throwing down a dozen Blue Points and a Rob Roy before catching the 5:38 to New Rochelle.
The man I'm meeting sports a voluminous head of reddish dreadlocks and a loopy handlebar mustache, and he will most certainly be wearing shorts despite its being a dank January day out on the streets above.
You see, I'm meeting Crazy Legs Conti: writer, filmmaker, and, oh yeah, globally ranked competitive eater.
That's a lot to unpack, starting with the name. While that's what now appears on his driver's license, folks who were on Homewood campus in the early '90s might remember him as Jason Conti, A&S '93, a three-sport athlete, Alpha Delta Phi brother, and Writing Seminars major.
Competitive eating is simply that: individuals competing against one another to rapidly consume massive quantities of food in a specified time. The fairground pie eating contest expanded and diversified. Major League Eating is the sport's sanctioning body—its NFL or MLB—and oversees dozens of eating competitions each year, from brain tacos to waffles. And every Fourth of July since 1972 is the eater Super Bowl: Nathan's Famous International Hot Dog Eating Contest on Coney Island. Conti has been an MLE eater for 21 years and has mounted the Famous Nathan's stage 15 times.
He first graced this magazine's pages back in 2005 as part of an issue playfully themed around the seven deadly sins. (Conti's was gluttony.) These were his eating career's early days, and the documentary about his improbable transition from fan of the sport to eager participant, Crazy Legs Conti: Zen and the Art of Competitive Eating, had only recently aired on the A&E network. He's since had a tableside seat as competitive eating morphed from fringe activity to something approaching cultural legitimacy, its marquee events covered by ESPN. And the money followed. World champion chomper Joey Chestnut, an otherwise everyman Midwestern suburbanite, makes a comfortable living putting away, say, 121 Twinkies in six minutes or nearly 2 gallons of gumbo in eight, between prize money and product endorsements (Hooters, Hostess Cakes, and, of course, Pepto Bismol). He even hawks a line of branded condiments.
Conti, I've learned, has largely been eating at the leaner end of the table. I'm halfway through a three-day visit with him to discuss his curious career and eat (normal amounts of) chicken wings and hot dogs.
And oysters, as here he comes now, shorts clad as always, a battered Carhartt jacket a lone nod to the season. "You know, I have come to believe that the oyster is my spirit animal," he says, settling in. "Some people commune with their spirit animal by emulating it. I just eat it. Or eat them by the dozens."
It's safe to say Conti's life changed forever in 2002 after eating a single oyster—and following that up with 407 others. He was visiting New Orleans where the Boston native's beloved New England Patriots were playing in the Super Bowl. His buddies had game tickets; he did not. Conti wound up at the Acme Oyster House, and on a whim as much as anything, decided to try and beat the restaurant record of 33 dozen oysters consumed in a single sitting. The Pats won the game, and Conti broke the record: 34 dozen dispatched.
"It wasn't easy," Conti recalls. "It took almost four hours, and my stomach was distended. But when I got back to New York, the league had taken notice." Indeed, Major League Eating sent him back to the Big Easy barely a month later for an oyster eating contest where Conti, using a self-styled, hands-free, bob-and-slurp method, set a world record: 16 dozen in 10 minutes.
Given NYC prices, we'll be sharing a dozen today. When the brimming tray of iced shellfish arrives, Conti shows he can switch gears and enjoy quality over quantity—praising the crisp Massachusetts Wellfleets and calling out the cucumbery taste of the Pemaquids from Maine. When speed eating bivalves, the blander the better he says. It's all about "rapid loading and swallowing." And afterward? "It kinda feels like you've got a miniature lake in your stomach," Conti says. "You move back and forth and feel it sloshing."
Along with a ready gullet, Conti brings a quirky persona and natural showmanship to the table. That's perhaps why Letterman's people reached out to him in 2005 for an on-air food stunt. "What I really wanted to do was to have them fill the green room with cotton candy with me inside and I'd have to eat my way out," Conti says. (There was a precedent: A year earlier he'd eaten his way out of an 8-foot-tall box of popcorn—the so-called Popcorn Sarcophagus.) Instead, they had him try to best Acme's latest house record of 44 dozen oysters. Conti, slurping out in the theater lobby on a video feed, came up some six dozen short and never met Dave. His consolation prize: a gift certificate for Red Lobster.
But records are made to be broken, and for many years now a 105-pound Korean American named Sonya Thomas has been "Master of the Mollusk," eating a staggering 47 dozen oysters in eight minutes in 2012. Conti's corn-on-the-cob record of 47 ears eaten in 12 minutes has also fallen. (A 20-something from New Jersey has eaten 61 ears.) His world record in French-cut green beans still stands (2.71 pounds in six minutes), and he also holds the title in buffet food (5.5 pounds of mixed items in 12 minutes). He is now 31st on MLE's global eater rankings, down 20 places from his peak. Conti came into the scene a young, hungry upstart. Now, at age 52, some younger, hungrier eaters seem to be having him for lunch.
While he sometimes laments about being in the "Fat Elvis" phase of his eating career, he just as readily admits he is not ready to "hang up the esophagus." And competitive eating might really be just a colorful diversion for him. "My goal has always been to take what I learned at Hopkins and live off my creative endeavors in writing, film, and TV," Conti says.
To wit: Crazy Legs is still hungry. Whence came his preternatural appetite?
Needle-thin skyscrapers are the newest addition to New York's skyline, each providing ever more improbable penthouses for a global billionaire elite. Far below, most of the (dwindling) number of working-stiff Manhattanites live along Conti's lines: He and a roommate share a cramped East Village walk-up at the end of a shabby hallway. Fittingly, the front door opens straight into the kitchen, which is where I first meet Conti, a hale and hearty fellow at 6 feet, 3 inches tall and 222 pounds.
The series of small rooms brims with books reflecting his diverse interests—from the Marx Brothers to surrealism—as well as artifacts from two decades in the eating game, including the ceremonial Oyster Belt he took home in 2002. But before getting too comfortable, I need to get an awkward question out of the way. The 800-pound meatball in the room, if you will. What does Conti say to those who find competitive eating, well, utterly disgusting? Rapidly gorging oneself up to the precipice of vomiting (dubbed a "reversal of fortune," it brings instant disqualification) is a gratuitous vulgarity, an affront to both global hunger and obesity.
He doesn't bat an eye. I sense he's chewed over these topics before.
"We recognize that we're an easy target for what is perceived as gluttony," he says. "But there's more food waste from craft services on a Hollywood set than after a competitive eating contest." The notion that the contests encourage overeating, and thereby obesity, he feels is moot because the top competitive eaters are overwhelmingly in fit, athletic shape. (Conti jogs and does yoga.) Hunger charities, meanwhile, are frequent beneficiaries of the sport's philanthropic efforts, he explains, with Nathan's alone having donated over half a million hot dogs to food banks.
"In the end, it's not meant to be high art," Conti concludes. "Some people see it as a thing of beauty, as I do, because they recognize what it is. Other people are just absolutely mortified and grossed out. I guess there's room for everyone's opinion."
But it was film, not food, that first drew him to New York after graduation, and he spent several years in the world of movie production. "I worked on an Al Pacino movie called Chinese Coffee and became friends with Morgan Spurlock," Conti says. (Spurlock being the filmmaker who ate all the McDonald's food in Super Size Me.) Much of his work was for onetime indie-film production darling The Shooting Gallery, a company that ignobly folded in 2001. Conti joined so many others, as he says, "on the hustle" to stay afloat in NYC. He's been a short order cook, bartender, window washer, and nude model. His downtime was spent writing, trying to sell spec scripts for shows such as The Simpsons and Seinfeld.
As a promo for his documentary, someone had the idea to combine his jobs: "The NYPD would not let me get nude, so I wore a little Speedo, climbed out a window ledge, and ate a dozen doughnuts while cleaning the window in under three minutes," Conti says. Today, he is a maître d' at a noted SoHo café (he calls himself a "maître don't," as he often has to curtail the wee-hour impropriety of "supermodels and their hangers-on"). On weekend mornings, he sells pasture-raised meat from upstate at city farmers markets. He also has a new writing partner, and the screenplay paper chase continues.
"If Salvador Dalí were alive, I could see him presiding over some great eating tournament. But I also recognized the competitiveness, the challenge of it."
Crazy Legs Conti
Conti attended his first Nathan's Famous contest as spectator in the late '90s. It was love at first bite. The ESPN cameras hadn't arrived yet, and the crowd was in the hundreds. "It was a real subculture—weird and preposterous," he says. "If Salvador Dalí were alive, I could see him presiding over some great eating tournament. But I also recognized the competitiveness, the challenge of it."
He had always been a big eater himself—his folks had 10 gallons of milk delivered a week. He jokes that when playing basketball and football (backup punter), and competing at long jump at Hopkins, he was a bench warmer who excelled at the pregame meal.
As an MLE "gurgitator" (to use speed-eater jargon), he's eaten 5 pounds of banana pudding in Alabama, 15 bowls of kale in Buffalo, and over 4 pounds of shrimp cocktail in Indianapolis. At times he's had an eating event every week, between competitions and media appearances—from national television, such as the Today show and The Tonight Show, down to yucking it up with local radio DJs. Conti can even be seen scarfing down cannoli on an episode of The Sopranos. The Discovery Channel sent him and other eaters to Alaska to speed eat cabbage and reindeer sausage. But it really became a case of "have stomach, will travel" when Navy Entertainment, a company that brings leisure time activities to naval bases around the world, partnered with MLE in 2010. Conti did six tours for them, visiting far-flung military bases in Japan, Guam, Korea, Crete, Italy, Greece, even Guantanamo Bay. No window washer/nude model had a more dog-eared passport.
He says these were "pro-am events," with MLE eaters teaming with service members so that the men and women in uniform could cheer on their own racing to put away Twinkies, boiled eggs, and hot dogs. "It's the best thing I ever did," he says. "Not as an eater, just as a person. I got a chance to see what it takes to be in the military and the sacrifices people make."
He began chronicling his eating adventures for a Huffington Post blog in 2013, since compiled into his 2019 book, The Loneliness of the Long-Distance Eater: A Competitive Eater's Diary. (Here he is on a particularly messy taco eating contest: "If Jackson Pollock had eschewed the brush for the guacamole gun at Taco Bell, this is what he would have created.")
His worst competition? Pig's feet at the New Jersey State Fair. The contest was sandwiched between a tween girl dance troupe and an ugly baby contest. "And then there we were eating pig's feet, which look terrible and are all fat and cartilage," he says. (Conti came in third with less than a pound consumed.)
A food-related high point was getting to know Takeru Kobayashi, the six-time Nathan's champ who revolutionized the sport and became its first star. "I visited him in Japan," Conti says. "One of the greatest meals of my life was at the Nagoya International Hotel, where we had fugu—the deadly blowfish."
Exotic edibles aside—and Conti recalls eating live octopus in South Korea—the humble hot dog remains competitive eating's ultimate comestible. An all-beef benchmark. Conti's personal best is 26 Nathan's dogs and buns in 10 minutes. Impressive until you realize Joey Chestnut has eaten 76 of them on a Fourth of July stage. Conti has little chance of winning the ceremonial Mustard Belt. Still, he longs to be on the stage among his "brothers and sisters of the stomach." To do so, he must first win a regional Nathan's contest, and for Conti, that means flying around the country to gobble up a win where he can. Victory eluded him in multiple contests last year, and not for the first time. "I'm not going to lie, it's getting harder and harder," Conti says.
The hot dog might be his white whale.
Nathan Handwerker, a Jewish immigrant from Poland, opened his nickel-a-weenie stand on Coney Island in 1916. Nathan's Famous was born. It's a grueling subway ride out to that pioneer outpost from Manhattan, so I find a Nathan's cart on the southeast corner of Central Park.
Also see
There, in the shadow of the Plaza Hotel and its $40,000 a night Royal Suite, Conti demonstrates the messy, unsubtle art of devouring a $3.50 Nathan's dog in a matter of seconds. No, he's not sick of them at this point.
Kobayashi was the first to think outside the bun: eating the wiener on its own while dipping the bread into liquid to facilitate swallowing. Conti snaps the dog in half, feeds both halves into his mouth, and for lack of a cup for dipping, pours orange Powerade over the folded-in-half bun before forcing the mushy wad into his maw with an open hand. And it's gone. The tourists snapping selfies beneath the gilt statue of William Tecumseh Sherman didn't have time to wheel about and capture the spectacle.
For our final sit-down I've found the perfect place: The Burp Castle. Alas, this Belgian beer bar is closed. We hit McSorley's Old Ale House, the venerable (est. 1854) institution with sawdust on the floors and two kinds of beer: light and dark. Conti is a regular, calling it "his office," and here as elsewhere, he seems to know everyone in this city of over 8 million.
We've chewed a lot of fat these past few days. Curiously, one thing Conti won't discuss is the origin of his name. (I mean, shouldn't it be crazy stomach?) He only hints that it might go back to the basketball court. Strange reticence from someone otherwise so candid: confessing to wearing an adult diaper to a bratwurst eating contest, and that he places a roll of toilet paper in the freezer the night before competing in hot wings or other spicy food.
There is, of course, another giant meatball in the room: the health aspects of such consumption. Conti's 26 dogs represent some 7,500 calories and over a pound of fat. "With great power, comes great responsibility," he says, by way of explaining that competitive eating has made him more health conscious, not less, as he carefully watches what he eats outside of contests.
A couple of beers in and he becomes philosophical. And then poetic.
"I'm pretty grateful that in my 21st year of competitive eating, I'm still able to do it and enjoy it," Conti says. "Doing it that long and never cracking the top 10 has given me a different perspective. I really have to earn my spot at the finals. Emily Dickinson said, 'Success is counted sweetest by those who ne'er succeed.'"
Burp.