Welcome to the second half of Paul Rabil's life. He's a legend in lacrosse, a sport he's pulling to a mainstream audience. Imagine a freshly retired Babe Ruth as the commissioner of baseball in 1936. On this September afternoon in Chester, Pennsylvania, fans at the Premier Lacrosse League Championship want to shake his hand, take selfies, and have him sign the occasional lacrosse ball. Rabil wields a Sharpie like Merlin with a wand. He assumes a pleasant, peace-sign-wielding pose with the ease of turning on a light switch. He tunes out the constant entreaties for his time from boys with husky, authoritative rasps that live in your ears for days.
Paul! Rabil! Paul Rabil!
What does being Paul Rabil! entail? The 2008 Johns Hopkins University graduate and two-time collegiate champion is running the PLL with his co-founder and brother, Mike. Launched in 2018, the outdoor lacrosse league represents a radical departure from the long-running Major League Lacrosse. Players own and operate the franchises, which do not have a home base. Players have PLL stock options and health care, everyday perks that were fever-dream material in the MLL. During the PLL's first season in 2019, the average player salary was $35,000, $27,000 more than the MLL average the previous year, according to CNBC. The PLL ended up buying Major League Lacrosse, a rare case in sports business of the brash newcomer conquering the established league.
In 2019, Rabil began an incomprehensible double shift, playing in the very league he was running. The growth since has been rocket-fueled: a multiyear deal with ESPN; big-name investors such as NBA superstar Kevin Durant and his boss, billionaire Joe Tsai, owner of the Brooklyn Nets; and an excellent new ESPN documentary, Fate of a Sport, streaming now, on Rabil's journey from player to league co-creator. In the movie and in interviews, Rabil is bullish but realistic. He compares the PLL to raising a child. The brothers' energy, love, and time are invested in keeping the kid from smashing his head into the coffee table. It's not a 9 to 5 job. It's a whatever-place-and-time-of-the-day-it-needs-to-be endeavor.
Rabil doesn't take breaks as much as breaths. "Energy management," he calls it. Mornings are crucial. When he wakes up, he doesn't look at his phone for at least 30 minutes as he grinds his own coffee and downs his lemon water. "Once I access my phone," he says, "I'm in game-day mode." Driving provides a needed steel cocoon from the world. Interviews—yes, he's done a ton of them—allow for reflection. Lacrosse is his nucleus. That desire to be in the moment didn't stop when he took off his jersey, ending a 23-year career as the all-time leading scorer in professional field lacrosse history, a three-time MLL MVP, two-time league champion, and two-time world champion with the U.S. team.
The PLL is the juice now, but Rabil knows it's watered down. Running a league is about endurance. It doesn't approach playing "the fastest game on two feet" for high stakes in front of a live crowd. That rush was immediate, therapeutic. When he retired after the 2021 season at age 35 because of his right knee, he was playing at an elite level. It wasn't his choice to go. Even today, Rabil jokes that he can't suppress his "primitive dog behavior" when a ball appears. He has to figure out a way to play with it.
Mike Rabil understands why his brother reminisces about his playing days. Reminders linger. His number 99 jersey hangs next to those of current stars in the PLL's gift shop, wherever it is that week. Let's just say 99 sales are good. Someone needs to supplant Rabil's place on the field, and "we need that person to really succeed," Mike Rabil says.
The 2022 PLL championship game between the Chaos and the Waterdogs features an enthusiastic crowd and coverage on ABC. It's a great game, too. A minor miracle occurs in the second half: Paul Rabil is alone. He saunters from his halftime interview with ABC looking impressive in snug navy-blue pants and a white linen shirt—a perfectly tailored, breathable, casual ensemble that might look ridiculous on a mortal—and finds no one in his section at midfield. He sits and beholds his creation on a field with gorgeous, springy green grass in Subaru Park in Chester, Pennsylvania, an honest-to-goodness stadium, miles from the playing conditions he endured when he became a household name in a sport that had the media appeal of Hee Haw reruns.
His friend and former JHU lacrosse teammate, Fate of a Sport director Michael Doneger, A&S '08, later joins him. They're two buddies watching the game on a gorgeous, lazy Sunday. The bonding time between the two is but an interlude. A production guy from ABC wires Rabil for sound. He joins a group chat to determine the game's MVP and ponders the audience this game could generate. Thirty million NFL parishioners have to go somewhere during commercial breaks, right? Somehow a kid escapes the stands, desperate for Rabil's attention. Paul Rabil! "Dude!" an exasperated but impressed PLL staffer says, escorting him back to his seat.
Rabil is back in the commotion that drives him, that he would have difficulty living without.
Paul Rabil could have lived his life in normal font—and minus the exclamation mark. He decided early in his playing career to create a media platform where his persona could shine, a choice that has proved invaluable for a young sports league where player storylines and buzzy content generate interest beyond a pocket of die-hard fans. It makes sense. Where would the NFL be without NFL Films? Would the NBA be a global entertainment colossus if the league hadn't decided to showcase Michael Jordan over the Chicago Bulls?
What Rabil does now for the league he did for years for himself, Mike Rabil says. "As a professional athlete in an emerging sport, he's not making the wages of NFL players, NBA players," he explains. "He had to invest more heavily in off-the-field activities." Rabil put himself in awkward positions. He forced himself onto red carpet events. He offered instructional videos for new and advanced lacrosse players. He started a YouTube channel, where he threw a lacrosse ball across Baltimore's Inner Harbor, a feat that currently has more than 3 million views. He posed, just shy of nude, for ESPN The Magazine's famed body issue. If you were anywhere near the orbit of lacrosse, you collided with Paul Rabil, who was learning on the fly how to be a modern-day superstar in an old sport.
For Rabil's online persona to grow, Mike says, Rabil had to be great at lacrosse. Mastering both fields required nonstop intensity and focus. Rabil refused to seek shelter in his stunning physical gifts. He learned to play without the ball. He was lethal with both hands. "He studied other YouTubers and other influencers and what's working for whom," says Doneger, who has known Rabil since they met as high school juniors on a recruiting visit to Duke University. "He would continue to hone his craft. That's a microcosmic example of how he runs his life. Whenever he wants to get better at something, he really does the research and does the practice."
The documentary is part of that brand. But Doneger says Rabil understood he had to go beyond what people know from his YouTube channel, which has nearly 260,000 subscribers.
"The idea was to show the good and the bad and the rawness," Doneger explains. "Most savvy, media-trained people wouldn't go for that. Paul just realized that if this documentary was to speak to a broader audience than just the lacrosse community, we had to expose a different side of him that would bring in the nonlacrosse fan."
Fate of a Sport is a gripping look at the Rabil brothers' attempt to build a sports league from scratch. But the insight into Rabil's all-or-nothing psyche is captivating. "There's a thought in my head right now," Rabil says, battling back tears as he talks to the camera. "I don't really care about this f---ing business and I don't really care about playing. I don't know if I'm cut out for this. And it just sucks because you're like, What do I do?"
For Rabil, the documentary was "an X-ACTO knife of feedback" akin to what the best therapists or closest relationships elicit. Everyone, he says, should get a subjective look at four years of their life. It was a long look at the daily blur, which is what he signed up for when he and Mike decided to form a league so that professional lacrosse players could be treated like professionals, where the game could grow. Rabil accepts the gulf between actual life and his ideal life. He can't expect to finish work at 5 p.m. and sit down to watch an episode of House of the Dragon by 8 p.m. Enter the breaths. He finds them before he goes to bed, in therapy, in romantic and platonic relationships. "Then," says Rabil, who is divorced, "I get on with it."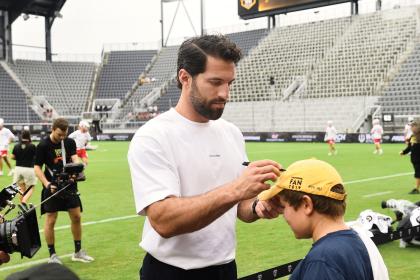 "I think when you focus inward on yourself a lot, there's the upside that you're able to build a brand as an individual, but then you're not able to build external relationships as much," Mike Rabil says. "Now he's in a place where he's trying take a longer-term approach to that and reinvest in relationships outside of himself and lacrosse."
There's a scene in Fate of a Sport in which Rabil wonders if all this effort will be worth it if he's doing the same thing in 10 years. "I hope that I'm aware enough to know that living this life for the rest of your life isn't a tenable exercise," he says.
David Cordish, A&S '60, '69 (MLA), a former Blue Jay star whose name adorns JHU's lacrosse center, remembers the phone call from his good friend, then JHU lacrosse coach Dave Pietramala, who rarely called.
"I have a kid who's outstanding, David. I'm not talking about his lacrosse. He's super-smart, super-organized. He will make a great summer intern for you. He'll work his ass off and you'll love him."
That's how real estate mogul Cordish brought in Rabil as a summer intern—and then asked him back. He would have kept asking, but Rabil wanted to try pro lacrosse. Athletes, Cordish believes, make great hires. Winning and losing, teamwork, and playing by the rules all translate to business. Of course, Rabil has mastered those qualities, but "he knows what a lot of guys don't know," Cordish says. "You're only going to win in business if you pay attention to the little stuff, the details." And, Cordish notes, Rabil did that as an intern.
The difference between a good athlete and a memorable one often lies in the ineffable. Rabil processed the game on a higher intellectual plane than his opponents, Cordish says. In college, Doneger recalls, Rabil hated to lose at anything—a practice game, pickup hoops, even FIFA on PlayStation.
What happened if he lost a video game?
Doneger pauses.
"Let's just say we had backup controllers on standby."
No one was safe from Rabil's will to win. "I played to kill," he says. He intimidated opponents to gain an edge, grabbed teammates by the collar to make sure he was heard. Free time and relationships became casualties. That drive, Rabil admits, led him to therapy.
Some of that fire came from within. At Johns Hopkins, all those smart students compelled Rabil to work harder. "Being an overachiever is probably one of the best things someone can call you," Rabil says. "It's also a very self-aware and humble place to live in." Yet, he concedes, he still battles impostor syndrome regularly. "If you don't feel that way," he reasons, "you're probably going to slip up."
"If he doesn't know something, it's pretty clear the next time you talk to him that he went out and not only did he do his homework, but he tries to know more than you do on something that you've worked on for 20 years," says Dan Margulis, senior director of programming and acquisitions at ESPN. "Which keeps you on your toes."
Doneger sat through league meetings with Mike and Paul; he insists they aren't doing corporate cosplay. They have answers for every question. They know their message. They are unafraid to voice their opinions or take criticism from powerful people in their natural habitat. The league's size, Margulis says, allows the brothers to anticipate and react to changes with a speed the big sports leagues can't match. Can we put a camera in a different location? No problem. Can this rule be changed? Sure. It also allows for a more personal relationship.
"The word that is constant and consistent is energy," Margulis says. "And they bring it, and they force you to bring that energy back. If you're half-assing it and you're dealing with them, it'll show pretty quickly. They can sniff it out."
Rabil believes if you understand your "unique skill" and nourish it, that will become your passion. He did that as a player. He has done that with this league. During the ragged days captured in Fate of a Sport, Rabil made call after call to players from Major League Lacrosse to join him with the resolve of a salesperson facing eviction. Mike Rabil says his brother's competitiveness and ambition push other people. But that goes only so far. The PLL could become too big for them to run. They want that. It means lacrosse can become generational. It means the sport will thrive. It means kids who want to make lacrosse a career can get paid millions of dollars. It means the sport can inspire, motivate, and influence, not just entertain.
Also see
It also means Paul Rabil will get further away from the game he met as a sixth grader in Montgomery Village, Maryland. Growing up, he played organized sports and whatever game was in the neighborhood—roller hockey, tackle football. "Our means of gathering was over sport," he says. Rabil fell in love with lacrosse slowly and inexorably, leaving swimming, soccer, and basketball behind. What made retirement easier, he says, was that he allowed himself years before his last game to recognize that lacrosse was not his identity. Lacrosse is what he did, not who he is. But as long as he can move, he'll stay connected to the game. Whipping a ball into an empty net is enough.
"The state of being on the field with a stick, a ball, and a net and being able to live in that present state of being," Rabil says, "is where I'll continue to find that peace."
Paul! Rabil! Paul Rabil!
The championship game, a frenetic contest, is over: Waterdogs, 11, Chaos, 9. Paul Rabil wanders through the field of revelers.
"It was fun, right?" Rabil asks an acquaintance on the field. He sounds exhausted. Mike is more upbeat. "Today was great," he says. A single-game attendance record was set, and a new champion was crowned. Rabil can exhale. His white dress shirt is almost translucent, drenched in champagne and sweat following the trophy presentation.
As a player, Rabil saw the angles others missed. When it comes to those restorative breaths, he's the same way. The day before, he took 20 minutes to shoot at an empty net and grab that contentment before driving to Baltimore, where he was enshrined in the Johns Hopkins University Athletic Hall of Fame. Now, another opportunity emerges. He heads to the Chaos' goal and with a pair of scissors, cuts out a swath of net. He stuffs it in his pants pocket. It's a moment of solitude that belongs just to him before he heads into the stadium and faces the maw of screaming admirers as Paul Rabil!