When Oscar Li began storyboarding his animated documentary What Did You Say?, he thought a lot about how to portray the sensation, science, and frustration of hearing loss.
"When I think about hearing loss, I think about fuzziness or tinnitus—a kind of haziness. I wanted to emulate that in this film," says Li, a second-year med student at Johns Hopkins.
In the film's opening scene, a simple, jagged squiggle bounces in the frame, growing larger and larger until it consumes the entire screen. In the background, a slightly discordant tune crescendos.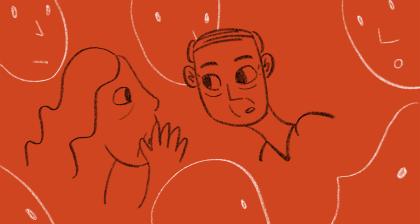 "What? What did you say?" a man's voice says. "Gee, I'm having trouble hearing you," a woman interrupts. As the film continues, the people behind those voices introduce themselves. Abba Rubin—animated in patchy lines—shares that he began noticing that he was missing a lot when out to dinner and would have to ask his wife to help him keep up in conversation. Anne Madison recounts thinking her microwave was broken, only to discover that that she could no longer hear the beep.
"It was a dawning awareness that something was not right," Madison explains. "And then it became a source of frustration."
Awareness is what Li hopes to achieve with What Did You Say?, the short film he developed in collaboration with the Johns Hopkins Cochlear Center for Hearing and Public Health. The seven-minute documentary was Li's Scholarly Concentration project, a required component of the medical school curriculum designed to nurture intellectual curiosity and an appreciation for scholarly inquiry.
Most medical students opt for clinical or public health research for their project. But Li, who minored in 3D animation at the University of Southern California as an undergrad, says he recognized it as a rare opportunity to have dedicated time to work on a film.
He reached out to Frank Lin and Molly Sheehan with the Cochlear Center for Hearing and Public Health, who were preparing to launch a campaign called Know Your Hearing Number. Created in the wake of the FDA's ruling to allow over-the-counter sales of hearing aids, the campaign will help patients take charge of their hearing health and understand the importance of early intervention when it comes to hearing loss.
Two-thirds of all Americans over age 70 have some degree of hearing loss, says Lin, director of the Cochlear Center. And the condition has lasting consequences beyond missed dinner conversation. It's a leading risk factor for dementia, and it is linked to memory loss, depression, and social isolation.
The Know Your Hearing Number campaign, whose website launched in August, aims to create a universal metric for discussing hearing health. Just as we have language for talking about our blood pressure, or even our daily step count, Lin says, we should establish common language for discussing hearing.
"Fundamentally, consumers need to know about their hearing—what it means, why it's important, and what to do about it," Lin says. "But right now, there's not a conversational metric around how to talk about hearing loss."
"What we're proposing is filling a gap," adds Sheehan, a communications specialist with the center. "We have all these ways to talk about and understand our vision or our weight or our sleep habits. We don't have anything that's within easy reach for hearing. It's not meant to be a clinical diagnosis. It's meant to be a starting point."
Using Apple phones or tablets—or by seeing a clinician such as an audiologist—people can take a simple hearing test and receive a number between zero and 100. A number less than 25 indicates normal hearing; 25 to 40 suggests mild loss; 40-60 signals moderate loss; and so on. Eventually, Lin says, the hope is that users can get their hearing number on any device, no matter the brand.
Lin makes an animated cameo in What Did You Say?, his tiny stick figure wearing a white coat as he stands in an inner ear to explain the science of hearing loss and how consumers can learn their hearing number.
Lin and Sheehan say they helped guide the science side of the film, but it was Li who drove the creative engine.
"We were like, this is a great idea and we love it, but what do we do? And what's the story we're going to tell?" Sheehan says. "But then when Oscar would come back to us with these storyboards and we could start to see how it was taking shape, and how he was applying his artistic talent, it was just fascinating. You don't often get to peek behind the curtain and see the creative process unfold."
The documentary is posted to the Cochlear Center's YouTube channel, and Li says he plans to submit it to film festivals. While Li envisions a future as a practicing urologist after med school, he hopes to continue working on films, perhaps as a director helping others communicate about medical topics.
Artistic projects like this could benefit his medical career, he says, allowing him to hone his observation skills and better connect with patients experiencing complex emotions related to their diagnosis.
For Anne Madison, that emotion is a "low level of irritation," she says in What Did You Say? For Abba Rubin, it's a "serious annoyance," but one he says doesn't keep him from enjoying all the good things in his life.
"I think more and more people are realizing that medicine now isn't just seeing a patient and trying to figure out what disease or syndrome they have and then treating it," Li says. "There's a really big human part of it that science doesn't entirely encapsulate."