Joya Griffin was 6 or 7 when her parents adopted a black cat from a local shelter and named him Chessie after the Chesapeake & Ohio Railroad. Consider the floodgates open. All sorts of strays started making their way into their Dayton, Ohio, home. A snapping turtle found on the side of a country road lived in the family's upstairs bathroom before moving out to the pond next to their house. Griffin, A&S '02, raised tadpoles and started tending to her pets' injuries.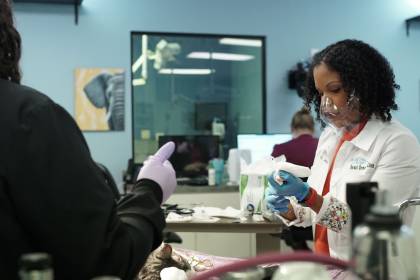 "I remember doctoring up one of my cat's tails after he injured it," she says. "I tried to apply a bandage, but that's pretty difficult to do with a paper towel and tape."
Now, as the reality TV star of Nat Geo Wild's Pop Goes the Vet With Dr. Joya (think: Dr. Pimple Popper for pets), she administers far more effective—and specialized—treatments to her animal patients.
If Chessie sparked Griffin's interest in veterinary school after studying biology at Johns Hopkins, it was her younger sister's dog, a Lhasa apso named Gizmo, who led her to specialize in dermatology. Gizmo had environmental allergies and would get widespread infections on her skin and in her ears. Griffin, at the time enrolled in Cornell's College of Veterinary Medicine, brought Gizmo to school with her to get the best treatment. "The first service I went to was the dermatology service," she says. "They were able to make an amazing transformation in her skin, and she lived another eight and a half years. She had a great life, and I owe it all to the dermatologist at Cornell."
On Pop Goes the Vet, which premiered in January and is streaming on Disney+, Griffin treats, at her Louisville, Kentucky, clinic, a host of pets' dermatological conditions, from impacted earwax to oozing blisters and cysts. In the first episode, viewers meet Buttercup, a recently weaned Siberian husky puppy experiencing weight loss and a mysterious skin condition. Because Buttercup was so young, Griffin couldn't use many medications typically prescribed for older dogs, making the right course of action difficult to decide. "Multiple times in the middle of the night," Griffin recalls, "I would wake up thinking about this dog and going over her medication doses in my head." All the worry paid off with a correct diagnosis—a rare autoimmune disease called pemphigus—and an effective treatment. Buttercup is now thriving. "Even if the cameras weren't there, I would never forget that case," she says.
Also see
Griffin's original motivation to star in the show was to make more people aware of the veterinary subspecialty of dermatology. "I have pet parents who come in on a weekly basis and say, 'I never knew that there was a dermatologist for dogs. I wish I'd known sooner.'" It was only after the show aired, however, that she realized she could serve as a role model. "If I can inspire kids to go into veterinary medicine and to love this field, that makes all of this worth it."
Her own pets: A 10-year-old Lhasa apso named Guri; a one-and-a-half-year-old, 70-pound mixed-breed dog named Magic; and an 11-month-old Ragdoll cat named Donut. 
What gives her the heebie-jeebies: "Anything with multifocal, symmetrical holes in it. It can be organic—like when you pick up old brush in the woods and see tunnels in wood created by beetles—or holes in fabric."
Reality-show aspirations: Big Brother.
Oscars viewing ritual: "I throw a party every year called Oscars and Enchiladas. No one is invited. It's just me because I take it really seriously."