Raised in rural Colorado by two doctors-turned-cattle-ranchers drawn to the lifestyle's back-to-nature ethos, Emma Needell, A&S '12, never felt at home where the buffalo roamed. "There were two things sacred where I grew up," she remembers. "Cowboy culture and the church. Well, I was extremely allergic to horses … and we were a Jewish family."
Needell and her younger brother would act out invented scenarios that transported them to worlds of their own choosing. She also relieved her isolation watching movies with her cinephile parents. "Whether it was Do the Right Thing or Tora! Tora! Tora!, these movies felt international," she says with a laugh. "They showed me an outside world, a diverse world, a big world that I might be able to find a place in."
Responding to the siren call of Hollywood, she considered enrolling in film school but bucked at following the expected path to New York or Los Angeles. Instead, Johns Hopkins' less prescriptive Film and Media Studies Program hit the sweet spot between learning the industry ropes and stretching them. "Making movies, for me, was all about finding freedom," she says.
Ten years later, the Los Angeles–based Needell is reveling in the triumph of having her short film, Life Rendered, premiere at this year's Tribeca Festival. Her directorial debut, the film combines motion capture, computer graphics, and live action in a vividly hued and ultimately hopeful depiction of a cowboy who uses virtual reality to explore his secret inner self. "I've been frustrated with Hollywood when it comes to cowboy culture for a while now," she says. "The depressing bleakness of movies like The Power of the Dog and Brokeback Mountain as a way to confront the super-chauvinism of Clint Eastwood and John Wayne has become a little tropey itself. This film explores the best of cowboy culture, where real power isn't about rugged individualism but love of family."
Life Rendered, which she co-wrote with actor Ryan Barton, may represent Needell's greatest success yet, but her star has been rising since 2015 when, after writing five screenplays, she finally sold her sixth, The Water Man. Co-produced by Oprah Winfrey and released by RLJE Films, the "sensitive coming of age story," as The Detroit News described it, was picked up by Netflix. Its success won her a spot in the writers room of Apple TV's Amazing Stories reboot, and she sold a handful of other screenplays, "none of which will ever be made," she says. She was in the middle of a "huge dream project" for Netflix when the pandemic brought the entertainment business, along with the rest of the world, to a halt.
Also see
Suddenly, Needell found herself back at the ranch. This time, her childhood homestead fostered reflection and nurtured ambition. "Returning to Colorado reminded me of a few things," she says. "The architecture and the landscape haven't changed at all—it looks like it's encased in amber. However, everyone now has a smartphone, they all have high-speed internet, some even have virtual reality glasses."
Forced to take a break, she considered her own career, especially her long-term goal of directing. Watching her fiancé (now husband) kill time playing video games, she noticed how cinematic they had become. When he suggested that she check out the software behind many of them, a platform called Unreal Engine, Needell discovered the company had provided 3D graphic content for blockbusters like Game of Thrones and The Mandalorian.
Unreal Engine's free technology—along with a production grant it awarded her—provided Needell with the tools to develop Life Rendered's story of a young and closeted cowboy, Mark (Owen Teague). Stuck on a Colorado farm (it's actually Needell's parents' home) taking care of his disabled father (Luce Rains), Mark invites his best friend to don headphones and VR goggles to meet up in the virtual snowy moonlit forests or glittering futuristic cities that he's created.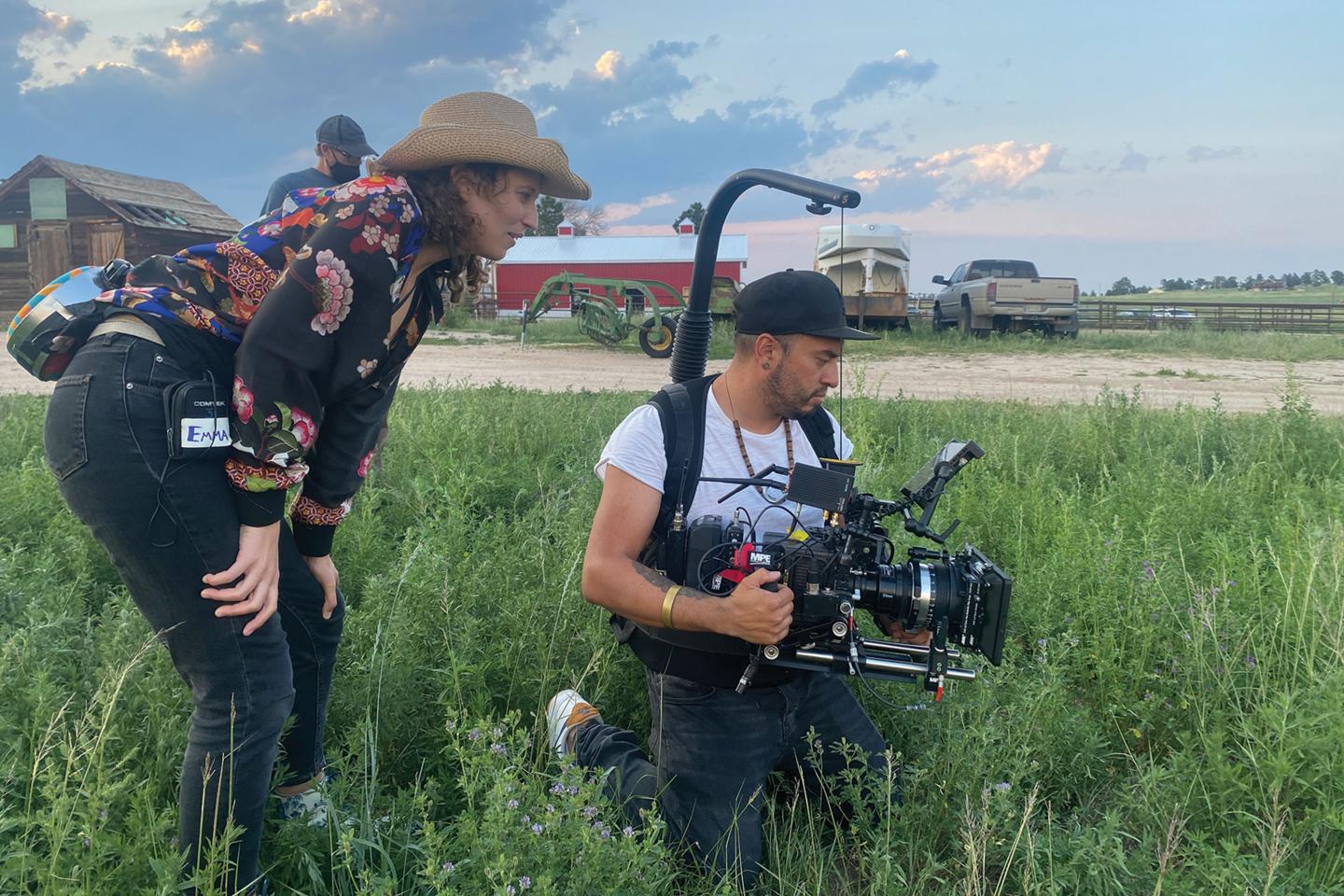 An expert blend of Terrence Malick and Steven Spielberg—Needell laughingly terms it "country sci-fi"—the film echoes the experiences its 32-year-old creator wrestled with as a kid. "When I got The Sims, it was everything," she says of the 2000-era computer game. "I lived The Sims. I didn't have any friends, but I found the Sims community on chatrooms. And, of course, I rarely played as my teenage girl self."
Mostly, though, Needell reveled in the idea of experimenting with design and architecture. "That's a big part of the appeal for Mark, too," she says. "There's the secret romance, but there's also a whole new world of art that is opening up." She credits Barton, who is gay, with the idea that "Mark builds the world he wishes he could live in."
There's been some interest in picking up the film, but for now Needell is keeping her options open and touring the festival circuit. Meanwhile, she has other projects in development: a feature script she describes as a "neo-Western thriller with a female protagonist"; a 1960s coming-of-age novel she co-wrote with her mom about four sisters; and Azurbala, a story world she's created that will be populated with NFT characters developed by the Web3 community. "Ultimately, I'm a storyteller," she says, "and I only write original work. Even if I might be more successful if I accepted the offers I get for adaptations or reboots, I want to plant my flag."