Lauren Bell ("Right on Time") is a writer and stylist based in the Baltimore metro area. Throughout her career, Bell has seen the fashion industry from all angles, as a buyer, merchandiser, brand consultant, and style editor.
Harry Campbell ("Desperately Seeking Software," illustration) is as comfortable creating art for fast-moving New York Times opinion pieces as he is creating thoughtful solutions for subjects in science and technology. Based in Baltimore, he is a graduate of the Maryland Institute College of Art.
Greg Houston ("Angels and Demons," illustration) is a Baltimore-based illustrator and co-founder of the Baltimore Academy of Illustration. Past clients include Los Angeles Times, The Village Voice, Baltimore City Paper, and Texas Monthly.
Sam Kalda ("What Dreams Can Tell Us," illustration) is an illustrator based in St. Paul, Minnesota. He is the author of Of Cats and Men: Profiles of History's Great Cat-Loving Artists, Writers, Thinkers and Statesmen, as well as the illustrator of When We Walked on the Moon and When Darwin Sailed the Sea.
Travis Rieder ("A Father's Wish, A Bioethicist's Dilemma") is an associate research professor at the Johns Hopkins Berman Institute of Bioethics. A TED speaker, Rieder is the author of In Pain: A Bioethicist's Personal Struggle With Opioids.
D. Watkins ("Wes' Wizards") is the New York Times bestselling author of The Beast Side, The Cook Up, and Where Tomorrows Aren't Promised, co-written with NBA star Carmelo Anthony. His newest book, Black Boy Smile, was released in May. Watkins, Ed '11 (MEd), lives in Baltimore with his wife and daughter.
On the cover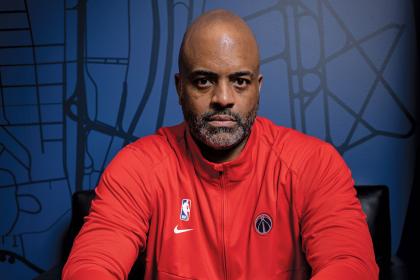 Alum Wes Unseld Jr. is ready for his closeup. For this issue's cover story, a teaser to D. Watkins' article in this issue, portrait photographer
André Chung
met up with the new head coach for the Washington Wizards at the team's practice facility in D.C. Chung, a five-time Pulitzer Prize nominee, has photographed A-listers including Jon Stewart, Taraji P. Henson, Spike Lee, and John Krasinski.