For fans of The Wonder Years, the most enduring association three decades later may be its iconic theme song: Joe Cocker's rasping take on "With a Little Help From My Friends," imbuing the ABC series with Woodstock- era nostalgia. 
The song resurfaces in the new reboot of the show, but only as brief homage—in Episode 4, family patriarch Bill Williams (played by Dulé Hill) rehearses it with his funk band as his 12-year-old son, Dean (the precocious protagonist played by Elisha "EJ" Williams), attempts to keep pace on saxophone. 
"We wanted to make sure we gave this show its own character and create our own space musically."
Jacob Yoffee
"Obviously Joe Cocker's rendition is legendary, but it was never imagined as the theme," says Jacob Yoffee, Peab '02, '04 (GPD), who composes the score for the ABC show with collaborator, hip-hop and R&B producer Roahn Hylton. Using early cuts of each episode, the duo creates instrumental snippets and original songs, including "All I Know," the new theme. "We wanted to make sure we gave this show its own character and to create our own space musically." 
On the reimagined Wonder Years—a coming-of-age tale following a middle-class Black family in Montgomery, Alabama, in 1968—the nostalgia is just as potent as it was for its predecessor, but the sound is "more Bill Withers than Bob Dylan," says Yoffee. He and Hylton also name Miles Davis, Aretha Franklin, Herbie Hancock, Otis Redding, and Marvin Gaye as among the influences for the show's musical palette.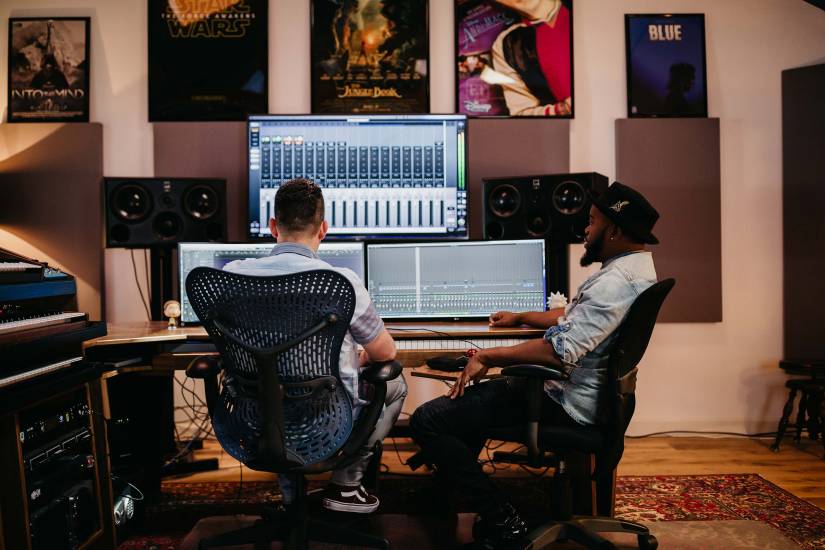 Another inspiration is the Motown band the Commodores ("Easy," "Brick House"), echoing details from show creator Saladin K. Patterson's childhood. When Patterson was growing up in Montgomery, his father performed with original members of that band and also worked as a music professor, just like the Bill Williams character in the show. "We went with the idea that Bill's band is performing the score," Yoffee says. In the pilot episode, the band scores a radio hit: In actuality, it's a song Patterson's father had written for a female vocalist, which Yoffee and Hylton refashioned.
For the Los Angeles–based composing duo, known asTh3rdstream, The Wonder Years gig comes after a steady escalation of TV work together, including composing scores for a Gap campaign with Janelle Monáe, Robert Downey Jr.'s The Age of A.I. series, the Amazon Prime true-crime docuseries Free Meek, and Kevin Hart's Netflix special *Don't F**k This Up* (which features performances by Yoffee's friend Sean Jones, current chair of the Jazz Studies Department at the Peabody Institute). 
The two musicians first met at a music conference in Israel in 2016, ending up "on the beach at night, talking about aliens and life and tipsy on something brown and tropical," recalls Hylton. Once they returned to their respective homes in LA, they set about fusing their musical worlds: Yoffee's jazz and classical roots (he majored in composition and earned a diploma in jazz performance at Peabody, and is currently resident composer of the American Studio Orchestra), and Hylton's pop and hip-hop credentials (he co-produced Nicki Minaj's platinum hit "Super Bass," and has worked with the likes of Ariana Grande, Keyshia Cole, Flo Rida, and Trey Songz).   
When the COVID-19 pandemic hit, the composers found themselves uneasily confronting a wall of free time. "Business was at a standstill, everything was in flux, and we didn't know what to make of it," Hylton says. "So we looked at each other and said, 'Hey, let's be creative.'" Noodling around with jazz and soul inspirations from the 1960s, they recorded dozens of new instrumental pieces. In a fortuitous turn, their agents then alerted them to The Wonder Years opportunity. "We're like, actually, yes, we just created 20 pieces of music like that," Hylton says.
Both Yoffee and Hylton were fans of the original show, which aired on ABC from 1988 to 1993; both admit they had crushes on the show's Winnie Cooper, played by Danica McKellar. They were excited to work with Fred Savage, who portrayed the teenage Kevin Arnold in the original series and is now producing the reboot. The musicians also revere W.G. Snuffy Walden, the Emmy-winning composer who scored the original. "A lot of people think it's one of the best shows of all time," Hylton says, "and a lot of that is because of the music." 
Also see
Contrasting with their usual production-heavy work—using prerecorded samples and loops— The Wonder Years has returned Yoffee and Hylton to the analog realm of the 1960s, recording with a live band, albeit with a pandemic-era Zoom element. They've worked with a core group of six musicians, including Russell Kirk, Peab '05, on saxophone. In some cases, they've helped arrange performances featured onscreen, like that of a full gospel choir. The composers work closely with music supervisor Amani "Burt Blackarach" Smith, who curates the show's soundtrack.
As Yoffee and Hylton continue scoring the show—ABC recently ordered a full 22-episode season—they've been busy composing for an upcoming Nicki Minaj documentary. "We're sitting side by side in this studio, working sometimes 14, 16 hours a day," Yoffee says.
On top of that, they're planning to release those 1960s-inspired songs that helped land them The Wonder Years as a full album early this year. "In the midst of doing all these cool projects for everybody else … we realized how much we wanted to put our own signature, musically, into the world," Hylton says. "So stay tuned for that."