Brandon Johnson, SPH '12 (MHS), is a tireless advocate for positive mental health and suicide prevention services, especially among the Black community. Addressing systemic racism and daily microaggressions is weighty work that grew more intense during the COVID-19 pandemic, says Johnson, a public health adviser at the U.S. Department of Health and Human Services.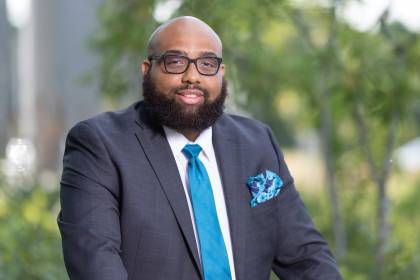 Johnson wanted to help by meeting his people where they were—stuck at home. In July 2020, he launched the Black Mental Wellness Lounge, a YouTube channel dedicated to discussing Black mental health and healing, featuring guest experts on a range of topics, such as using mindfulness meditation to deal with race-based stress.
The proud alum—a 2021 winner of the Johns Hopkins University Alumni Association's Outstanding Recent Graduate Award—has served on alumni panels at the Bloomberg School of Public Health's Department of Mental Health. When he's not working or volunteering, he takes his own advice:
"Black people can share what they're going through and open up the mental health conversation for someone else in the community."
Keep your classmates informed with a submission to alumni notes. Submit your information via email to: classnotes@jhu.edu. (Due to production deadlines, your information may not appear for an issue or two. By submitting a class note, you agree that Johns Hopkins can publish your note in the print and online edition.)