Ed Twomey distinctly remembers his first encounters with a Titan Krios, a hulking electron microscope more than 10 feet tall and the weight of a rhinoceros, its internal temperature colder than any recorded on Earth.
He first took sight of the machine in April 2015 while pursuing his PhD in biochemistry and molecular biophysics at Columbia University, and it was exactly June 22 that year, Twomey recalls, when he first viewed glutamate receptors—proteins driving essential brain functions like learning and memory—in the brilliantly precise detail only the Titan can capture. "These are really the building blocks of life, which allow neurotransmissions to happen," Twomey says. "And what's really rewarding about this field is being among the first to see that in such detail."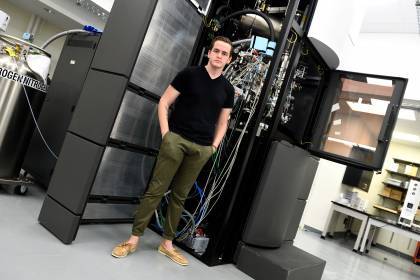 With recent advances in cryo-electron microscopy (cryo-EM, for short), structural biologists like Twomey—who joined Johns Hopkins last fall—are able to study complex 3D images of molecules in ultra-high resolution, learning more about their basic mechanisms, disease-causing malfunctions, and potential reactions to drugs. The process involves flash-freezing molecules with liquid ethane to protect them from radiation damage and water crystallization, then blasting them with electrons in the microscope to produce sharp 2D images. Those images are reconstructed via computer to create accurate 3D models, which help scientists visualize molecular structures and movements with more clarity than ever before.
Johns Hopkins University acquired its own $6 million Titan Krios in 2019 with grants from the Arnold and Mabel Beckman Foundation, launching the Beckman Center for Cryo-EM below ground in the Rangos Building in East Baltimore. This is where Twomey, an assistant professor in the Johns Hopkins School of Medicine, now works to better understand why the signaling of glutamate receptors can sometimes go awry. His research has major implications for treating neurodegenerative diseases such as epilepsy, Alzheimer's, and Parkinson's, as well as psychiatric disorders such as schizophrenia. "When you're able to leverage all these finer details, you can then begin thinking about the design of drugs and treatments," he says.
For his pioneering work in the field, Twomey was featured on Forbes' 30 Under 30 list this year, just shy of his 30th birthday in August. His own lab at Johns Hopkins, now fully operational after pandemic-related delays, is developing devices to prepare cryo-EM samples at a more rapid pace, the increased time resolution allowing scientists to capture critical, short-lived molecular states and taking structural biology to "the speed of life," Twomey says.
"We're finally up and running," he says. "It's an exciting time."
Peak aspirations: An avid hiker, Twomey strives to climb all 48 of New Hampshire's "4,000-footers." So far, he's 10 mountains in.
Jersey roots: After growing up in Whippany, New Jersey, Twomey attended Seton Hall University as a first-generation college student before "making my great escape" to graduate school at Columbia University, he says. 
Lab mascot: Twomey adopted Olive, "some kind of beagle mix, with maybe some wolf or husky" from a D.C. shelter in December 2020. Her bio on Twomey's lab website reads: "Good dog. Probably sleeping. Will process cryo-EM data for food."
Hero: "My mom raised me and my brother as a single mother, and we never would have known we had less than others," Twomey says. "She made a lot of sacrifices, and she's always encouraged us to take risks."