Fields of cabbage and lettuce plowed under. Thousands of gallons of milk dumped. Millions of livestock euthanized. And miles of cars snaking through parking lots to wait for food bank distribution. The COVID-19 pandemic has only exacerbated existing breaks along the food supply chain in the United States and around the world. Why are millions of tons of produce and meat wasted while people go hungry?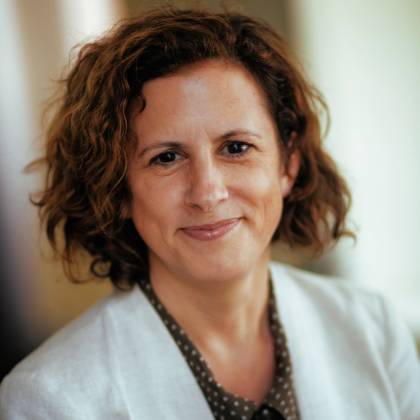 Jessica Fanzo, the Bloomberg Distinguished Professor of Global Food and Agriculture Ethics and Policy, led the creation of a dashboard that addresses the complex interplay between natural resources, climate, agriculture, policy, commerce, and culture. The Food Systems Dashboard, launched in June, allows policymakers, researchers, and ordinary citizens to examine the forces that determine the availability, value, and health consequences of food resources for every nation. 
'Farm to Fork to Food Waste'
Fanzo has spent her career studying food systems or, as she describes it, everything from "farm to fork to food waste."
"Food systems have many different inputs, outputs, drivers, and actors from a local to a global level," says Fanzo, who directs food and nutrition security efforts for the Johns Hopkins Alliance for a Healthier World. Among those factors, she says, are where foods are produced, how they are harvested, whether they are processed, where they are sold, and who purchases and eats them. Changes at any point in the process—owing to, say, a drought, new regulations, a strike, or a shift in eating habits—ripple throughout the entire system. Unpredictable weather can lead to ruined crops. An influx of cheap, highly processed food can lead to obesity. Cumulatively, unhealthy diets play a role in 11 million deaths each year, she says, as people choose affordable yet nutrient-poor snack foods over pricier fruits, vegetables, and lean proteins.
Creating the Dashboard
"With all of that complexity, it's really hard to get a temperature check of the food systems in a country," Fanzo says. "The data is all over the place, buried in reports."
So Fanzo and a team of researchers from Hopkins, the Swiss-based Global Alliance for Improved Nutrition, the Food and Agriculture Organization of the United Nations, and other institutions created the Food Systems Dashboard, a user-friendly application that makes it possible to analyze each aspect of a nation's food systems—and then determine how they can be improved.
For example, if the dashboard shows that a country has high levels of obesity or high blood pressure and that people are not eating sufficient quantities of fruits and vegetables, the government could implement policies to expand access to fresh produce.
The dashboard shows the types of foods that constitute the average diet, where foods are sold, and the effects of climate change, urbanization, and migration, among other factors. It is automatically updated as governments release new information. In January 2021, data on environmental factors, including water quality, land use, and greenhouse gas emissions, is expected to be added to the dashboard.
A Public Good
Ultimately, Fanzo sees the dashboard as a public good that will enable policymakers to determine a country's deficiencies, whether in agriculture, transport, or access, and how to remedy them. 
The coronavirus pandemic, she says, has emphasized the need to understand the vulnerabilities in food systems. "COVID-19 has really shown where those systems break down. There's enough food being produced around the world, but because of different policy changes, food wasn't able to move from farms to markets," she says, hence the milk being dumped and crops plowed under. Food systems workers—including farmhands, meat processing plant workers, and grocery store employees—have all been hit particularly hard by the virus. Moreover, the surge of unemployment resulting from the pandemic has made it harder for many families to purchase food. "The cost of a healthy diet is unaffordable for a good portion of the world, and COVID is going to make that worse," she says.