For as long as he can remember, Brent Black, A&S '70, liked the feeling of nice things.
As a child, he so often ran the creases of his mother's curtains through his fingers—delighting in the touch and weight of the fabric—that she began to wonder aloud how her drapes had gotten so worn and wrinkly. At night, he fell asleep with the cool cotton folds of the bedsheet between his knuckles.
"I have a strong tactile sense," he tells me on the phone, the medium for all our pandemic-era chats. "You could blindfold me and take me to any store, and I'd find the best thing in there."
This uncanny ability came in handy on Black's first trip to Ecuador in 1988.
He had traveled there to find an authentic Panama hat, a centuries-old Ecuadorian handicraft, just to be clear. Black had recently read Tom Miller's book, The Panama Hat Trail—part praise ballad, part dirge for the dying art form of hat weaving—and in Montecristi, often called the spiritual home of the hat, he could see the real deal in person. He also had a strange, undeniable seed of a feeling that maybe he could be the guy to save it.
But Black didn't speak Spanish and knew nothing—other than what he had read in Miller's book—about Panama hats. He was just a 44-year-old advertising executive from Hawaii, whose idea of fashion was a polo shirt and Dockers. No matter. He had a two-part plan. Step 1: Don't be a gringo. Step 2: Just be there and see what happens.
What happened was this: As soon as Black stepped off the bus in Montecristi, a young boy, recognizing a gringo when he saw one, approached him.
"Panama hat, mister?" the child said in practiced English. "Panama hat?"
Black followed the boy to the home of Rosendo Delgado, just the man he had hoped to find. Delgado, a renowned artisan and hat dealer featured in Miller's book, was someone who could put a genuine Montecristi superfino—the best of the best—in Black's discriminating hands.
The hat's properties astonished him. He had turned book pages thicker. He'd felt linen pants not nearly as finely woven. Something happened that day that hadn't happened with the curtains or the bedsheets or even the glossy ads he had written for decades at work.
"When I touched my first Montecristi hat, it touched me back."
Black stayed in Montecristi for weeks, hunkering down in a hotel room that cost him $4 a night and whose owner mothered him when he came down with a violent stomach bug.
Mostly, he bought hats, looking—or rather feeling—for those that came close to Delgado's showpieces. "I didn't know which hats to buy, I just tried to buy the best," he remembers. All the while, that seed of a feeling had sprouted into a vague idea. He wasn't quite sure what he would do with the hats when he got back to Hawaii, but he would figure that out later. For now, there were more pressing matters at hand.
"I was busy falling in love," he says.
It was a love story that would alter the trajectory of Black's life, and not just resuscitate the Panama hat trade but revolutionize it, earning the hats and their weavers the respect they deserved.
By the time it reaches an admiring buyer, a Panama hat has been in many hands.
The beginning of a hat's long metamorphosis begins deep in the Ecuadorian rainforest, where the green shoots of Carludovica palmata (also known as the Panama hat plant) spring up from the muddy ground. It is someone's job to hike hours into the mosquito-thick jungle to retrieve a dozen or so pounds of it, remove its tough outer parts, boil the remaining soft straw, and bleach it with burning sulfur before hanging it to dry.
The real wizardry begins when the tejedor, the weaver, chooses four pairs of straw to create the cruzado—the crossed straws that form the genesis of every Panama hat. Slowly, carefully, the straws are laced together, over under, under over, back again, until they reach the armado, the very center of the crown, no larger than the lowercase o on this page. The weaver's fingers move quickly, introducing new strands of straw until the armado has turned into the plantilla, now the size of a silver dollar. Days and days will go by until the plantilla has expanded to become the entire top of the hat's crown, when the weaver will turn a hard corner toward the brim.
Anywhere from three weeks to three months will pass before the hat is finished, depending on the fineness of the weave. While working, the weaver is craned over a waist-high stand, chest resting on a pillow or balled-up T-shirt. It's hell on the body. And the eyes. And the fingers.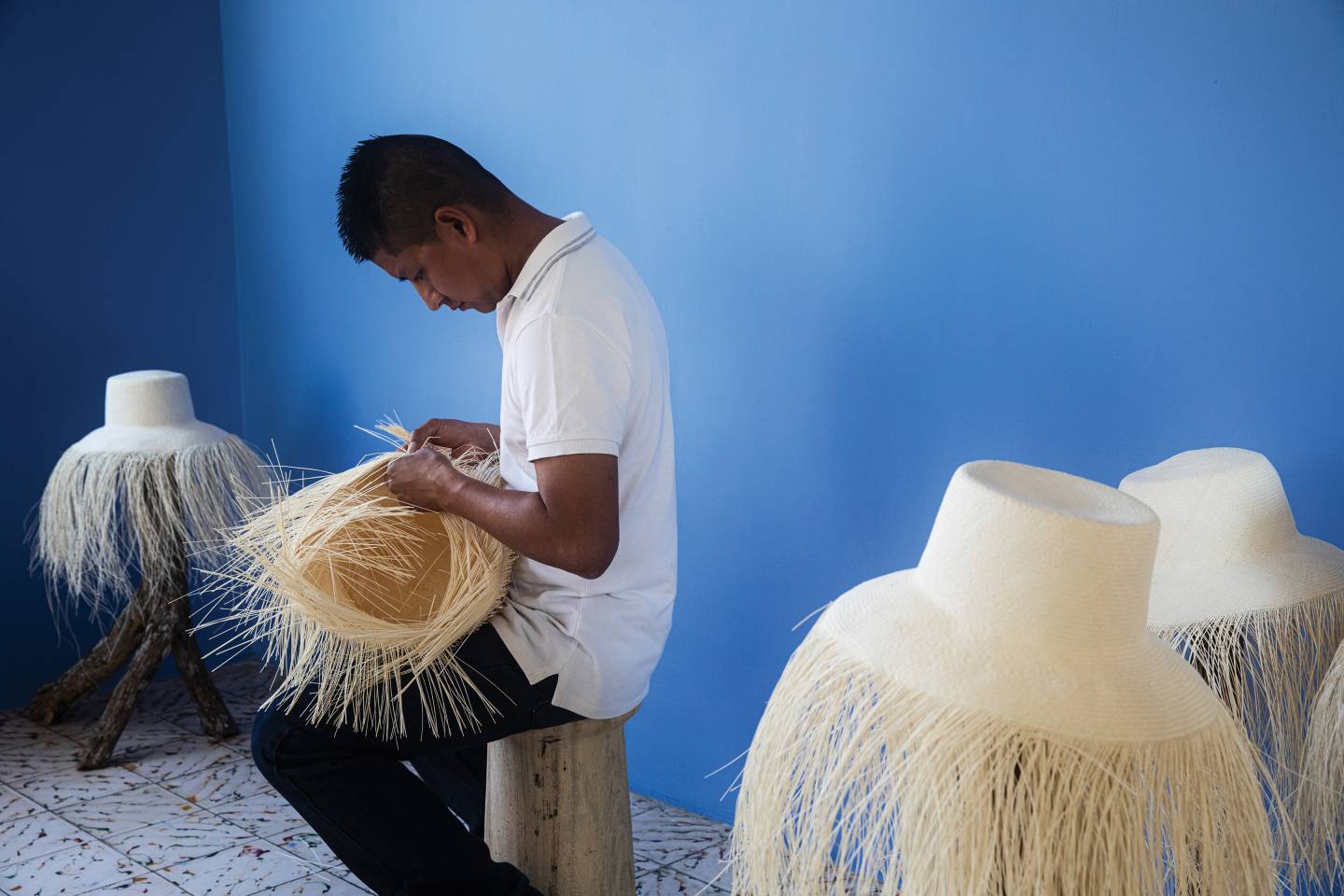 When the hat leaves the weaver's hands, it will go on to five more artisans: The rematadora and azocador are responsible for finishing the brim. The cortador trims the excess straw. The apaleador pounds the hat with a wooden mallet to soften the straw, and the planchador irons the hat to smooth its surface. When it has a buyer, the blocker will shape, style, and size the hat.
A true Montecristi Panama hat—from jungle foliage to fashion accessory—is completed entirely by hand in anywhere from three months to a year.
"This is National Geographic stuff," says Black, now 71 and living in Oregon. It is, he argues, "the continuation of not just a story but a legend."
Ecuadorians have been weaving and wearing sombreros de paja toquilla for at least half a millennium in the muggy coastal lowlands southwest of Quito, the capital. The hats may have stayed there, a staple for laborers and sailors and anyone else who needed protection against the blazing equatorial sun, if it weren't for Manuel Alfaro, an exiled Spaniard who, like Black, knew a nice hat when he saw one.
By the late 1830s, Alfaro had established straw plantations, enlisted a group of weavers, and begun exporting the hats to Panama, then the busy crossroads of the Western Hemisphere. Traffic through the isthmus surged with the discovery of gold in California, as East Coast dreamers took the sea passage, heading west to get rich quick. On the way, many of them snagged a lightweight, stowable straw hat for their journey. And since they bought the hat in Panama, guess what they called them. The misnomer would stick.
Also see
The hats became ubiquitous worldwide. In 1855, Napoleon III received one as a gift and purportedly wore it everywhere. In 1898, the United States sent 50,000 Panama-hatted soldiers to the Caribbean to fight in the Spanish- American War. If the rise of the Panama hat was a picture show, it would be a long one: photos of Teddy Roosevelt wearing a Panama hat, photos of Mark Twain wearing a Panama hat, photos of gangsters and movie stars and emperors all wearing them. Check your attic, maybe there are photos of your grandfather wearing one, too. In 1944, Ecuador exported more than 4 million hats.
While the hat became a status symbol the world over, in Ecuador it remained a token of the working class. Not only was el sombrero de paja toquilla worn by peasants, the artisans who wove them remained peasants. In Miller's book, for example, a hat bought from a weaver for 65 cents is sold in an America shop for $18.75—a markup of almost 2,800% in 1986. Even superfinos that sold for thousands of dollars translated into pitiable pay for the artisans.
It was all too easy for middlemen to take advantage of the weavers, most of whom worked alone, spread out in isolated villages "lost in the Andean brambles," according to a 1944 Marxist call-to-arms by Ecuadorian sociologist Luis Monsalve Pozo. They lacked a collective voice they might use to demand fairer pay. Instead, they took what they could get, which usually amounted to pennies on the dollar.
During the latter half of the 20th century, when better transportation and jobs arrived in Ecuador, young people deserted the hat industry for more lucrative opportunities, while factory-made knockoffs proliferated from other parts of Ecuador and the world. Most Panama hats would be more appropriately called China hats.
By the time travel writer Tom Miller showed up in Ecuador in the early 1980s, the art form was on its deathbed. The book predicted that in 20 years, Montecristi superfinos would be a thing of the past.
And perhaps that would be the end of the story if it weren't for Brent Black.
Black spent most of his childhood in the hills across the Ohio River from Cincinnati. Not exactly the Deep South, though he did attend Dixie Heights High School on Dixie Highway and was raised by parents who hailed from coal-country Kentucky, where they grew up "epically poor," Black says. His father rose through the ranks to become the editor of The Cincinnati Enquirer, and his mother's ambition, he explains, was simply "to be on the right side of the tracks."
"They didn't want to be the poor kids anymore," Black says. They were thrilled when their son set off for Homewood, majoring in pre-med and intending to become a cardiovascular surgeon.
Instead, after he graduated from Johns Hopkins in 1970, Black fell backward into an advertising job in Philadelphia, an accident that he calls "one of the greatest blessings of my life." Copywriting was a natural fit for him. He inherited enough of his father's way with words and his mother's good taste that selling things came easy.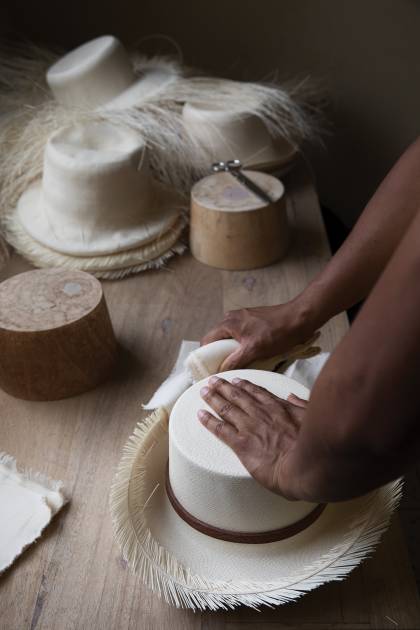 On the phone, one quickly understands why Black excelled in advertising. Excitable, effusive, and prone to tangents, Black speaks in stories, many told at his own expense, many that he cannot get through before dissolving into giggles. While he often took 10 minutes to answer a yes-or-no question, I sensed that Black's talkativeness was the product of a deep curiosity and a distrust of simple answers. Like a good commercial, he's informative, but mostly he's entertaining.
For nearly three decades, Black wrote ads. He worked on campaigns for Blue Diamond almonds and Mrs. Smith's frozen pies. He wrote a script about Monroe Shocks & Struts that Howard Cosell read during the infamous Battle of the Sexes match between Billie Jean King and Bobby Riggs.
By the time he booked his 1988 flight to Ecuador, he was living in Hawaii with his wife and young daughter and was the executive creative director of Ogilvy & Mather Honolulu. He wasn't sure what to expect from the trip, but returning home with $4,000 in Panama hats stuffed in an extra suitcase wasn't exactly the plan.
"I really didn't know what I was going to do with them," he says. But if there is an ideal place for a guy looking to offload four grand worth of Panama hats, Hawaii is that place. Black teamed up with a former colleague, who just happened to be opening a high-end tropical clothing store. In the back of a trade publication, he found a hat blocker—the artisan that adjusts the hat for its buyer's head—in San Francisco. The Panama Hat Company of the Pacific was born.
Looking back, Black admits he was naive. He thought it would be simple. He thought if more people bought authentic Panama hats, more people would weave them. "Simple economic theory," he says. Demand would lead to supply. The art form would be saved.
For the first 10 years of the business, Black acted as a broker of sorts, buying hats from dealers in Montecristi and selling them to retailers stateside. In other words, Black did what hat buyers had always done, working within "a century-old feudal mercantile system with weavers at the very bottom." This system, he found out, was one in which weavers were powerless and buyers made all the rules.
As the years ticked by, Black realized that the hats weren't underappreciated, but the weavers were profoundly underpaid. Even the best weavers squeezed their entire families into single rooms with dirt floors, low ceilings, and no running water. "The more I poked, the more I found that these people couldn't make ends meet," he says. "In a place where the ends aren't very far apart."
The entrepreneurial gears in Black's head ground to a halt, and then slowly began to turn the opposite way. Instead of buying hats from dealers and encouraging them to pay their weavers more, Black started buying hats directly from the weavers, cutting out the middleman and making sure the artisans got their fair cut. It was a move that effectively raised prices across the board; no weaver would sell to another dealer if they could get more money from Black. He also began to supply new hat forms to the weavers, as well as sulfur and masks to ward against the material's noxious fumes. "In order to keep the art alive, it has to be an attractive occupation," he says.
To transition to this new way of doing things, Black needed access to the best weavers; no longer could he rely on the dealers for that. It was his old friend Rosendo Delgado, the man he met on his first trip to Ecuador, who pointed him to Simón Espinal and the weavers of Pile, a small village 12 miles outside Montecristi. When Black found Espinal, he was working on a fishing boat because the money he made weaving wasn't enough to get by.
Black began paying the weavers more than they asked for, undoing the decades of rock-bottom expectations other buyers had instilled in them. He began paying commission, too. When Espinal wove a hat that sold for $25,000 in 2008, Black gave $10,000 to Espinal, $5,000 to both artisans who finished the hat—and spent the rest to build a water tank in Pile.
Until the water tanks were installed, residents collected water in buckets from a nearby stream, a grueling task for those who lived uphill.
"What he's done ought to be taught in business schools," says Roff Smith, a travel writer and photographer who became close friends with Black after writing a story about him for National Geographic. "He's made the business model work for everybody."
Black's client list is legendary: King Mohammed VI of Morocco, former President Felipe Calderón of Mexico, and icons like Michael Jordan, Arnold Schwarzenegger, Johnny Depp, and Whitney Houston.
In 2001, Black retired from advertising to devote all his time to promoting the hats—and the people who weave them. "When I started on this unexpected journey, it was all about the hats," he says. "Over the years it became as much about the people as the hats. Maybe more."
Black brought doctors from Montecristi to Pile to provide free medical clinics every few months. He brought ophthalmologists for free eye exams and glasses for the weavers and their children. He sponsored the Pile soccer team, dis- tributed food after the 2016 earthquake, and hosted a party for the entire town.
In 2011, Black opened Escuela Alma de Paja Toquilla, the Soul of Straw School, in Pile. Its goal was the same one Black started with: to save the art form of weaving fine Panama hats. Tuition is free, lunch is provided, and the build- ing is equipped with internet access and a working toilet—premium amenities in Pile. So far, the school has graduated more than 70 weavers.
One of the students, Daniela Lopez, says she "feels at home" at the school. And though the 12-year-old is excited to attend college one day, she wants to learn "the tradition of the hat so that it does not get lost."
Lopez is one of Black's five Ecuadorian goddaughters, the daughters and granddaughters of his weavers. In an email, she tells me she has "many beautiful memories" of Black, especially the afternoons she's spent giving him Spanish lessons. Roff Smith says the affection villagers feel for Black was apparent when the two visited Pile together. "He gets genuine greetings, genuine smiles. He gets dinner invitations," Smith reports. "He's made a massive difference."
Even Black's original inspiration has been impressed with his impact, both in the hat trade and the small village that produces them. "It has only taken him 30 years, but Black has made a 20th-century dent in the 19th-century hat trade," Miller wrote in the preface to the 2017 edition of his book. "If Ecuador had roadside adopt-a-highway signs, one would surely list Brent Black as the sponsor for the road leading into Pile."
But Black is not yet satisfied. About the people, he says, "I've done so little—nowhere near enough." About the hat business, "Its survival is not guaranteed."
After many years of honing his buying-and-selling process, one obstacle continued to vex Brent Black. He could never find a blocker who he thought did justice to the masterpieces he was receiving from Pile.
There was the Ecuadorian blocker based in Baltimore whose hats arrived looking like "salad bowls." The guy in Central Maryland who sent hats back held together by glue and staples. The older gentleman in Nashville whose hats got wrecked in shipping. The blocker in Buffalo who couldn't keep up with all the hats Black needed finished. Hats were stolen. Hats were ruined. Hats just weren't up to par.
"I'm difficult," Black admits. "I'm not easily pleased."
So when the blocker in Nashville died—around the time Black left his advertising job—Black flew to Tennessee, bought the contents of his workshop, and started blocking the hats himself, becoming the last set of fingers to touch them before they're shipped to the new owners.
To block, Black uses steam to stretch the hat to size over wooden forms, "feeling the tension, how the straw is reacting." These days he does his blocking on a tripod made from tree limbs that he bought from a master weaver who has since died.
Black likes to think "that working on his stand somehow keeps [him] connected to the village where the world's finest hats are woven."
It's a job Black has spent his whole life preparing for.
"The weavers and the artisans," he says, "they're impressed with this gringo's hands."