Matt Crossman ("Catch Him If You Can") has written more than 40 cover stories for national magazines. He lives in St. Louis with his wife and two daughters.
Yukai Du ("Take That, Flat Universers," illustration) is an award-winning artist who gets inspiration from the layered dashes of Impressionism and the simplicity of Brutalism.
John Kachik ("Prose of War," illustration), an alum of the Maryland Institute College of Art, has worked with clients including Shiner Beer, Mini Cooper, and Bloomingdale's.
Randy Rieland ("The Code Breakers") is a writer based in Washington, D.C. He has written for Johns Hopkins Magazine about the impact of the anti-vaxxers movement and the science of tracking mass human migrations.
Julie Scharper ("A Place to Heal"), A&S '01, is a freelance writer in Baltimore. She previously worked as a reporter for The Baltimore Sun.
Michael Thomas ("Catch Him If You Can," photography) is a freelance photojournalist based in St. Louis. He finds enjoyment in connecting with people and telling the unique stories of life.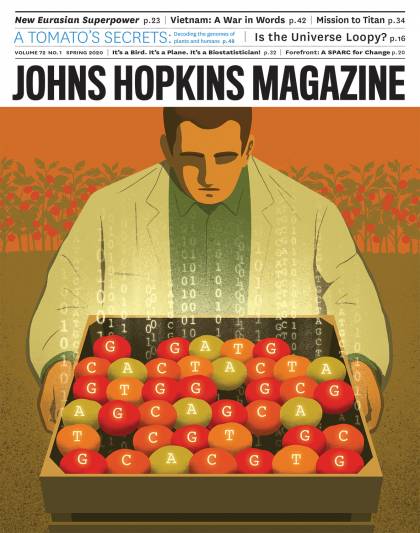 On the cover
Illustrator Davide Bonazzi eschewed the classic depiction of DNA strands for this issue's cover, opting instead for a more conceptual treatment of guanine, adenine, thymine, and cytosine, the building blocks of DNA. This produce-centric cover accompanies "The Code Breakers," in which computer science Professor Michael Schatz describes using gene sequencing technology to decode 100 varieties of tomatoes in 100 days—and explains how that software can help with all manner of biological interventions.