NBC Chief White House correspondent and MSNBC anchor Hallie Jackson welcomed her first child in early March, when U.S. officials were just beginning to understand the scope of the impending coronavirus outbreak. Jackson, A&S '06, and her partner, NBC producer Frank Thorp, "walked into the hospital on a Monday morning, and walked out the day the NBA shut down its season and the president delivered that Oval Office address," she says. "The world changed in the two days that we were in there."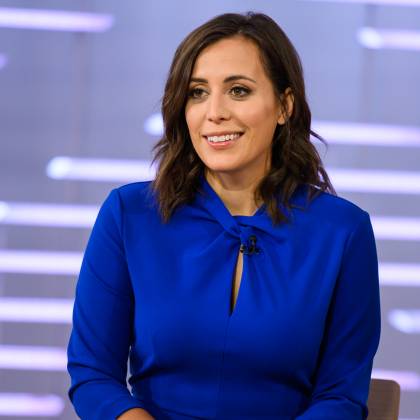 Her world changed, too, when the couple returned home with their daughter Monroe, named for Jackson's great-great-grandfather. Though having a new baby during a pandemic is an undeniably surreal experience, Jackson lucked into an incredible group for new parents in Washington, she says. "When I was up in the middle of the night in those early days, I knew I could send a note asking a question about nursing or napping and hear back from another parent almost immediately."
Jackson joined NBC leading up to the 2016 election, where she was tasked with covering the Republican candidates vying for the GOP nomination. From there, she reported on the Trump campaign, and now the White House. "For me, the focus has always been truth to power," she says. "Hold people in power accountable for what they say. That's a huge reason why I got into journalism. The facts don't change, even if somebody wants the facts to change. You have to ground your reporting in what the facts are. And when people stray from the facts, you have to point it out."
This week, Jackson returns from maternity leave, becoming the latest anchor to broadcast from her Washington home. Earlier this summer, an NBC crew installed a studio in her basement. "All the anchors kind of have one now," she says. "I'm surprised at how small it is, but it has everything I'll need—camera, monitors, printer, phone lines." From that studio, she'll tackle the biggest story of her career: a hotly contested presidential election against the backdrop of a pandemic.
View this post on Instagram

this week's #SundayTODAY mug shot, feat. a small baby and a massive cup. Thanks to @williegeist for the from-vaca shoutout, and to the @todayshow team for making the maternity leave re-entry a pleasure!
"Historically, you see people making decisions on who they vote for based largely on economic issues, and health care is a big issue, but in this election, so much of it is about the response to this pandemic," she says. And while that cacophony of politics and public health can be overwhelming, Jackson says it's her job to sort through the noise. "I think there's value in providing context to a wider audience about, say, a Supreme Court decision on the president's tax returns," she says, rather than covering Twitter battles between political personalities.
Also see
Though every election can feel personal to voters, this year, members of the media feel it, too. "The people covering the story don't often have the same experience as the people who are being affected by the story, but we're all affected by this story," Jackson says. "Every single one of us—every person living in this country—is affected by this story."
---
Last book she read: The Vanishing Half by Brit Bennett
On tough interviews: "Our philosophy on my show is not to bring people on just to be confrontational," she says. Every guest must have important information to share. "When you know that things can get a little feisty, it's preparation, preparation, preparation. We do a lot of preemptive thinking on questions like, What direction could this conversation go? Do we have the facts at my fingertips, in case we get into a situation where the facts are in dispute?"
Her biggest work-from-home rule: Take breaks. "As journalists, we're always on call, and we're always on the clock. My partner and I physically leave the basement, come upstairs, and have dinner together," she says.