Sandpiper found her way into my family in the early 1980s. A Fishers Island 24 built in 1922, the classic wooden sailboat was fast, well-balanced, and had beautiful lines but was sorely in need of repair. Bringing her back to life, not once but twice, has been a labor of love spanning three generations.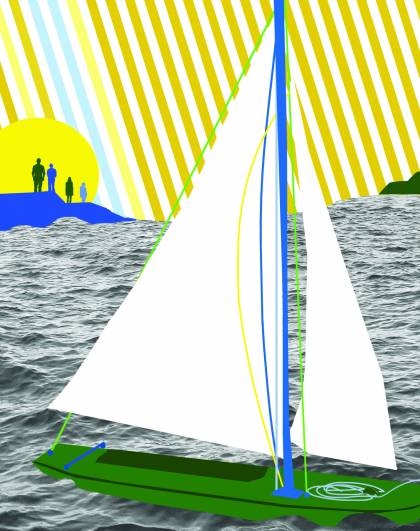 Sandpiper is one of 14 in her original fleet of Class A's or A boats—each named after a shorebird—to survive into the 21st century. Like me, she spent her formative years in the waters off the Connecticut coast. I grew up sailing at Groton Long Point Yacht Club. I learned to sail in a small wooden dinghy, though I spent most of my time racing fiberglass boats and even competing internationally. Sandpiper and her fleet have been racing at Groton Long Point since the 1940s.
Eager to keep the tradition alive, my family's first restoration of Sandpiper began in 1989. My father—who built houses for a hobby and nuclear submarines for a career—spent a year teaching me the art and craft of woodworking. Together, we steamed planks and ribs to bend the wood back to its original shape, applied coats of paint and varnish to the exposed wood, and packed cotton in the leaking seams. In 1990, Sandpiper was back in the water and sailing with the fleet. We raced her over the years with much success, even achieving an undefeated season.
Life progressed and I settled with my family in Baltimore. I had less time to spend in Connecticut, devoted to Sandpiper and the constant upkeep required of a wooden boat. The family from whom we bought Sandpiper took her back and continued to race her. Fastforward to 2017, and after dinner with these same friends, we went outside to see Sandpiper nestled in a grove of trees under a tattered green tarp. Once again, the old lady needed some attention.
Sandpiper rejoined our family, and this time I would take the helm of the restoration, spending two years working on the boat alongside my wife, Catherine, and our daughters. Moving from student to teacher has been special for me, giving me the opportunity to share stories of working with my father while creating new memories with my girls. When we hit the starting line for the first time in July, I was filled with pride and familiarity—it was like we were back in 1990 and Sandpiper felt the same. We still have some work to do, but we are excited to have Sandpiper back in the water and hopefully as part of our family for generations to come.