For many Johns Hopkins students, some of the most precious memories of their time on campus are formed in organizations where they can explore their ethnic and racial backgrounds, sexual orientations, and gender identities. While handing out literature on the quad or planning symposiums, they build lasting friendships, spark networking relationships, and mentor others.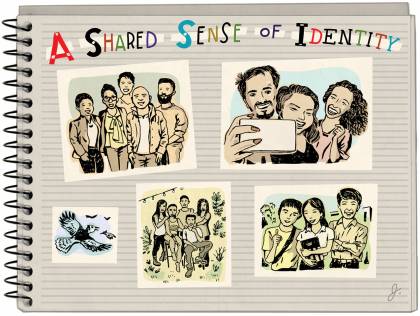 Increasingly, Hopkins alumni are looking for ways to continue these connections. There are now 36 alumni affinity groups, which draw grads based on shared interests—such as a love of the outdoors or foodie culture— or professions, including finance and biotech. For two decades, the Society of Black Alumni has organized events and mentorship programs with current students. In recent years, several other groups have emerged that are geared to underrepresented populations, says Elena Thompson, the Office of Alumni Engagement's senior associate director for affinity engagement.
"Alumni are both mindful of their identities as alums and seeking a connection to each other and to student affinity groups," Thompson says. "These groups have a heightened focus on and support for our current students."
Phuong Tran, A&S '04, was a member of DSAGA, the Diverse Sexuality and Gender Alliance, as an undergrad. When he heard in 2013 of the launch of JHU Pride, a group for GLBTQ alumni, he was eager to get involved. He's joined other alums for drag brunches and trips to the opera and taken part in a panel discussion of GLBTQ alums. "I've met a lot of people, and the connections are always valuable," he says.
Juliet Villegas, A&S '18, was deeply involved with Latinx groups at Homewood. As graduation approached, she helped form the Hopkins Organization for Latinx Alumni. HOLA organizers are looking for ways to support students, increase representation on campus, foster networking, and partner with a national association of Latinx alumni of prestigious universities. "I want to connect with students and let them know they're not alone," Villegas says.
Groups are also forming for Asian, Pacific Islander, and Southeast Asian alumni, as well as those with Native American and indigenous heritage, Thompson says.
To find out more, visit alumni.jhu.edu/jhaffinities.