Seasoned travelers David Yaffe, A&S '74, and his wife, Deborah, are drawn to excursions that bring them close to nature. From going on African safaris to traversing the wetlands of Brazil, they've planned plenty of adventures on their own, but the Yaffes chose Johns Hopkins Alumni Journeys as their guide for two recent explorations of the Arctic Circle and Yellowstone National Park, which David Yaffe describes as exotic.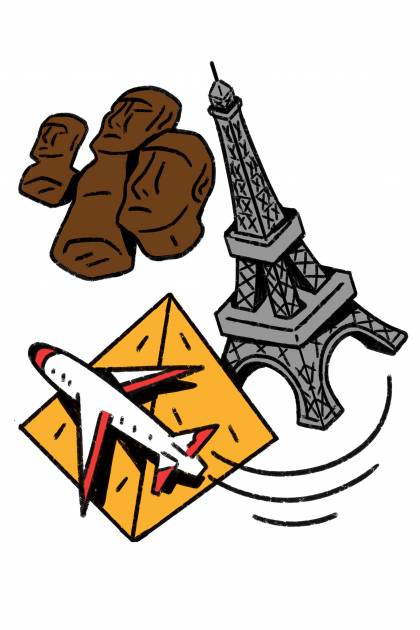 "For Wolves of Yellowstone, the whole trip was just well done with good guides," Yaffe says. "I remember standing on a hill for hours, wrapped up against the cold, watching this one older male wolf in the pack during mating season, observing the pack dynamics. We got a chance to see the advantages of old age and experience at play, and it was kind of fun."
Hopkins alumni have been globehopping with Alumni Journeys since 1972. Traveling with a small group with shared JHU-DNA on a trip with an educational component is one of the program's chief selling points, says Marguerite Ingalls Jones, A&S '74, Bus '88, senior director of alumni services, who has managed the popular program since 1983. The program has cultivated a loyal following of repeat travelers. Jones says the January 2020 Legends of the Nile river cruise with Steven David, a renowned professor of international relations in the Department of Political Science in the Krieger School, sold out in a flash with a limit of 28 passengers.
Alumni Journeys guests can count on a personalized touch commercial excursion companies can't match, Jones says. Hopkins travelers may also connect with local alumni for an insider's take on Paris, revel in the camaraderie of flying a JHU flag on a ship, or meet up with Hopkins students during their Intersession trip to Cuba.
For David Yaffe, conducting research and reporting are significant parts of his adventures, which he chronicles for friends and family with detailed travel logs. His account of the Wolves of Yellowstone trip in February 2017, shortly after Yaffe began his tenure as president of the Alumni Association, is linked on the program's website.
Of their two Alumni Journeys, the Yellowstone trip offered a more rugged, active experience. The Arctic Expedition: Spitsbergen and Svalbard Archipelago in June 2019 was more of a cruise with excursions, Yaffe says.
"They took us to an ice floe on a zodiac boat, and when we landed, they had champagne and caviar for us. That was fun—a distinctive experience."
The next Alumni Journey for the Yaffes? They hope a future trip to Cuba will line up with their schedule.
The Alumni Journeys planned for 2020 include Sailing Ancient Trade Routes: Helsinki to Copenhagen aboard the storied tall ship Sea Cloud II, June 27 to July 9; the Great Journey Through Europe, July 8 to 18; Cruising the Adriatic and Aegean Seas, Sept. 10 to 18; Sorrento: The Charm of the Amalfi Coast, Sept. 30 to Oct. 8; An Aegean Odyssey, Oct. 15 to 23; and Cruising the Antiquities of the Red Sea and Aegean Sea, Oct. 29 to Nov. 11. For information, email Jones at ingalls@jhu.edu.