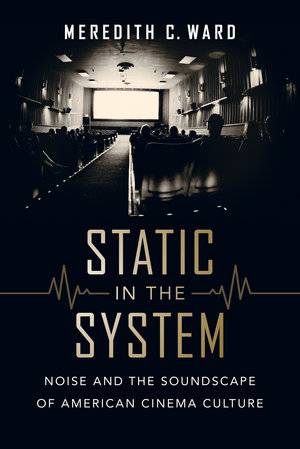 Chances are, going to see a movie hasn't changed all that much over the course of your life. Yes, ticket prices have gone up. Yes, the variety of concession stand food and beverages has expanded. And, yes, maybe a few of us miss the intimate one- or two-screen theaters that've been replaced by large megaplexes and upscale bistro cinema houses. But the movie experience itself largely remains that you enter the auditorium, find your seat, and silently become immersed in motion picture magic.
Meredith Ward, A&S '03, director of the Johns Hopkins Program in Film and Media Studies, explores the history of that "silently" part of that equation in her debut book, Static in the System (University of California Press). It's a detailed look at what moviegoing has sounded like from the tumultuous theater days of the early silent cinema in the late 19th century, where a pianist might provide a live score, on through the capsulated experience of watching media on a smartphone with earbuds in public. Ward shows how this evolution not only changes the cinematic experience, it has larger implications for what sounds are important and have meaning in movies, but also how sound informs the boundaries we imagine between public and private spaces.
The 21st century's turn to personalized viewing is routinely derided as the death of the movie theater and/or the cinema experience as we ostensibly know it. With Static, Ward doesn't so much refute those claims as she argues that the 20th-century movie theater created a specific kind of commercial "cinema experience" that demanded certain behaviors and etiquette in order to participate. She notes that smartphone moviegoing has more in common with the way people listen to music than the way they traditionally watched films or television, and that shift catalyzes a different, metastasizing relationship with the public space. As she writes, the "smartphone becomes a tool for contemplation. In giving us a new platform that encourages us to focus amid a welter of sounds, it also gives us a means to negotiate it."