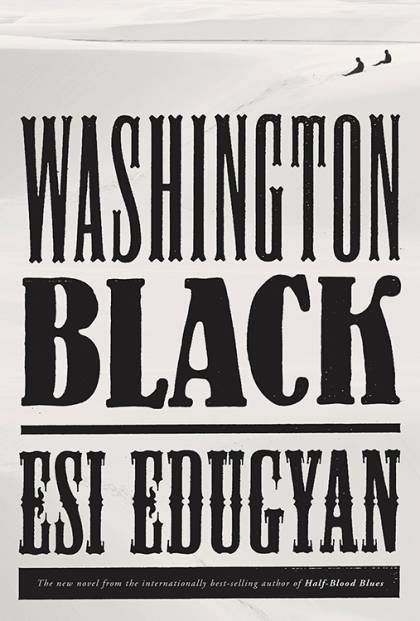 Eleven-year-old George Washington Black thinks visually in Esi Edugyan's new, Booker Prize-shortlisted novel Washington Black (Knopf). Wash, as he's called, marvels at a parquet floor with its "angles of wood braided to make a miraculous pattern." A trip to town sears images of brightly dressed people, buildings whose wooden slats are silvered with time, and the eyes of the fishmonger's catch fissured with blood. When Wash first spies a man using pencil and paper to draw, he immediately knows his calling: "I wanted to create a world with my hands." This skill is cultivated by gentleman scientist Titch Wilde, who admires how speedily Wash masters reproducing the observable world realistically. Thing is, Wash is black, an enslaved kid at Titch's brother's sugar cane plantation in 1830s Barbados. Wash's artistic expertise isn't valued; only his potential for labor is.
Black is written from Wash's perspective later in life, so from the beginning we know that the child who witnesses plantation horrors escapes that fate. How he does, why, and what adventures befall him allow Edugyan, A&S '01 (MA), to pen a 21st-century version of a picaresque Victorian adventure novel, one where its central adventurer is escaped property with a reward offered for his return, dead or alive. Edugyan explores Wash's increasingly sophisticated interior life with the same visual vividness that ignites his mind about the people, places, and things he sees and sets onto the page as a scientific illustrator.
Also see
By bearing witness to Wash's flourishing skill, we can recognize a common thread running through Edugyan's fiction thus far. The Second Life of Samuel Tyne, her 2005 debut, follows a Ghanaian émigré, an aspiring computer hardware developer in the late 1960s in Canada. Her 2011 follow-up, Half-Blood Blues, which was also shortlisted for the Booker, considers what may have happened to a biracial Afro-German jazz musician in 1939 Berlin as the Nazi death machine spread toward Paris. In all three, Edugyan centers a story of black achievement too often sidelined by the narrators of history's arcs and imagines such stories into existence.