Ericka Blount Danois ("The Many Faces of Marriage") is a writer, producer, and film researcher based in Baltimore. Her work has been commissioned by The New York Times, MTV, and The Root, among others.
Alexandra Bowman ("The Many Faces of Marriage," illustration) is a designer, illustrator, womanist, and animal lover based in Oakland, California. She received her Bachelor of Fine Arts degree from the School of the Art Institute of Chicago, where she studied drawing and visual communication.
Robbie Lee ("The Immersive World of Gabo," photography) left his corporate law job to turn his affinity for photography into a career. He lives in Brooklyn, New York, where he shoots for advertising, editorial, and personal projects.
Christianna McCausland ("Retail on a Mission") is an award-winning writer whose stories have appeared in Baltimore magazine, The Baltimore Sun, and more. Her new novel, The Orchard Lover, was released in April.
Adam Simpson ("In the Driver's Seat," illustration) works from his studio in London for clients ranging from newspapers and magazines to advertising and design agencies. Projects include artworks for the British Academy of Film and Television Arts and a stamp commemorating the London Olympics.
J. Cavanaugh Simpson, A&S '97 (MA) ("In the Driver's Seat"), is an essayist and lecturer in Johns Hopkins University's Writing Seminars. A former staff writer for Johns Hopkins Magazine, she is working on a book about the evolution of digital culture and counterculture, from which her article in this issue is excerpted.
On the cover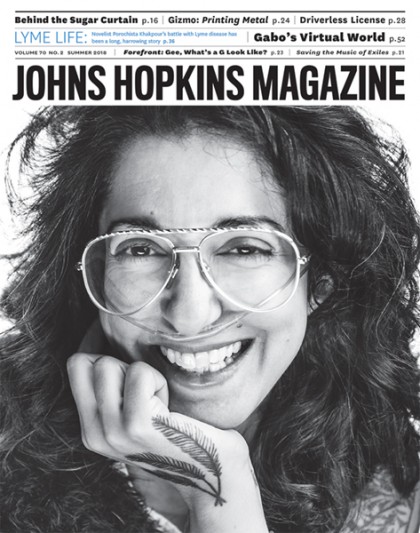 Marc Olivier Le Blanc says he sought to portray two distinct qualities as he photographed writer Porochista Khakpour for "Sick:" her rebellious attitude and her kind heart. Well done, Marc. The San Francisco–based portrait photographer has worked with Visa, eBay, Time magazine, and others to "see beauty in the mundane and in everyday life." Anything else we should know about him? "If I'm honest," he says, "I'm a little bit of a punk."