It should not have worked. A broadcast station on a campus with no journalism or mass communications major. An on-air staff with little to no on-air experience. Not to mention a transmitter that eked out less power than the average light bulb.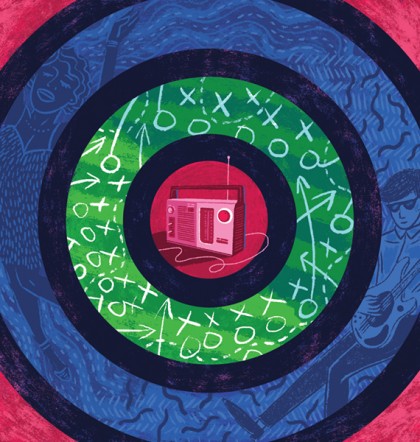 Yet on April 1, 1979, WJHU-FM—all 10 glorious watts of it—signed on to the Baltimore airwaves.
Our quarters were tucked deep in the basement of Alumni Memorial Residence II. (Down the stairs, take a right toward the laundry room, and follow the fragrance of warm detergent toward the studio.)
Unlike today's tightly programmed stations, our music was all over the lot. Our format was 50 percent classical, a requirement from the university. But the rest was a mix of modern jazz, new wave, and esoteric rock, plus specialty programming that included show tunes, '50s and '60s oldies, and an acoustic show that anticipated MTV Unplugged by roughly a decade.
It wasn't perfect. Student schedules could be erratic, even before classes let out for the semester. Live coverage of Hopkins football—the team quarterbacked by future coach Jim Margraff—and lacrosse—featuring a weekly interview with coach Henry Ciccarone—was frequently hamstrung by phone company foul-ups. (For example, when we covered a game at Washington College, the phone guys inexplicably connected our line from the field in Chestertown, Maryland, to the press box at Homewood Field, about a quarter mile from our studio.)
Still, it was glorious. Student enthusiasm was equaled only by that of our community volunteers, who hosted many of our specialty shows and helped form a new bridge between Johns Hopkins and the surrounding neighborhoods. We covered two NCAA lacrosse championships and a visit to Baltimore by President Jimmy Carter.
And to top it off, in our first year, WJHU was named Best Radio Station by the editors of Baltimore magazine. They described our format as "breezy and eclectic."
Normally, our signal did not extend much beyond a 5-mile radius from campus. On one occasion, however, we did broadcast to three states. During the highlight of my brief play-by-play career, the 1980 lacrosse championship game, anxious fans from Delaware and New Jersey called requesting the score—then listened as staffers held phones up to speakers in the office. They were treated to a thrilling Hopkins win in double overtime.
Today's WJHU is an internet station, streamed worldwide. Low-power FM wasn't an option; concerned over possible interference, the FCC stopped issuing such licenses for many years. But recently, the FCC resumed licensing urban FM stations that broadcast hyperlocal news and music not found on the corporate-controlled commercial band. True, there's still no mass comm or journalism major. And probably no space next to a laundry room. There's no way it could work. Is there?