The Tuesday after Thanksgiving, Brittany Shaff had a late night in the office. The new Johns Hopkins executive director of annual giving, along with members of Development and Alumni Relations, was up live-tweeting more than 500 thank-yous to donors as the university wrapped up Giving Tuesday. Johns Hopkins has participated in Giving Tuesday, the social media–fueled global day of charitable giving, for the last three years, but this year it rebranded the school's participation as #RISE4JHU and incorporated a new tactic: asking a select group of donors to put up money for challenge gifts.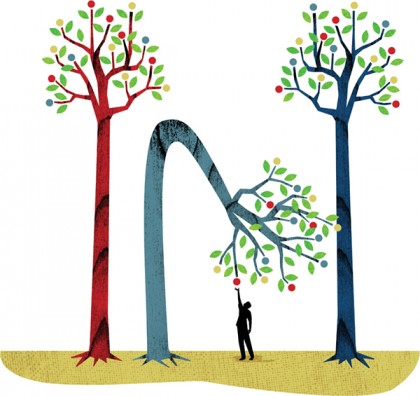 "We wanted to use this global day of giving but really tailor it to Johns Hopkins," Shaff explains. Here's how it worked: Eleven alumni offered up a certain amount of money—but only if enough other people also donated during a prescribed time period. If the 20, 40, or even 100 donations needed for their challenge came through in time, the alum's donation would be "unlocked," and the university would get the money. The annual giving team set a goal of 500 donors that day, a number that would well surpass the previous year's 207.
But by midnight more than 1,000 donations had come in, raising $344,819. Every one of the challenges, totaling $123,000, was met. The hashtag #RISE4JHU was trending on social media, even surpassing #GivingTuesday in Maryland. As evidenced by the team's late night, donations were coming in from overseas time zones until 3 a.m.
This was Johns Hopkins' first use of challenge gifts, but Shaff notes it's been a successful approach to fundraising at other institutions. While challenge gifts are often offered by older, established alumni, RISE4JHU tapped donors of all ages and financial means. The youngest challenge donor was from the Class of 2011, the oldest from 1972. Their gifts ranged from $1,000 to $50,000. Donors on Giving Tuesday could give in any amount, no matter how small, and earmark their donation for anything from the lacrosse team to the library. "We wanted people to feel they could make a donation and direct it to a place that was meaningful to them," Shaff says.
1 of 2: Too soon for a #TBT? Nah! We're too excited not to reminisce on the awesomeness that happened this week. #TBT to the time when 1,017 of @JohnsHopkins loyal supporters gave back to #Rise4JHU in one 24 hour period! pic.twitter.com/kzwCjKlMYg

— Johns Hopkins Giving (@JHAnnualGiving) November 30, 2017
Suzanne Jenniches, Engr '79 (MS), and her husband, Joe, Engr '86 (MS), electronic systems executives who retired from Northrop Grumman, offered the largest challenge donation. Both attended evening courses at Johns Hopkins—Suzanne in environmental and electrical engineering and Joe in computer science and information technology—while they were working. "I was a schoolteacher," Suzanne says. "I enjoyed it, but I realized that to grow I would need to leave the classroom. ... There is zero possibility I could have done what I've done without the inspiration, the motivation, and the support of Johns Hopkins."
The couple has given to the school in the past, including toward scholarships, and they say they enjoy seeing the immediate effect of their philanthropy. "We see every year the students we impact with scholarships, and with this [Giving Tuesday] gift, we see how our donation could multiply," Suzanne says.
Ohemaa Boahemaa, A&S '08, one of the youngest challenge gift donors, says she wanted to pay Hopkins back for providing her a community where she felt she could truly be herself. Now the program administrator for Applied Practice and Experiential Learning at NYU's College of Public Health, she attracted 20 donors with her gift of $1,122—a number she chose because her birthday is November 22. "I liked the idea that my giving was connected to other people's giving," she explains. "Especially for people who are not that involved, it's easy to get some momentum with a big day like this when you get people caught up in the spirit and the energy."
The sense of immediacy spurred by a campaign that lasts just 24 hours contributed to RISE4JHU's success and helped attract first-time donors, Shaff says. Nearly a third of those who gave on Giving Tuesday had not previously donated to the university.
Donald Kerr, A&S '73, who gave a $15,000 challenge gift, says he wanted to be part of a universitywide push. He has become more involved in university affairs recently, including serving as the gift chair for his class's 45th reunion committee, and says he now realizes the importance of giving in order to secure the university's future.
"To compete against top-tier institutions for the best talent—the best students, the best professors—and to continue to rise requires this constant attention to fundraising," he says. "Everyone can't give the same amount, but as you can see, every gift adds up."