You're only allowed three chances to pass through the metal detector at the Baltimore City Detention Center. On my first visit, at age 19, it took me two.
I was nervous. The "I haven't done this before" nervous. Through the Johns Hopkins Community Impact Internships Program, I was assigned to the nonprofit Hand in Hand Baltimore, for which I'd be tutoring and mentoring juveniles charged as adults, both inside and outside the detention center. On this first day, I'd be giving a three-hour class for five students—each of whom was at a different level for GED prep. I had been given an hour to prepare.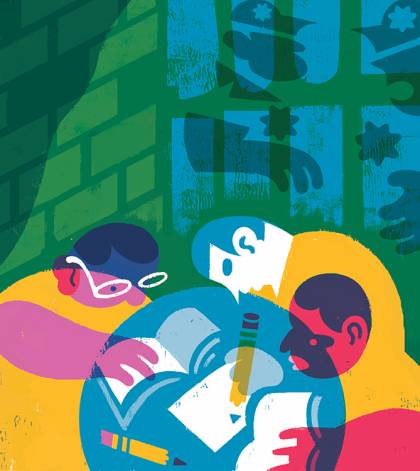 A seasoned mentor and I walked up the steps and down the hallways, guards by our sides, to the clanking of metal doors. It was hot, the smell was putrid, and it seemed like I would never get where I was going. The only thing keeping me centered was the light chit-chat with my middle-aged counterpart. She snapped me out of my trance when we crossed the outdoor pathway to the juvenile division. "Brooke, run." I laughed. Run? She took off. Rats from every inch of the walkway scattered. In broad daylight. I ran as fast as I could. This happened every single time we went.
It never stopped being terrifying, but it was so worth it to have the chance to visit the children in the jail, some no more than 15 years old. Sometimes the brainteasers and math practice fell by the wayside as I was bombarded by questions about careers and my own development. They were surprised to learn that I, too, was a Baltimore native. We talked about their futures, about hope, and about transformation.
In the outside re-entry program, one of my students was a 21-year-old who had been released from prison the day his son was born. At Hand in Hand, he was working toward his GED while also supporting his girlfriend and child. When we met, he couldn't subtract properly. In mere weeks of group tutoring, he was doing pre-algebra.
I saw firsthand the debilitating effects of the justice system—some folks couldn't even get janitorial positions without a GED and a clean record. But the fulfillment I got from my work is indescribable, and it came from the simple realization that with the right amount of support, resources, and determination, people could go much further than they could alone. We gave our students confidence that they could have a positive impact on the world, and that was worth outrunning what seemed like 10-pound rats.