We asked readers to tell us their memories of a snow day. Here are their replies: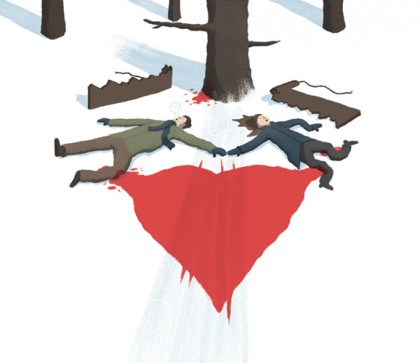 On one snow day, a new acquaintance asked me if I'd gone sledding. Wryly, I replied, "Have you read Ethan Frome?" She hadn't, and I had to explain myself. It was awkward.
Olivia Seideman, A&S '16
Desperate to get to class, I used two black plastic trash bags to trudge through about 2 feet of snow from my apartment in Tuscany-Canterbury. I was slightly sheepish—but serious about John Astin's acting course.
Megan Latshaw, A&S '99, SPH '01 (MHS), '05 (PhD)
We built a giant snow dragon that extended the entire block outside Homewood apartments. We put food coloring in spray bottles with water so that we could paint the dragon, and then took aerial photos of it from our window on the sixth floor of Homewood.
Stephanie Shiau, A&S '10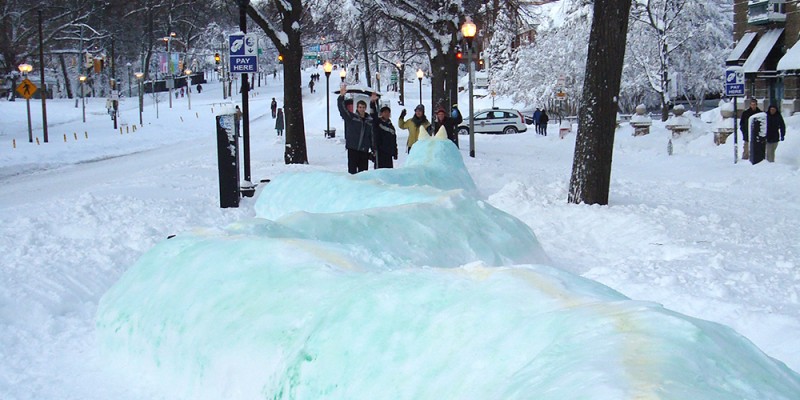 The first time I ever saw snow falling was my freshman year in Wolman Hall in 1993. I came outside in pajamas in the middle of the night to watch it. I was so excited and still remember how beautiful it looked in the streetlights.
Traci Park, A&S '97
Late in the afternoon, a snowball fight broke out on North Calvert Street in front of the Alpha Tau Omega fraternity house that lasted for at least 45 minutes. After everyone was thoroughly wet and exhausted, the participants retreated to their row houses and apartments for hot chocolate and, I suspect, some more adult beverages.
David Biderman, A&S '85
Next Question: What's something you learned recently? Send responses to jdb@jhu.edu with "Dialogue" in the subject line.