For 25 years, the Johns Hopkins Center for Social Concern has connected students with volunteer and engagement opportunities to improve their community, on and off campus. From the Hopkins Tutorial Project, which provides Baltimore elementary school students with undergraduate tutors, to the newer Community Impact Internships Program, which pairs undergrads with local nonprofits and government agencies, CSC's programs have helped tens of thousands of students gain real-world experience and deliver services to community members in need.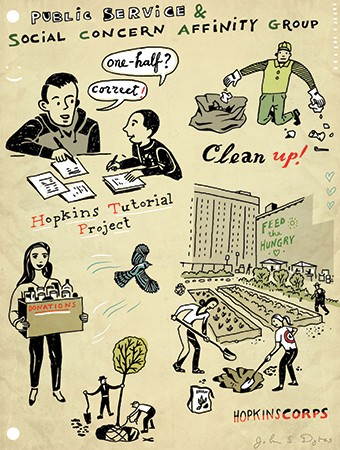 "Students walk away after graduation with a fuller understanding of their academics, of themselves, and of our vibrant city," says Abby Neyenhouse, senior assistant director of Neighborhood and Community Programs at CSC. As the center celebrates its silver anniversary, generations of alumni are reconnecting with like-minded graduates and the city of Baltimore through the Public Service and Social Concern Affinity Group, which picks up where CSC leaves off. "Students passionate about service, advocacy, and social justice were connecting through CSC, but there wasn't a program to serve this group after they graduated," says Elena Thompson, senior associate director of Affinity Engagement, whose Affinity Programs bring alumni together for events based on shared interests.
Led by Jon Smeton, A&S '14, and Chumin Gao, A&S '14, the Public Service and Social Concern Affinity Group launched in spring 2015. Hopkins alumni planted trees and improved the grounds of an East Baltimore elementary school. New member Charlotte James, A&S '14, communications director for Baltimore nonprofit Code in the Schools, hopes the Affinity Group will help her re-create the feeling she had as a student involved with CSC. "I'd like to connect with a community of people who have made a commitment to Baltimore, learn about social justice in relation to other sectors, and collaborate for a deeper kind of advocacy work."
Thompson says upcoming events for the Affinity Group may include a panel discussion on K–12 educational policy in Baltimore. "Individuals take on roles based on their passions," she says. "It's an easy engagement with a lasting outcome, both for members and for our communities."