How many people can you squeeze into the Peabody dean's office?
This is not a bad joke. It was the logistical challenge facing the provost and me, and the throng of students and colleagues packed into Fred Bronstein's office to surprise Michael Hersch. A Peabody alumnus, pianist, and composer who has been compared to modern masters Leonard Bernstein and Aaron Copland, Michael is this year's recipient of the President's Frontier Award. He is the first artist to receive the $250,000 prize created by Hopkins alumni and presented to a faculty member who shows exceptional promise.
After the shock wore off, Michael found his voice. As his proud students looked on, he talked about the importance of the arts and the powerful message that an award like this sends to all institutions to "take the creative and cultural power this country has and be proud of it, and support it, and allow it to flourish."
Michael's words struck a chord because they recognized a truth about Johns Hopkins:
We see the arts and humanities as central to the work of our university. This has been true since our founding.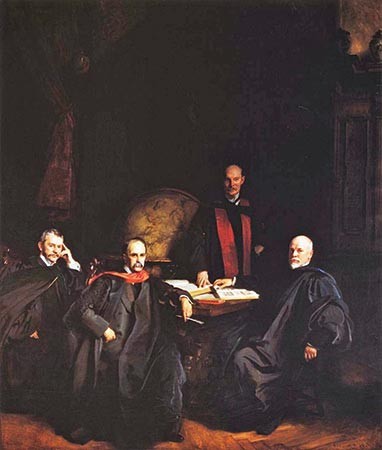 You can see this manifest in surprising ways. Look closely at the iconic John Singer Sargent portrait of the founding four physicians of our medical institution. There is not a single medical instrument in the composition. Instead, the doctors are pictured with a globe, an El Greco painting, a quill pen, and Petrarch's poetry. Indeed, our grand project has always been imbued with insights gleaned from arts and literature, history and philosophy, as well as the basic and applied sciences.
For that reason, at a time in this country when the arts and humanities are under assault in too many quarters, we have sought to recognize their essential value and amplify their reach through significant investment, including the launch of the $10 million Alexander Grass Humanities Institute and a purposeful increase in the number of tenured and tenure-track faculty in the humanities—from 90 in 2009 to 110 in 2016. Our expanded programmatic and curricular offerings in the humanities include a new major in medicine, science, and the humanities; a minor in Islamic studies; and a film and media studies program reimagined as a collaboration with Maryland Institute College of Art. And our most recent Bloomberg Distinguished Professor is Lawrence Jackson, a writer and historian, whose appointment bridges our English and History departments and overlaps with the Center for Africana Studies.
To echo Michael Hersch, your university is proud to nurture the immense creative power of our students and faculty—so it will flourish for the benefit of our nation and our world.
Ronald J. Daniels
President