Alison Henry ("Going the Distance," p. 72) is a writer and editor based in Washington, D.C. Her work has appeared in The Washington Post, World Wildlife magazine, and the Burlington Free Press, among other publications.
Brennen Jensen ("The Sound of Science," p. 23) is a Baltimore freelancer who works for a variety of Johns Hopkins publications. A former senior writer for Baltimore City Paper and The Chronicle of Philanthropy in Washington, he co-authored the local history book Charmed Life.
Edward Kinsella III ("The Internet of Bad Things," illustration, p. 46) is an award-winning artist from St. Louis. His work has been commissioned by The New Yorker, Rolling Stone, The Wall Street Journal, Playboy, and Wired, among others.
Jenna McLaughlin, A&S '14, ("The Internet of Bad Things," p. 46) is an investigative reporter in Washington, D.C. She covers national security and technology for The Intercept, an online publication launched in 2014 in the wake of disclosures about government surveillance made by Edward Snowden. 
Alex Nabaum ("Labeled 'E' for Ethical," illustration, p. 14) is a freelance illustrator based in the Wasatch Range of Utah. His work has been published in The Wall Street Journal, The New York Times, Yoga Magazine, ESPN The Magazine, and others.
Matthew Richardson ("Blocking Dengue," illustration, p. 10) has worked for Penguin Books, the English National Opera, and the British Library. Inspiration for the UK illustrator's work comes from folk art, outsider environments, and choice finds in bric-a-brac shops and secondhand bookstores.
On the cover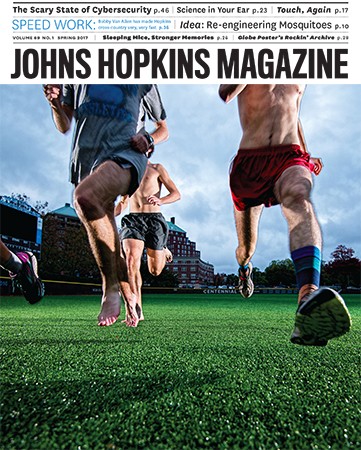 For this issue's cover image, Baltimore-based photographer Marshall Clarke used a wide-angle lens at ground level to capture the Johns Hopkins cross-country team doing sprints during a daily training session. Strobes set up on either side of the runners helped freeze motion and add drama to the image. Clarke specializes in portrait, editorial, and documentary photography.