The picture below is of my high school binder, circa 1971.
I'd peeled off the ugly slate-blue fabric from the front and back covers of the notebook, then pasted them over with newspaper ads for rock bands coming to my hometown. As a 17-year-old growing up in Ohio, I was more ardent for music than most anything else. When the Sunday Cincinnati Enquirer landed in the driveway, the first thing I pulled out was the entertainment section, where upcoming concerts were announced via adverts such as these. I could spot a new show in an instant, like an experienced birder glimpsing a thrush.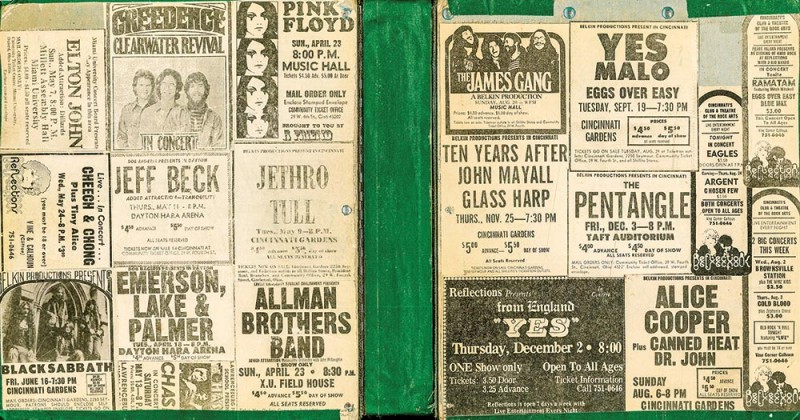 I dug that old binder out of a closet after reading Bret McCabe's feature story on Globe Poster Printing Corp.—actually, after looking at concert posters produced over the decades by the Baltimore company. Like those ads pasted to my notebook, they were typographically unmistakable, and they're still capable of making me yearn for concerts 50 years in the past. Howlin' Wolf and Muddy Waters in what the promoter called a Battle of the Blues? Damn, wish I'd been there for that. No, wait, wait—B.B. King, John Hammond, Sonny Terry, Brownie McGhee, and Big Mama Thornton on the same bill? Whoa.
There are stories in this issue that describe the preservation and study of cultural artifacts that span 800 years. The more than 250 digitized manuscripts of the 13th-century Roman de la Rose studied by Johns Hopkins scholar Stephen Nichols reveal much about the experience of reading in the Middle Ages. Globe posters reveal much about 20th-century American pop culture, especially African-American pop culture. Meanwhile, somewhere on a Hopkins campus there's no doubt someone thinking about radiation that has traveled across the universe for 13 billion years, and someone else thinking about preserving the health of a baby born in the last hour. Time is deep around here.
Dale Keiger
Editor
Give us your feedback by sending a letter to the editor via email to jhmagazine@jhu.edu. (We reserve the right to edit letters for length, style, clarity, and civility.)