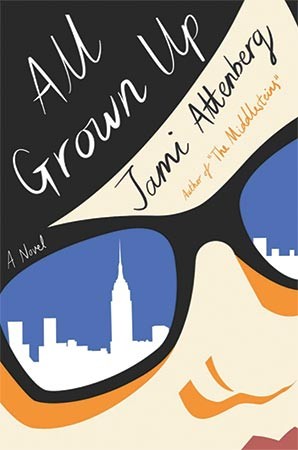 Andrea Bern has a lot going on in her life, and somehow not nearly enough. She returned to New York after not completing her MFA, and eventually became good at the office job she can't stand. As she approaches 40, she's unapologetically single and childless in social circles where women are getting married and raising kids. Men? They're OK for a brief spell, even though sometimes they're coming out of divorces, plan dates around their nights with the kids, and haven't slept with anyone not their wife in a decade. And, oh yeah: Her jazz musician father died from a drug overdose when she was barely a teen, but come on, she's almost 40. Whatever anomie she's experiencing is merely due to hitting that point in life after youth has lost its desperate idealism and before the grays of adulthood.
Attenberg, A&S '93, voices this caustically witty character in a series of breezily episodic chapters that jump around Andrea's life in All Grown Up (Houghton Mifflin Harcourt, 2017).
As with her recent The Middlesteins (Grand Central, 2012) and Saint Mazie (Grand Central, 2015), the readable pleasure of Attenberg's prose cannily camouflages a devastating emotional intelligence. Andrea doesn't come out and say it, but in recounting her life up to her 40th year she's reckoning something, even if she's not exactly sure what, over the novel's first half.
As such, All Grown Up plays out like a mixtape of Andrea's story, her life's personal puzzle reordered in a way that makes better sense now.
With each anecdote Andrea considers a different perspective of her hows and whys, as if she's able to see her former self anew. As she thinks during a visit with a friend: "Her life is architected, elegant and angular, a beauty to behold, and mine is a stew, a juicy, sloppy mess of ingredients and feelings and emotions, too much salt and spice, too much anxiety, always a little dribbling down the front of my shirt. But have you tasted it? It's delicious."