My yellow legal pad had dropped to the floor. My headset had fallen off my ears. LL Cool J was keeping the crowd pumped up as Taye Diggs changed into his Madonna wig. And I was dancing. It must have started after I saw the background dancers warming up. They turned as I shimmied by. They didn't need to say anything, but they did. They all said, "Wow!" Clearly, I had inspired them. I could see it in their eyes.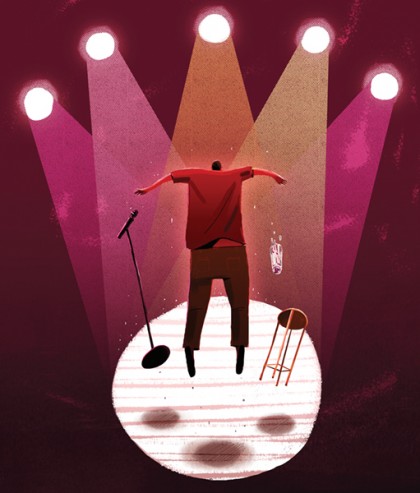 I don't know if you've seen Lip Sync Battle. Have you? (Say out loud yes or no.) If you have seen it, did you like it? (Respond out loud again.) If you haven't seen it, why not? (Internalize that one.) In the TV show, celebrities perform over-the-top lip sync numbers to compete for the crowd's affection and fulfill their dream of becoming Britney Spears. I was a comedy producer for the third season of that show, which sounds like a made-up job title from someone's senior year résumé, but it's real. I swear. I developed concepts for the big performances on the show, wrote jokes for the guests, and interviewed them for our behind-the-scenes pieces. It was the first time since I was a 13-year-old camp counselor that I felt like I was hired to be myself. Hence the backstage dancing.
Before I got to Lip Sync Battle, I was the writers' assistant at Saturday Night Live for two seasons. I took care of all the little things for the cast and writers so they could focus on that week's episode. I met a lot of talented, hardworking, kind people. I played a variety of monsters in live sketches. I sharpened a lot of pencils. My job at SNL was to be a good co-pilot riding shotgun on a long road trip. I had the directions all set, a good playlist at the ready, and water and Doritos and mints in case the driver needed a pick-me-up. I knew when to talk and when to be quiet.
I finished that job in the summer of 2016 and started writing full time. I had spent two years supporting the creative process of others, and it was time to figure out how to support my own dang process. It hasn't always been easy. (Can you believe no one wanted to publish my article "How to Hide Your New Tentacle Arm That Grew Over the Winter That No One Has Been Able to Notice Because Everyone Has Been Wearing Winter Coats"? I can't either!) But I am done being a co-pilot and am so excited to have my hands on the wheel. Even if I don't know exactly where I'm going.