Composer Aaron Grad, Peab '08 (MM), has a side job writing program notes for symphonies and orchestras across the country, including the Orpheus Chamber Orchestra in New York City and the New World Symphony in Miami Beach. That means he's searching for musical facts almost every day, such as the date Mozart finished one of his concertos or the ideas behind a lesser-known Rossini opera. He turns to Grove Music Online, a leading database for music research. "It's really a must-have resource for doing the kind of work that I do," he says. But instead of paying the $195 annual fee for the service, Grad accesses Grove at no cost. It's one of the thousands of journals, articles, and databases available to Johns Hopkins graduates through KnowledgeNET, a free online library sponsored by the Alumni Association. "It's a pretty amazing alumni perk to have all of this scholarly information at my fingertips for free," Grad says.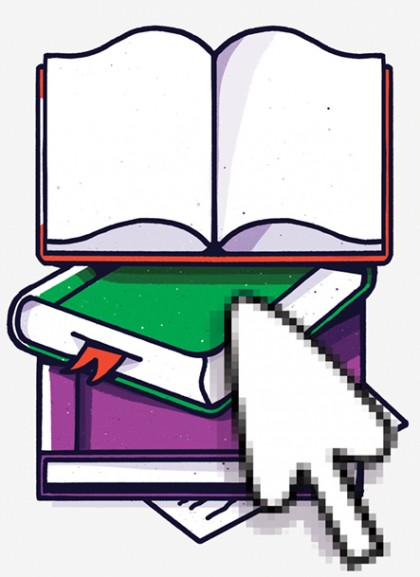 Launched in 2004, KnowledgeNET now has about 2,200 users in more than 60 countries, from Sweden to Sri Lanka. According to KnowledgeNET librarian Patricia Lovett, the service allows alumni to keep learning and researching after graduation, particularly those working in business, medicine, social sciences, and the arts. Once they've left Johns Hopkins, Lovett says it can be hard to access many of the licensed publications available through the university, since resources like academic journals are often subscription-based or charge a pay-per-view rate for individual articles found online—both of which can be expensive. They usually aren't available through public libraries or employers, either. "Our alumni studied hard and got their degrees at Hopkins, and this provides a way for them to continue those studies," says Alumni Association President David Yaffe, A&S '74.
For Ruben del Prado, SPH '88 (MPH), the library assists with his job at the Joint United Nations Programme on HIV/AIDS, where he serves as the country director and representative to Nepal, Bhutan, and Bangladesh. Most recently, he used KnowledgeNET to find evidence in support of fast-tracking a community-led HIV testing program in Nepal. Del Prado acknowledges that much of the information could be found with a Google search, but he starts with KnowledgeNET because the system is so user-friendly. "Everything is in one place—uncluttered and logically organized," he says.
Grad, who now lives in Seattle, adds that using the library is a nice reminder of his time on campus. "I love that it keeps me connected to Peabody and Hopkins, even though I'm 3,000 miles away," he says. "It keeps me in the fold."