In the slums of Nairobi, Kenya, pregnant women on their way to clinics are easy targets for muggings, since they carry cash to pay for their appointments but will give it up without much of a struggle. Jhpiego, a Johns Hopkins–affiliated nonprofit that focuses on infant and maternal health, established in 2012 a business training program for Kenya's young men. The hope was that if these men had jobs, they would be less likely to turn to crime. Things have changed quickly in just a few years, so much so that some of the young men now operate motorbikes-for-hire to drive the women they used to rob.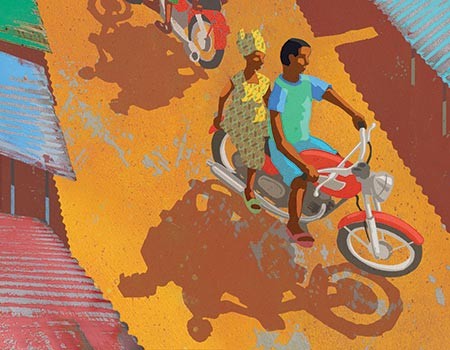 Context
Because unskilled young men often became involved in crime to make a living, Jhpiego decided to focus on training them. "They have the energy and enthusiasm to participate," says Jane Otai, a senior program adviser at Jhpiego. "We wanted to encourage them to move in a positive direction and realize the need to change after seeing their friends killed in crimes." In early community meetings, youth talked about businesses they would like to run, and the top ideas were refined. To help guide the process, a chairman and financial adviser were appointed for each business. Jhpiego funded a five-day training program for youth in the neighborhoods of Mathare, Viwandani, and Korogocho, teaching them money-handling skills, how to deal with clients, and strategies for managing a business.
Data
In 2015, 500 slum residents participated in the Waste Is Wealth program, with their businesses selling fresh eggs, collecting waste, renting out equipment, and making sandals out of trash, among other endeavors. The entrepreneurs generated $32,037 in sales and reinvested $20,630, giving them a net profit of $11,407. Some trainees invested their earnings in motorbikes that expectant mothers can hire for rides to reach health facilities. Today, more than 100 women each month use the service.
Upshot
Now that many of the youth are busy picking up trash, sweeping streets, and driving passengers on their new motorbikes, there's been a noticeable reduction of women's anxieties. One woman told Otai, "Now we can walk at night without fear. The criminals have turned into transporters." Michele Brennan, a California-based physical therapist and Jhpiego advisory board member, says that when she visited Nairobi, she spoke with one program participant who hopes to start his own child care center. He had to leave his crowded family home at a young age and ended up committing crimes to earn money. "The work program helped him have income," says Brennan. "He was effusive [in saying] that he didn't know where his life would be without the training."
Conclusion
The program has received positive reviews from community leaders. In the Viwandani neighborhood, the chief observed that crime has been reduced, and he asked Jhpiego to show other organizations how to engage youth. "As a parent myself, I can see that you can't make people do things," says Brennan, "but if you give them tools, they feel empowered to change. Addressing women's health doesn't just start when a woman becomes pregnant. There are so many factors, such as public safety, that go into allowing a woman to stay healthy and bring thriving children into the world."