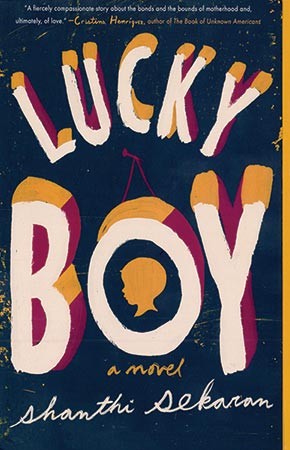 Ignacio El Viento Castro Valdez, the lucky boy of the title, has two mommies. His birth mother is 18-year-old undocumented immigrant Solimar Castro Valdez, who makes the perilous journey from Oaxaca, Mexico, to Berkeley, California, where she gives birth to the son she adoringly calls Nacho. After Soli gets picked up by U.S. Immigration and Customs Enforcement, Nacho enters California's child welfare system and comes under the care of foster mother Kavya Reddy. Kavya grew up in Sacramento, graduated from UC Berkeley, went to culinary school, and became the head chef at a sorority house, much to her mother's consternation. Her husband, Rishi, works for a trendsetting tech company in Silicon Valley, and, try as they might, they can't conceive. Kavya adoringly calls her foster son Iggy. Kavya and Rishi make an effort to adopt Iggy when Soli is slated for repatriation, and Shanthi Sekaran's poignant Lucky Boy (Putnam) tenderly follows these two women as they love this boy with every ounce of breath in their bodies, though one of them is going to have her world shattered.
The impressive feat that Sekaran, A&S '03 (MA), pulls off here is how patiently she draws Soli and Kavya until their very DNA feels wrapped around each sentence. Soli endures a harrowing journey, hides in plain sight as a domestic worker, and is sexually assaulted in immigration detention centers, remaining quietly defiant that she will be reunited with Nacho. The restless Kavya has a complicated relationship with her mother, a competitive jealousy of her seemingly perfect friend Preeti Patel, and the 30-something anomie that middle-class comfort permits.
Sekaran slowly sculpts these women and allows them to find the formidable inner strength that caring for Ignacio requires, and you end up rooting for each of them.
Lucky Boy, however, suggests there are no winners when a child's future gets tossed into the U.S. immigration system, and Sekaran unflinchingly steers her novel into beautifully and ruthlessly heartbreaking terrain.