Bob Scott, who served as men's lacrosse coach and director of Athletics at Johns Hopkins University in a career that spanned four decades, died September 15. He was 86.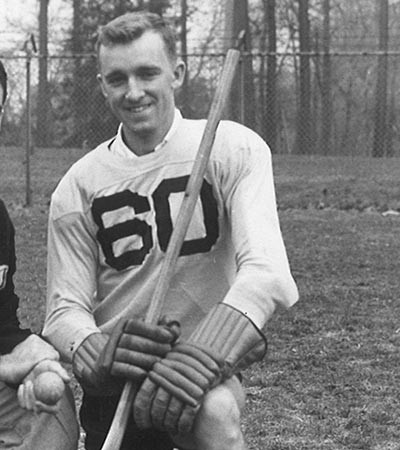 Scott was the Blue Jays lacrosse coach for 20 seasons, from 1955 to 1974. Johns Hopkins compiled a 155-58-1 record during his tenure and won seven national championships, including the school's first NCAA championship in 1974. Scott transitioned to director of Athletics in 1973 and served in that role until he retired in 1995. He also coached football, basketball, wrestling, and soccer at various points during his Johns Hopkins career.
"Bob Scott represented all that is good about coaching and athletics," says Johns Hopkins men's lacrosse coach Dave Pietramala. "Few others have touched the lives of so many, and Johns Hopkins would not be the place it is today without Bob Scott. We've lost one of the truly special ones."
Scott, A&S '52, first came to Homewood in the fall of 1948 following a standout athletics career at Baltimore's Forest Park High School. He excelled in football and lacrosse at Johns Hopkins and served as the captain for both teams. During his career, Scott acted as an educator, historian, and ambassador of lacrosse, traveling across the country and around the world to promote the game. His 1976 book, Lacrosse: Technique and Tradition, is still considered a premier guide to the sport. Johns Hopkins' swimming, baseball, basketball, and fencing programs all achieved national prominence during Scott's tenure as director of Athletics, and he also oversaw the addition of the entire women's athletics program, which grew to 12 teams before he retired.
Perhaps Scott's greatest attribute, however, was his ability to bring together good people. Under his direction, Johns Hopkins assembled one of the finest coaching staffs in the nation. Seven full-time head coaches who were hired by Scott remain in their position to this day.