Andy Moody and I were part of the 2002–2003 cohort of the Writing Seminars. We were both complacent as failures and misfits with zero pedigree, far from the fruit o' the Sems, if you will. He hailed from Wilbraham, Massachusetts, and had most recently failed as a truck driver; I hailed first from Iran, then Pasadena, California, and had most recently failed as a New Yorker, journalist, and editor. I blame the countless traumas of my Johns Hopkins year on why I cannot remember a thing about the experience. That failure of memory recently prompted me to email Andy about whether fun had anything to do with our time at Johns Hopkins. In particular, I wanted to ask him about a … social experiment that we conducted.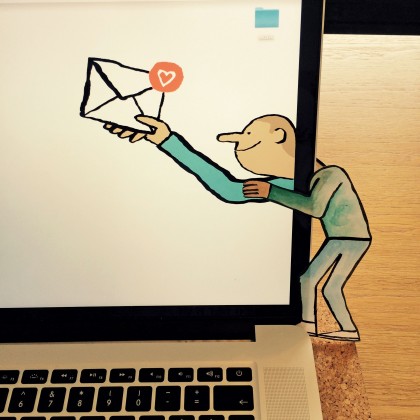 Porochista Andy, I have a vague recollection of the day, but do you remember us coming to this project?
Andy It was an overcast afternoon/early evening and we bumped into each other on the Upper Quad, in front of the library. I'd had a rough week and had not been sleeping well; I think you might have just been through a harrowing workshop, and we bonded over our shared sense of bleakness. We entered the library and went into that weird computer room near the entrance. I think we'd just gone there to check our email or something, but then you said something like, "What this program needs is a good prank. I really want to freak people out."
Someone had already started a departmentwide email thread, so we decided to send this group an unsolicited greeting from an oddball stranger who knew plenty about all of them, even if none of them had ever heard of him. We came up with the name "Johnboy Hodgkinz" and created an account for him.
Johnboy was a bumbling, possibly insane, sort of lovable, compulsively emailing townie who had become a fan of our Sems-folk. It's especially funny because we—and Alice McDermott and Stephen Dixon, our great mentors, will admit to this—were perhaps the least lovable cohort in all of Sems history. We didn't have a fan anywhere! We were notoriously unhappy, combative, heavily medicated, and mentally ill. Not a workshop made it through without some traumatizing outburst, someone crying, someone murdering someone with their eyes if not with their words. Our writing was not good enough for our attitudes to be that bad.
Anyway, Andy became my partner in this, and one day we emailed the entire gang and pretended that someone finally loved them. Johnboy loved them. And he was watching them. And he wanted to hang out.
From: JOHNBOY HODGKINZ! [mailto:jhodg4life@hotmail.com]
Sent: Wednesday, November 20, 2002 3:36 PM
Subject: Re:wRiTiNg sEmInArS!?!
hi friends!
i think i might have met some of you at The One World
and/or The Hut and/or Cafe Q. i just wanted to let you
know my doors are always open to those who wanna
come by and "talk shop" (betcha didn't know i write some
verse too! :-)
i am thinking of hosting some parties for
people of the literary persuasion :-)
those of you who know me know i can
sure put down a cocktail or two at The PJ's
and The Rocky Run! i know some of you
writers like to drink too, sometimes even
too much j/k! j/k !!! :) and smoke huh??! ;)
i'm kinda in between jobs
so my cally (as in calendar! LOL!!) is
pretty open nowadays, thus i'd like
to ask YOU when you might be free
before your writing "sem" (as in sem-ester!
LOL LOL!!!) is over...
not just the ladies either!! :) :)
if you'd like to learn more about
me (my favorite groups, sites,
where I like to "kick back," writers)
you can totally check out my web site.
everyone's invited!
i'm also looking to start a reading group.
i just finished jean macgary's "My Dream Date" and boy,
was that a crazy read! i'd love to hear what
the HIS and HERS of the writ-sems think of it! LOLOL!
hey, what can i say? you guys are the future!!!!!! TTYL!!
your friend, Johnboy
That was the first email. I don't think anyone really responded. We expected that. But we kept going. There was the Thanksgiving email in which Johnboy suggested we all "eat, drink (but not too much, and certainly not w/ driving, you hard-drinkin' kooky writer-types! ! ha ha! ) & be merry!" There was a Christmas note, and one about a month before the United States invaded Iraq that said we shouldn't be sad about that because Valentine's Day was coming.
A I remember both of us laughing very hard in that computer room as we wrote that first email, and you saying something like, "The most brilliant thing is that no one will ever suspect we did this together." I also remember you saying, "If you tell anyone, I will kill you," and seeming pretty convincing about it.
P I think I was always threatening to kill you—so sorry. I have my ideas, but why do you think we did this?
A You and I were among the few people there who liked writers like Barth, Pynchon, David Foster Wallace, etc., and most of our classmates not only disapproved of those writers but felt confident making moral judgments on anybody who happened to like them. The Johnboy Hodgkinz emails were a prime opportunity to sneak some postmodern playfulness into the discourse without having to personally suffer the consequences of an unfavorable workshop.
P I agree. How do you remember it ending? This I don't recall at all.
A We didn't plan for it to end, but you had some fight with [classmate] Angshuman Chakraborty and sent him a long email giving him a piece of your mind. At the end of the email, you wrote something like, "By the way, I am Johnboy Hodgkinz. Andy Moody and I made him up."
Angshuman immediately told a few other friends, though I don't believe we were ever officially outed to the whole cohort, and there may well be people in the group who never found out the truth. I remember telling John Barnard [another of the cohort] about it a year or so later, and he gave me a very serious look and said, "You really could have done a lot more with that."