People always think I have more fun than I actually do, mostly because of what they glean from my social media presence. Everyone seems happier on the internet, I always say. Most of the time I'm looking at a screen like the rest of the planet, or I've got my head in a book. I don't want anyone to get any funny ideas about me. I'm swathed in misery as much as any other writer.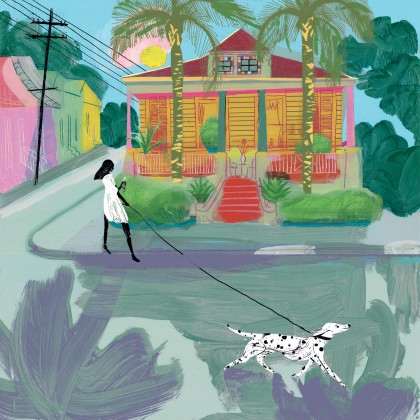 And anyway, fun for me is largely about observation rather than participation. The best time I have all day, lately, is walking my dog first thing in the morning, through my new neighborhood in New Orleans, where I have just purchased a house. I live on St. Claude Avenue, which is a busy thoroughfare running from Arabi, across the canal, through my neighborhood of the Bywater, followed by the Marigny, until it merges with Rampart Street, which then takes you along the border of the French Quarter and Tremé and further uptown. Traffic races on it throughout the day, but if you get up early enough—which I do—it has its beautiful quiet moments.
I take my pup first across the neutral ground, past the corner store (Korner Market #2—where is #1, I always wonder), winding my way through the beautiful blocks full of brightly colored shotgun homes, to Satsuma Cafe for a coffee, where I often have my only conversation of the day, with a barista, me grinning like an idiot at people, humanity, life. Then we head down to Crescent Park, across the arched, rusted steel bridge at Piety Street, my dog panting, his little legs barely making each stair, so determined, and it makes me laugh every time. We amble down the park along the Mississippi, until we hit the dog park, usually empty that early, but we wait patiently for a few minutes, scan the cruise ships harbored nearby, and then we give up; no playmates for now.
I try to wend my way home through a different path each time. It's sort of a reverse OCD—I'm determined to have a lack of order and repetition in my life. I need to see a new block, a new building, a new face every day. And by now the sun is risen, so when I hit St. Claude again the street looks entirely different. The bright colors of the buildings, the texture of the big sky, the stretch of earth dividing the street, all blissfully intertwined—that's my idea of a good time.
And when I cross neutral ground again, nearly home, I see my last face of the day for a while: a tall, somber, older woman dressed in dark clothes, who most mornings hands out Christian tracts in front of the dollar store down the block. She always waves back at me with a smile. I like to think we say a little prayer for each other, even if we're praying for different things. It is a kind of friendship, or the beginning of one, and I can't wait to learn more about her, but for now just witnessing her is its own kind of fun.