Johns Hopkins is launching an institute devoted to the study of a new and promising approach to cancer treatment, embracing the Obama administration's "moonshot" initiative to cure cancer, an effort led by Vice President Joe Biden.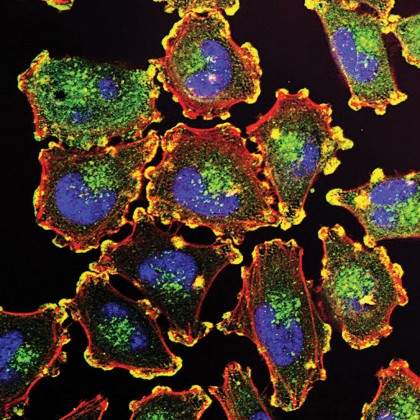 The Bloomberg–Kimmel Institute for Cancer Immunotherapy was founded with two $50 million gifts—one from Michael R. Bloomberg, Engr '64, philanthropist, entrepreneur, and three-term mayor of New York City; the other from philanthropist Sidney Kimmel, founder of Jones Apparel Group. An additional $25 million for the center was contributed by more than a dozen additional supporters.
Immunotherapy has the potential to cure and end all forms of cancer, researchers say, making it the most rapidly advancing approach to cancer treatment and one of the most promising avenues of cancer research today. Immunotherapy seeks to redirect patients' highly individual immune systems to target, detect, and destroy cancer cells. "We are at the forefront of an emerging and promising field of cancer research and treatment," says Paul Rothman, dean and CEO of Johns Hopkins Medicine. "We are grateful for these tremendous gifts, which will help us accelerate the already rapid pace of discoveries in immunotherapy."
The institute will further strengthen Johns Hopkins' world-class program in cancer immunology, uniting the Johns Hopkins Kimmel Cancer Center experts with the immunology, genetics, microbiology, and biomedical engineering experts throughout Johns Hopkins in a concentrated effort involving more than 100 scientists and clinicians.
"Michael Bloomberg and Sidney Kimmel are visionaries," university President Ronald J. Daniels says. "Their philanthropy has already fostered remarkable innovation throughout Johns Hopkins, transforming the landscape of public health and cancer research. The new Bloomberg–Kimmel Institute builds on that legacy, giving us the latitude to dream big as we accelerate our efforts to end all forms of cancer."