Marni Epstein's feet could probably open and close a jar of peanut butter while she dangles from a tree branch and reads Shakespeare. But right now she's only asking them to help her ascend a 25-foot length of purple silk suspended from the ceiling of a converted church in Baltimore's Pigtown neighborhood. Epstein, a senior public health major at Johns Hopkins, uses agile toes to coil one stretch of the fabric under her other foot's arch, forming a cloth stirrup, while sinewy arms pull her ever higher. Soon she's suspended in midair, a slender frame gracefully contorting itself into crosses and ballerina-like poses. At one point, a single handgrip and a modest wrap of silk across her thigh are all that keep her in defiance of gravity.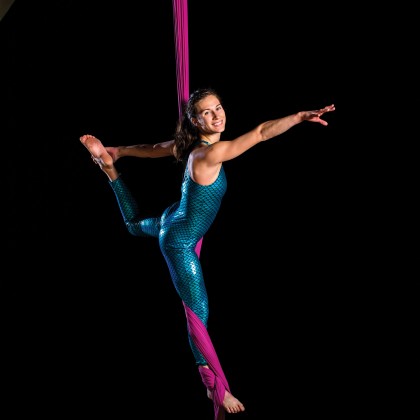 For Epstein, and the dozen other Johns Hopkins undergraduates gathered at Baltimore's Mobtown Ballroom on a spring afternoon, the space between floor and ceiling is both playground and canvas. A couple of hours each week, this group hangs, spins, and twists on a colorful collection of silks and rings for the most artistic of core workouts. Sometimes, at the O'Connor Recreation Center, they practice floor-based partner acrobatics, including handstands and human pyramids. The members of the Johns Hopkins Aerial Circus Club, which Epstein and civil engineering major Gwen Martin founded two years ago, are prepping for their end-of-year show, a choreographed, music-accompanied performance on silks and lyra (a sort of oversized hula hoop suspended from the ceiling) that lets them show off skills built from the ground up. Nobody here is thrown into the high end. "We start everyone inches off the floor," says Epstein, who serves as group leader and instructor. "No risks early on, and we do this for weeks. Then we gradually and patiently go higher, watching everyone to make sure they are wrapping correctly." By wrapping, she means the careful twisting of silk around a leg, waist, torso, or ankle to support a person's body weight and allow them to go hands-free. Let's just say, you want a good wrap.
Nearly all 16 members of the mostly female club started as novices, like Daniela Barrio, who earlier this practice performed her first "drop," the group's rite of passage. A drop entails strategically wrapping various parts of your body while in midair, so that when you let go of the silk, or flip over, you unravel until one stretch of fabric tightens to catch your fall. "It's all about trusting the wraps and making sure everything is in place," says Barrio, a sophomore psychology major from El Paso, Texas, who also likes to rock climb and play the cello. "I had to psych myself up a lot to have the courage to let go, but it was really fun."
Make no mistake; there is danger here. So every handgrip and silk wrap is studied and fussed over. Some say they do this for the adrenaline rush. Others, like Barrio, enjoy the performance and artistic aspects. For many, it's a novel way to exercise, part of a larger trend in anti-gravity activities that has aerial yoga, aerial Zumba, and even aerial meditation classes popping up across the nation.
Kelly Jo Stull, a former marine biologist turned circus artist who co-instructs the club with Epstein, also privately teaches aerial fabric, lyra, and German wheel (something like a large hamster wheel) gymnastics classes out of the Mobtown Ballroom. Business, she says, is good. Stull teaches 15 to 20 classes a week and currently has roughly 150 steady clients. "It's an alternative form of fitness, a physical and mental challenge, and more fun than going to the gym and just lifting something. Here, you lift yourself," says Stull, a redhead with a host of tattoos, including a mermaid on her arm and high-heeled trapezist on her back. "Then there's the other half who come because they want to be in Cirque du Soleil."
Put Epstein in this camp. She has given at least some thought to joining the circus. Epstein says she grew up a "monkey kid"—she liked to climb trees and playground structures, anything to get off the ground. For her 11th birthday, her grandmother bought her lessons at Trapeze School New York. She got hooked on the thrill and the heights. Six months later, she attended a summer camp in the Poconos that featured a circus arts primer, where she further honed her trapeze skills and also learned silks, how to form a human pyramid, juggling, and other such Big Top activities. "That's when I really got into this stuff," says Epstein, who went to the camp five straight summers and now teaches at Trapeze School New York on school breaks.
After high school, Epstein took a gap year. She first went to Bolivia with a youth group, where she did a 10-day trek through the Andes that included camping 15,000 feet above sea level. She would later travel to South Africa with Zip Zap Circus, a nonprofit social organization founded in Cape Town that looks to inspire and unite young people by exposing them to other cultures through the circus arts. There she lived in a cooperative house with a Brit, an Afrikaner, a Canadian, a German, and a Xhosa. Three to four times a week, they would travel to a township to work in a kids program in conjunction with Doctors Without Borders, teaching circus arts to youth at an HIV-TB clinic as a way to stay fit and build teamwork skills.
When she got to Johns Hopkins, Epstein joined the Outdoors Club, which she formerly directed, and threw herself into backpacking, hiking, rappelling, and exploring. But her purest joy came whenever she was suspended in air, and she found a kindred spirit in Martin, who learned circus arts during her time in high school. The two founded the club, quietly confident others would share their passion. "Fifteen years ago, few people were taking a silks class, but there's been a real emergence in the past few years," Epstein says. "It's a creative outlet. For me, I swing to keep happy and release stress. It clears your mind, as you have to focus on the moves and what you're doing."
And, Epstein says, she gets to be that kid again who crawled on top of the monkey bars. She'll come down when she's good and ready.