I stood outside one of the world's biggest toy companies. I was confused, angry, and weeping. I had spent the past six years building the content department from scratch. And now I had been downsized. It was 2008, and there were layoffs everywhere.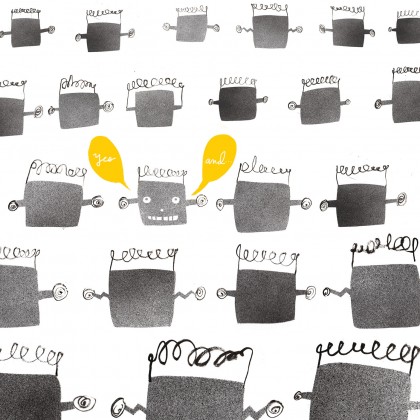 The stock market had tanked, taking my savings with it. I was 33, jobless, and directionless.
My position had paid well, and it was fun to tell people I worked with Elmo and SpongeBob, but I was building other people's brands rather than creating my own. Still—this job wasn't supposed to break up with me. I was supposed to break up with it. I had no idea what to do next, but I knew I wanted it to be fun.
I enrolled in an improv class. At my first performance in September 2009, I stood on an empty stage, lined up alongside my classmates against a black wall. I stared out at the audience, petrified. Our teacher reminded us to "yes, and" one another. That's the key to improv, he told us. You agree with your scene partner's choices, and then you build on them. Our teacher asked for a suggestion from the audience. And just like that, my first show began on the stage of the famed Upright Citizens Brigade Theatre.
Ben walked on stage. Haley followed. Haley asked Ben for help with her taxes. Ben responded, "I only do taxes for animals." I dropped to the floor, transformed into a cat, and slinked into the scene. I heard a big laugh. I was invigorated.
Improv forced me to grapple with uncertainty. It also introduced me to a community of sharp, funny people who were busting their butts to pursue their creative goals. It was inspiring. And slowly, the lessons learned onstage started seeping into my life.
Yes, and … a couple of years later, my new husband quit his art director job at a top New York City ad agency to start a toy and game company with me. Our parents said we were insane. We probably were. Galactic Sneeze was born.
Yes, and … something else was born. We brought our newborn daughter home from the hospital in November 2011. There was no instruction manual (and no maternity leave).
Yes, and … we spent our nights brainstorming game ideas. We spent our days freelancing to fund our business. We passed the baby back and forth. In September 2013, we launched our first party game, Schmovie.
Yes, and … we're about to debut our new adult party game, Spank the Yeti, on Kickstarter.
Yes, and … we've pitched dozens of concepts to toy companies. Some will be hitting store shelves soon. 99 percent of our inventions never see the light of day. But that 1 percent feels pretty fantastic.
As for tomorrow: Yes, we have no idea. And I'm sure it will be fun.