When Curt Carpenter's daughter called in spring 2014 to describe the six-bedroom rowhouse she found for rent just off the Homewood campus, he had one question: Was his waterbed still there?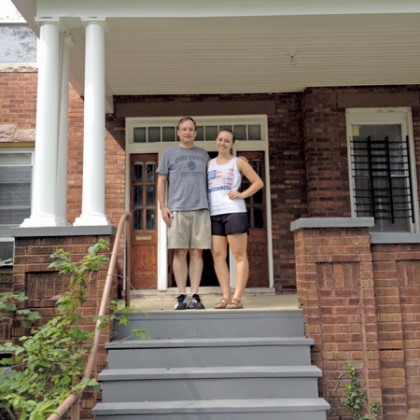 Roughly 30 years after Carpenter, A&S '85, moved out of the University Parkway rental, his daughter, Johns Hopkins senior Elaine, was coincidentally moving in. Though the home has been updated—new floors, central A/C—Carpenter says it maintains its charm. "It's a quirky house, as all Baltimore rowhouses are," he says. "They all have odd openings and rooms. My room had a couple of really strange closets in it, just odd cubbyhole-type closets, and a balcony off it."
As part of his 30th reunion celebration, Carpenter and his former roommates had a few beers on the front porch of the place where they used to host get-togethers and project 16 mm movies. "It brought back a flood of memories," he says. "It's really neat to share that experience with my daughter."
Keep your classmates informed with a submission to alumni notes. Submit your information via email to: classnotes@jhu.edu. (Due to production deadlines, your information may not appear for an issue or two. By submitting a class note, you agree that Johns Hopkins can publish your note in the print and online edition.)