Violinist Courtney Orlando joined the string section of the Princeton Symphony Orchestra for a December holiday pops concert and had a blast. "It was the first time I had played in an orchestra in a dozen years," she says, sitting on the sofa in her Prince­ton, New Jersey, home in early January. "But I loved it and I'm doing it again. We're doing music from films." She barely suppresses a smile, referring to an upcoming pops concert with the PSO. The program includes such things as "Let It Go," that inescapable earworm from Disney's animated Frozen. Orlando adds, "We're going to play the theme from Jaws."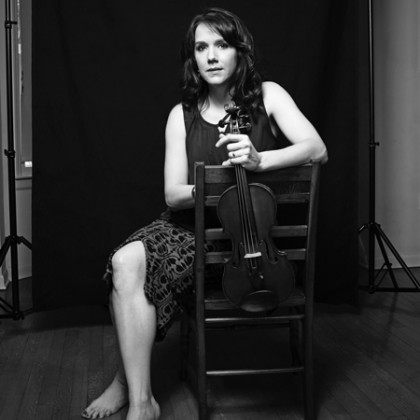 Orlando says this with irrepressible glee, acknowledging the humor in having such a gig on her concert calendar. If classical musicians and fans know Orlando at all, it is not through pops concerts. Over the past 15 years, she has established herself as a celebrated performer of new music, which she defines as music composed from the 1970s on. Frequently, and unfairly, "new music" is also assumed to mean difficult, atonal, complex, or otherwise inaccessible. This academic year, after teaching ear training at the Peabody Conservatory from 2004 to 2015, she became artistic director of Now Hear This, the conservatory's new music ensemble.
She's spent her professional life playing in the smaller groups that specialize in repertoires not much older than she is—she turns 40 this year—music that is often written for a particular ensemble and its instrumentation and rehearsed in collaboration with the composer. Orlando plays with Ensemble Signal, her own Trio Chimera, and most notably Alarm Will Sound, one of the more celebrated new music ensembles in America since its 2001 debut. This contemporary chamber ensemble has helped reinvigorate the performance of, and audience for, new music. In addition to playing works by familiar new music composers—such as Luciano Berio, John Cage, György Ligeti, Conlon Nancarrow, Steve Reich, and Edgard Varèse—the group has commissioned pieces from living composers such as Anna Clyne, Nico Muhly, and Augusta Read Thomas. It has also taken an eclectic approach to programming, putting Frank Zappa's "Dog Breath Variations/Uncle Meat" and John Cale's soundtrack for Andy Warhol's film Kiss alongside works by John Adams, Cage, and Varèse. In 2004, Alarm Will Sound started performing and eventually recorded an album of works by the British electronic musician Aphex Twin (née Richard D. James), one of the more adventurous and genuinely odd artists to emerge out of Britain's explosion of intelligent dance music in the 1990s. In Aphex Twin's "Prep Gwarlek 3b," off his 2001 album Drukqs, a series of low tones pulsates over an echoing percussive rattle that sounds like anxious footsteps fleeing down a dark alley. Alarm Will Sound pulls that off with moody aplomb on the 2005 album Acoustica.
"The Aphex Twin project felt really groundbreaking for a classical ensemble to tackle in the way that we were tackling it," says Alan Pierson, Alarm Will Sound's co-founding artistic director and conductor. He notes there were precedents for a classical ensemble interpreting popular music—such as Bang on a Can's 1998 recording of Brian Eno's ambient album Music for Airports—but adds that when Alarm Will Sound first started out, "the idea of a group that tried to embrace the full breadth of what was happening in contemporary music felt pretty fresh and new and necessary at the time. And that now just feels like the way the world is."
Pierson met Orlando in graduate school at the Eastman School of Music in Rochester, New York, when she started playing with a student-run new music group called Ossia. That group, which Pierson had co-founded, evolved into Alarm Will Sound in 2001. Orlando "is just a gorgeous player," he says. "She plays the violin really beautifully. She has amazing ears and is very perceptive—in rehearsals she picks up on everything—and is keyed in to lots of different things. I think that makes her a remarkable person to have in the group as an artist and collaborator."
Playing new music today requires a different skill set, Pierson says, such as handling complicated rhythms and dealing with unconventional ways of playing one's instrument. "The level at which players are tackling this repertoire is increasing over time, and there's a kind of stylistic flexibility and virtuosity that's required," Pierson says. Performers need "the ability to understand different kinds of styles and change their sound and the way they play to do what's on the music stand. That's another area where Courtney is really exceptional. She is among the best musicians I've worked with."
Composer Oscar Bettison witnessed Orlando's chameleonlike skill firsthand. He met Orlando when he joined Peabody's Composition Department in 2009 and she volunteered to play his solo violin piece "Neolithic Air" as part of a concert. The piece required the violin to be detuned and played with extended techniques, the umbrella term for any unconventional approach to producing sound from an instrument. "That's a really tricky thing for somebody who has perfect pitch to do [and] many violinists just wouldn't want to do something so strange to their instrument," he says. "She did it and did it happily. She's willing to take on anything but with that is an incredible musicality." Bettison is writing a new piece specifically for Orlando that, if funding comes through, they hope to premiere in 2017. "She's absolutely fearless," he says. "Composers like that."
Orlando says she feels very lucky to have a career that she didn't even know existed in the 1990s when she began her undergraduate studies at Temple University, then moved on to graduate school at Eastman. Like many young players, she imagined that a music career meant school, then orchestra, maybe becoming a touring soloist. She soon understood that she wasn't on the same level as her music school peers. She didn't have the instrumental chops, not yet, and she didn't have the interest in doing what was required to learn them. "I realized there was no way I was going to get into an orchestra. When you take an orchestra audition, they want you to do things a certain way, and I didn't want to do it that way. They're looking for what's going to fill a role, and I knew it wasn't me."
She concedes that she didn't have the patience for learning the standard orchestral repertoire, which for violinists often means showy pieces that didn't fit her personality. "I just really pushed against the rep, the fluffy violin rep," she says of the compositions conservatory students are typically required to master, such as pieces by Pablo de Sarasate and Niccolò Paganini. "I just didn't like the music. To me, there was no substance in it. It was all just for show, and I wasn't a showy kind of player. I'm still not." She gives Tchaikovsky as another example. "Trust me, you do not want to hear me play Tchaikovsky. Sometimes I do it just for fun, to make myself laugh, because I can't do it. Tchaikovsky has some great melodies, but anytime it gets to all the noodly business, it just seems like a waste of time."
Brahms, on the other hand, is virtuosic with substance. "He's one of my favorite composers," she says, adding that "he never has a moment where he's relaxing, so to speak. His transitional materials are substantial; nothing is ever just to tread water. People argue with me about Tchaikovsky, but that kind of composer who writes a pattern that's flashy just for the sake of being flashy—to me, I don't know. I prefer musical virtuosity over technical virtuosity, maybe that's the easiest way to say it."
In graduate school, she initially pursued a PhD in music theory. But two years into her theory studies, she started to miss performing and began seeking opportunities to play. Eastman is "where my eyes opened to a billion different things that I didn't know existed, including new music," she says, citing Musica Nova, the school's new music ensemble, and the student-formed Ossia. She soon met Pierson, who invited her to work with the latter ensemble. She also started collaborating with a pianist to perform contemporary sonatas. "I was trying to do music that I didn't think anyone else was doing," she says. "And by my doing new music, people [at school] started to know who I was."
She realized the violin was what she should be studying. To do that, she was going to have to go through all the "fluffy" stuff. "My teacher insisted on me doing a few of the virtuosic pieces, but he also wanted me to decide what I was going to play," Orlando says of Oleh Krysa, the Ukrainian violinist who became her mentor. She eventually earned a master's in music theory pedagogy and a violin doctorate, and in addition to learning the discipline and technique for the canon, she was encouraged to shape her own repertoire. For her first doctoral recital she performed Aaron Copland's Nocturne, Bartok's first sonata for violin and piano, and Berio's Corale, a performance that drew praise from her teacher and his peers. "I loved it, and that was a really good feeling. That's when I started to feel, 'I can do this.'"
These days Orlando enviably spends almost all of her time working on and playing the music that interests her. That means she has to run around a bit. Two weeks into 2016, her spring calendar was full. Between Christmas and New Year's she married Irish composer Donnacha Dennehy in Ireland. On January 3, they started rehearsals for the opera The Last Hotel; he's the composer, she's part of the ensemble. Alarm Will Sound began recording a new piece by Reich in February, then she has concerts and rehearsals with two of the new music ensembles of which she's a member. Also in February, she began her trips to Baltimore to prepare for Now Hear This' spring concerts, which feature Reich's "New York Counterpoint," "Music for Pieces of Wood," and "Music for 18 Musicians," a seminal new music piece that students have never performed at Peabody. Since it debuted in 1976, it has become both a signature work of American minimalism and a contemporary classical work that fans of contemporary rock, jazz, and electronic music know and enjoy.
Alarm Will Sound provided Orlando with a similarly broad range of musical ideas, as its concerts and collaborations keep one foot in the symphony hall and one in the larger art-music world. In 2010, Alarm Will Sound collaborated with the indie-rock band Dirty Projectors for a string of performances in New York, Los Angeles, and London. Last year, Orlando and a few other Alarm Will Sound string players were recruited to perform with Bjork, playing six of the Icelandic avant-pop star's dates behind her strings-heavy 2015 album Vulnicura. "I usually don't tell my students what projects I'm working on because I don't want to sound like I'm bragging, but when I played with Bjork, I couldn't help myself," Orlando says, adding how impressed she was by the entire experience. "She's such a great performer, [the music] is all her ideas, and we weren't [just] the 'backing band.' We were part of a work that's musically substantial and it felt like we were part of the process."
The concerts gave Orlando something that many classical players never experience: the opportunity to perform with a living musician whose art is adored. At the first Carnegie Hall show, the string players were already onstage playing an intro before Bjork entered. "The screaming when she came out—I had never heard a sound like that in my life," Orlando says. "I started crying. A few people said they welled up, too. I seriously just got overwhelmed. It was amazing, the music was beautiful, and, you know, I had this dumb list of things in my head that I want to do before I die, and play with Bjork was one of them. I just figured that was never going to happen. But it did."
Orlando is so enthusiastic about Now Hear This in part because when she was in school 10 or 15 years ago, new music wasn't a significant part of her education. She invited Dennehy to work with Now Here This for its fall 2015 debut semester. She needed a composer to "come on the friends-and-family rate because we had to do it on a budget, and I trusted him, knew he'd do a good job, and knew people would like the music." The first concert featured work by Dennehy and two composers who have inspired him, Julia Wolfe, whose oratorio Anthracite Fields won the 2015 Pulitzer Prize for music, and the late French composer Gérard Grisey.
Preparing and rehearsing for the concert, which was last November, immersed the students in the process of working with a living composer. Orlando says the students were a little nervous at first to talk to Dennehy in rehearsals. "I told them to ask him questions about the music," she says. "Here's your chance—he's alive and in the room. Ask him." That learning opportunity spread throughout the debut concert's program, which included a movement from Grisey's Vortex Temporum. It's a microtonal work that requires the piano to be detuned and the rest of the instruments tuned to it. Learning to perform that piece meant getting the students to listen to an unfamiliar piano sound and play along with it. "At first I think they thought it was just a bunch of long tones," Orlando says, adding that she had Dennehy, who also composes microtonal pieces, talk with them about why a composer is using this idiosyncratic sound palette. Dennehy got the students to think about the intentionality behind Grisey's score, what the composer was trying to achieve not simply for individual instruments but the entire work. "When the microtones are in tune, it has this otherworldly sound," Orlando says. "It was great to hear that piece as [the students] started taking it more and more seriously. There were a lot of light-bulb moments and, by the end, it sounded amazing. I was so proud of them."
"It's important for students to get the experience of playing new music but also to work with composers," Bettison says. "It's also important for composers to learn how to deal with an ensemble, going through multiple rehearsals and then an actual performance. These are just skill sets that we want our students to have going forward."
He adds that Now Hear This can help students imagine that many career paths are possible in music. "The way people are taught in conservatories, especially in strings, is they're taught to think that they're going to become international soloists, which is completely crazy," Bettison says, pointing out that this situation is endemic to conservatories around the world. For a violinist fresh out of school in this day and age to land a spot in the second violin section of a regional orchestra would represent a pretty good gig. Landing a spot in the second violins of a big symphony orchestra would be an incredible gig. But given the current mindset of conservatories, Bettison says, students are taught to regard either as settling for second best. "Working to become a concertmaster of an internationally renowned symphony orchestra, that should be something that's beyond the moon," he says. "But the way that students are taught is that [even] that would be a step down. This is insanity. So giving our students the idea that there is another way of having a career is very important."
That experience is one of the reasons Fred Bronstein wanted to see Peabody ramp up its new music environment when he became dean in 2014. "Philosophically, it is so important for students to be involved in the music of our time and to have the experience of working with composers," Bronstein says. "I played for many years in a new music ensemble when I started in my career, and you learn an awful lot about music by working with composers and learning how composers think. So aside from the music itself, it's something you take back to everything you play. So I think giving our students that perspective and having this sense of new music infused in the culture of the school is really important."
For three years in the 2000s, then Peabody graduate student Ann Theresa Kang created and ran the Conservatory Avant-Garde Ensemble, a short-lived new music ensemble. Bronstein says that in talks with his faculty colleagues, he believed Peabody needed a flexible ensemble that would play works by living composers, bring composers to campus, and foster a more collaborative relationship between the composition department and the musicians. Now Hear This became that ensemble, with Orlando as artistic director and composer David Smooke as the faculty adviser. "I will tell you this: Its first concert we had in the fall, the sense of excitement among the people who came and the sense of energy around starting this ensemble was palpable and really fantastic," Bronstein says. "And it was a great concert. We want to create a more robust environment for contemporary music here. Peabody is the oldest conservatory in the country but we want to be on the forefront of new things that are going on in music because it's really important."
When American conservatories came into existence in the 19th century, the music being written by living composers was part of the education. They visited music schools and the students performed their work. That was new music then, and now it has become part of the classical canon. Why don't conservatories do that anymore? "Somehow, we appreciated how new music evolved in the olden days," Orlando says. "I want us to be interested in the way it continues to evolve. We want new music to become a part of the classical music landscape. We want to be included in the conversation."