Marianne Amoss ("Inventing Inventology,") is a Baltimore-based writer and student in the Johns Hopkins Science Writing program. She manages communications for the Bill & Melinda Gates Institute for Population and Reproductive Health at the Bloomberg School of Public Health.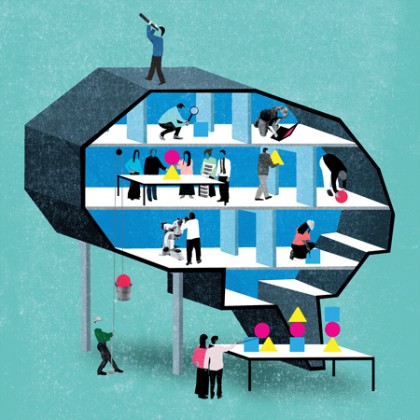 Julie Bidwell ("The Count," photography,) is a commercial and editorial lifestyle photographer living in Connecticut. She focuses on food, people, interiors, and travel.
Josh Cochran ("Wave Hunters," illustration,) specializes in bright, dense, conceptual drawings. His work spans a variety of media, including large-scale mural installations and children's books. He lives in Brooklyn, New York.
Tom Jay ("When the Spices Dance," illustration,) works for editorial and book illustration clients, including The New York Times, Lonely Planet, Bloomsbury, The Independent, and Creative Review. He lives in Hackney, London.
Christianna McCausland ("The Gluten-Free Grocer,") is an award-winning feature writer based in Baltimore. Past clients include Baltimore magazine, The Washington Post, and The Christian Science Monitor.
Julie Scharper ("Wave Hunters,"), A&S '01, was happy to return to campus to learn about the CLASS telescope. After nine years of reporting for The Baltimore Sun, Scharper recently launched a freelance career. She lives north of the city with her husband and two small children. 
On the cover
Patric Sandri's illustrations aim to surprise viewers with uncommon solutions. This issue's cover art, which accompanies "Inventing Inventology", is his take on the brain as a physical space where people interact to research and invent. Sandri, who lives in Zurich, has had his work appear in Advertising Age, National Journal, Bloomberg Businessweek, and others. [Read the cover story.]